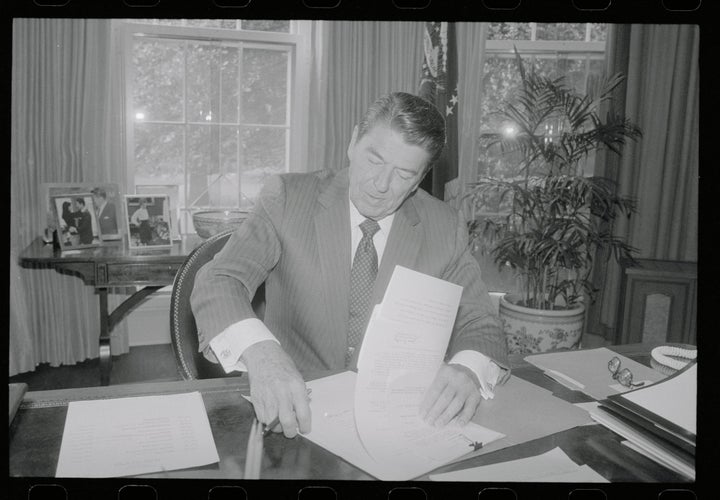 WASHINGTON ― As the health care debate renews the "is it a right or a privilege" question, conservatives used to blaming Democrats like Lyndon Johnson for starting the nation down the wrong path are missing a more recent culprit: their own hero, Ronald Reagan.
Because while President Johnson pushed into law health care programs for the poor and elderly, it was President Reagan's signature that created the entitlement for Americans to receive emergency treatment, whether they could afford it or not.
American Enterprise Institute scholar Ramesh Ponnuru said he wouldn't be surprised if many of Reagan's biggest fans in Congress today are unaware of that. "This is partly just the way political memories and political movements work. They just airbrush out parts that don't fit," he said.
The inclusion of the Emergency Medical Treatment and Active Labor Act into the Consolidated Omnibus Budget Reconciliation Act of 1986 did not take place in a vacuum. More and more hospitals were refusing to admit uninsured patients who could not afford treatment. The new law applied to any hospital receiving Medicare money ― which is to say, just about every hospital.
"This was Reagan who said we're not going to let people die on the street in front of hospitals," said Norm Ornstein, a fellow AEI scholar who has been highly critical of the Republican Party in recent years. "What we have with this is irony upon irony upon irony."
Among the most significant was the sequence of consequences it brought over the decades, as hospitals began complaining about the high cost of treating patients at their emergency rooms. State and local governments that helped pay those expenses clamored for help, and policy makers through the years wondered if there wasn't a better way of dealing with health care for the insured other than guaranteeing emergency treatment ― often the most expensive option available.
That debate led to reforms like the one in Massachusetts under Gov. Mitt Romney and, ultimately, the Affordable Care Act under former President Barack Obama, to provide more preventive care and a more reliable payment stream to hospitals.
Today, some Republicans are again arguing that ensuring health care for all Americans is not really the government's job.
House Speaker Paul Ryan has of late been touting the "freedom" from having to purchase health insurance as a worthy goal. "People are going to do what they want to do with their lives because we believe in individual freedom in this country," Ryan said Sunday on CBS News.
Utah Rep. Jason Chaffetz, meanwhile, said that poorer people who cannot afford health insurance in some cases are making bad financial decisions. "You know what? Americans have choices," he told CNN last week. "And so, maybe rather than getting that new iPhone that they just love and they want to go spend hundreds of dollars on that, maybe they should invest it in their own health care."
To Ornstein, the ultimate irony is that the Affordable Care Act essentially embodies most of the ideas that Republicans themselves created in the mid-1990s when they were trying to block President Bill Clinton's health care proposal. But because it was Obama who ultimately put it into law and much of the GOP's voter base hated Obama personally, Republicans are now left demonizing a law they could easily improve upon, he said.
"This is a ridiculous, horrible, stupid alternative in almost every particular," Ornstein said. "But that's what they're stuck with because they can't use any of their own ideas."
Sign up for the HuffPost Must Reads newsletter. Each Sunday, we will bring you the best original reporting, long form writing and breaking news from The Huffington Post and around the web, plus behind-the-scenes looks at how it's all made. Click here to sign up!