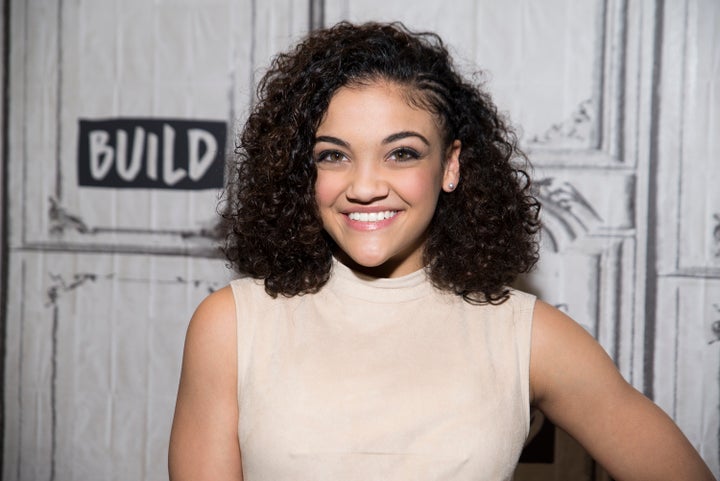 In an interview with The Huffington Post, the gymnast spoke about the heartwarming comments she's received for owning her naturally curly hair in the limelight. The gymnast said her hair has garnered "a lot" of remarks and she shared one story that highlights the importance of representation. 
"I went to visit a gym once and one of the parents came up to me and she was like, 'You don't understand how much it means to me and my daughter, you being Hispanic and not only that, but you wearing your curly hair on the floor. It makes my daughter comfortable to wear her curly hair,'" she told HuffPost. "And I was like, 'Oh, my goodness! My heart.' The daughter was younger than me [and] she was giggly the whole time."
Hernandez says she's very aware that her curls make her stand out.
"I do notice that it's different coming across someone with curly hair and it does feel really nice to pass by someone and you're like, 'Wow, I really like your hair' and they're like, 'Oh, I like yours' and it's like automatically this curly-haired friendship you just made," Hernandez said. "Curly hair is a lot of fun because you can straighten it sometimes and wear it curly, but it's definitely refreshing to see it curly."
"Growing up I didn't recognize too many Hispanic gymnasts, and there were a few but not necessarily in my generation," she said. "So being able to go to the Olympics and represent Hispanics in that way meant a lot to me and I think I just want to show younger girls, 'Look, it doesn't matter if you're white, black, Hispanic, you can do anything you set your mind to, even the Olympics.'"
"With grit, determination and grace, Laurie Hernandez has inspired countless young people to reach for their dreams by proving what can be achieved with hard work and a 'can do' attitude," Hillary Schafer, the CEO of the foundation, told HuffPost. "She is an outstanding role model for all who dream big."
And Hernandez hasn't stopped dreaming big either. The gymnast has a gold medal, a mirrorball trophy and a best-selling book, but she may also be contemplating an Oscar.
"I love watching television shows and watching movies and seeing how passionate actors are, whether it's an action film or romantic-comedy, you can see how much work they put into it," she said. "That really inspires me to become an actress one day, and who knows, maybe I could go really far in that in the future. I would love to be an actress."
"I'm still waiting definitely," she said with a laugh. "It's still one of my favorite shows and I would love to be on there. It's so funny because I had posted a picture on Instagram and Mariska Hargitay commented, 'When are we going to see you?' and I was like 'I don't know, when am I gonna see you?' I love that show, and I would still really love to make an appearance on it."
BEFORE YOU GO