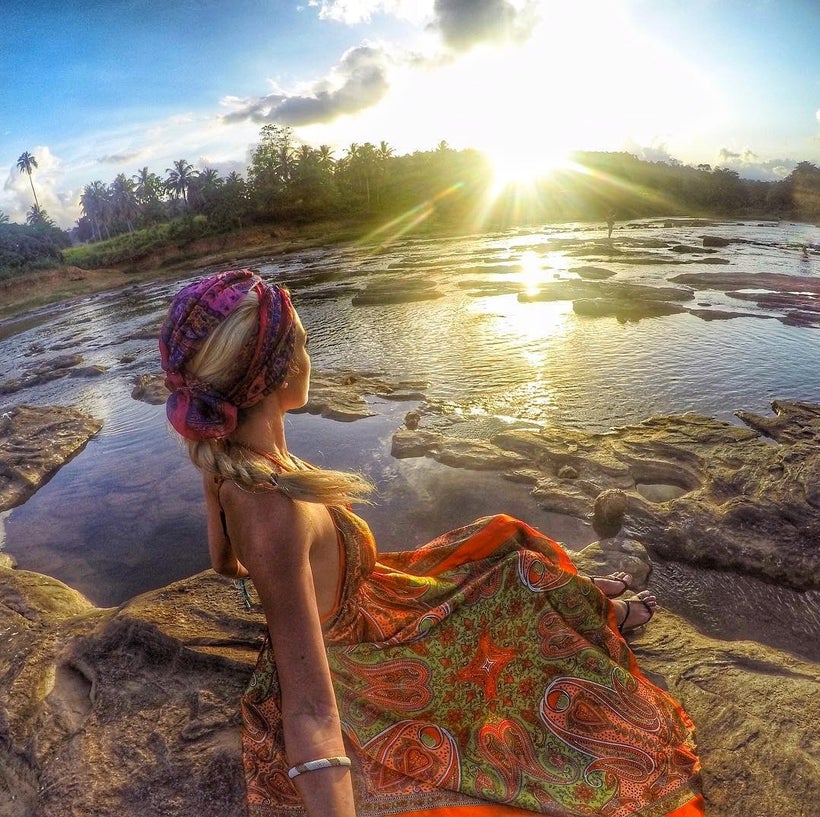 Traveling solo can sound very scary for some people and of course for the parents. If you are 18 or something and thinking of moving out from your parents´ house, first, take a solo trip and it will teach you more than you need to live by yourself. Traveling solo can change the way you see the world and life. I have met many traveler coming from high standard families living in big houses who now do not care about sleeping on mattresses or eating with hands.
It makes you independent.
When you are planning to get out of the country, your parents or friends might help you while you are booking your flight or accommodation. After they drop you at the airport, you are all by yourself. You landed in the new country and you have no idea how to get to your hotel. There will be more than 10 taxies offering you different prices to drop you. You probably start seeing the faces of drivers and choose the one who looks honest and will actually drop you and not ripe you off. You are making a decision which makes you feel right. You will learn to get out of your own comfort zone and deal with unexpected things or situations. Dealing with new people in different parts of the world can make you more confident. While traveling solo there is no family dinner together, there is not your partner whom you have to please by going to places she/ he wants. You can roam around every restaurant saying hi to "Menus ".
It makes you better at planning.
You choose places to visit, to eat, sleep and to do things. You become good at time management like "This hour i am going to do this , here i am going to have lunch and then I will visit this place." As there is no one you have to wait for or walk within a group , you can spend as much time as you want appreciating the beauty of nature or doing some fun activities. You have a certain budget and time but there is a lot to do. You will learn to manage every bit of your money by eating cheap, not buying things you might not use or not spending much time drinking so you will be able to make your adventure tomorrow morning. You are responsible for catching your buses/flights or not getting lost exploring places and you have to rely on your own skill which will make you more organized and smart at making decision.
It Connects you more to the human world than to material.
At the hostel, at the bus station or at the cafe local people start talking to you and you will realise, chatting with strangers can lead into deep connection. The person you talked to ,even just for half an hour while you are traveling, can give you a more connecting feeling than your friends back home from years. As you are in new country you might not know the language but talking to strangers, even with signs, gives you a feeling that he/ she was so helpful. Sometimes this sign language creates laughter and bonding. You will enjoy talking to locals and getting to know more about their cultures or go visiting local places more than hanging on social media or visiting high five Malls.
You appreciate things that you take for granted.
Not every child in the world has grown up playing games on Ipad or eating in McDonalds. If you have got things that you wanted from your parents or if you have a place to live where you have clean water, a safe house, access to nutritious food and education you had more than many people dream of. You will be touched by experiencing the fact that there are children and women who don't have proper access to food or education and not even a place they can call home. After your trip you might don't want to buy things to show off and have a different perspective on life.
Many people travel for many years because they found out that traveling makes them happy. Taking a gap year, many students volunteer abroad to give back and to find their purpose of life. Solo traveling gives you space where you can be able to find your passion. There will be no one to tell you to do this and that. You will be doing things that you enjoy. If you like cooking you might visit different countries and try different food. If you like writing you might visit places and write blogs about it. If you like business you might visit different local handcrafts and get products you can sell in your country. If you like humanitarian work , you might volunteer across your trip which gives you a base for starting an organization for a cause you are passionate about. Solo traveling will give you a full space where you can learn more about yourself.
Here's what other solo traveler say about benefits of traveling solo:
"One major benefit of traveling solo is learning just what you're capable of. When a situation arises and you're on your own you'll figure out how to solve it because, well, you have to. While many get nervous about lost passports and missed trains before setting off solo, these annoying issues can easily be solved -- and may even lead you to a new adventure. For example, I once missed a train connection while traveling solo through Europe. Instead of getting upset, I booked a room for a night in a different city and had a new and unexpected experience!"
"Solo traveling can teach you how to be more confident and make new friends easier. Especially if you're shy, you might have issues with making friends at home, but on the road you might be forced to interact with people at some point. In the end, meeting new people will become easier no matter where you are."
"Travelling solo has taught me how to interact with others as well as given me the confidence to make new friends. Even if you set out on a solo trip, it's rare to actually stay on your own (unless you've planned it that way, or prefer it that way). You quickly form bonds with people when you're on the road – there's something about the shared desire to see the world that brings people together. I love when I walk into a hostel and see people of all nationalities connecting and laughing. And forget about the other travellers, I've also met so many local people I wouldn't have met if I had stayed at home. I've shared such joyous moments with people from around the globe, and always been blown away by the amount of compassion and generosity that strangers have offered me. Every single person you meet knows something you don't know. I love that."
Sujan Pariyar is Founder of inxchan.com ( Volunteer Nepal ) | Director of "Innovative Social Centre" | Charity and travel adviser | Author | SEO expert. He write about Entrepreneurship, humanitarian work and travel. His foundation Inxchan provides an unique volunteering and traveling opportunities in Nepal. Inxchan is one of the active organization working for benefiting children, women and community of Nepal.
This post was published on the now-closed HuffPost Contributor platform. Contributors control their own work and posted freely to our site. If you need to flag this entry as abusive,
send us an email
.