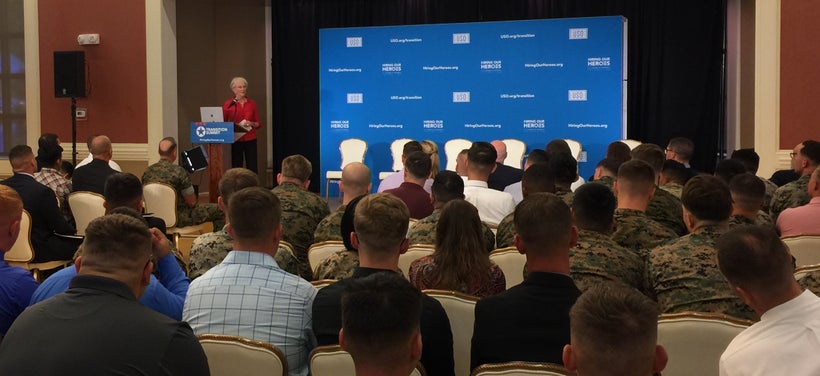 More than 60 years ago, Congress signed into law the creation of Veterans Day, an annual day of honoring America's veterans.
It's a worthy aim. I have spent the last 45 years surrounded by our military community at home and in far-flung locations like Okinawa, Afghanistan, and Djibouti, witnessing the hard work and love of country borne out in the daily lives of those who wear the cloth of our nation. Recently, as an Ambassador of the Personal Branding Initiative and the tools Resume Engine and Career Spark, developed by Hiring Our Heroes and Toyota, I've had the opportunity to work even closer with veterans, transitioning men and women, as well as military spouses, by supporting their search for meaningful career opportunities. All of this has allowed me to experience firsthand the unparalleled service and dedication demonstrated by our military and their families even after they have retired from the military.
I'm certain that the impact of the military service of our veterans is profound; we do owe a debt of gratitude to this small portion of our society who, often at just 17 or 18 years old, puts country before self and takes up this legacy of service.
In recent years, and particularly since September 2001, there has been a (well-earned) cultural shift across America towards appreciating our veterans and military families – just watch as uniformed service members walk through an airport and see how many times they are thanked for their service. As a society, we increasingly recognize and value the contributions of our men and women in uniform.
What we don't often stop to discuss, though, are the valuable contributions of our service members once they slip into what my friend Chuck Hodges calls urban camouflage: the business attire our veterans don for the civilian chapter in their lives, which makes them appear indistinguishable from the non-veterans in the civilian population. But when we peel back the surface layer, we quickly see that although they may look like their civilian counterparts, veterans simply don't leave behind their heart for service and community when they transition from active to veteran status.
There is plenty of evidence in the research that's been conducted on the civic contributions of veterans. A 2016 study found that, as a group, veterans are more likely than non-veterans to attend public meetings and vote. They donate to charity more frequently than non-veterans. They are also more likely than non-veterans to vote or contact a public official. Veterans aren't just committed to a life of service while they're on active duty – they practice it each day of their post-military lives as well.
You don't need to pore over the research, of course, to see the positive impact of our veterans on society; we watch it play out in the stories that emerge in times of crisis. This fall, as communities across America were ravaged by hurricanes, veterans consistently stepped up and stepped in to make a difference. We saw a veritable army of Texan veterans mobilize to respond to citizens in need in their own backyard as Hurricane Harvey flooded Texas. Another group of veterans traveled (and paid their own way) to Puerto Rico to deliver basic supplies to remote towns after Hurricane Maria wiped out much of the local infrastructure.
Veterans' spirit of service before self is also evident in times of crisis – during the tragedy in Las Vegas last month, a number of stories emerged of veterans who immediately stepped in to provide emergency aid and rapid evacuation to victims.
That's because, at their core, the people who sign up to serve in our armed forces embody the spirit of community, country and selflessness. This Veterans Day, when you thank the veterans in your office and neighborhood for their service, remember that their commitment to making the world a better place didn't end with their transition out of the military. It continues, quietly, just under their urban camouflage.
This post was published on the now-closed HuffPost Contributor platform. Contributors control their own work and posted freely to our site. If you need to flag this entry as abusive,
send us an email
.