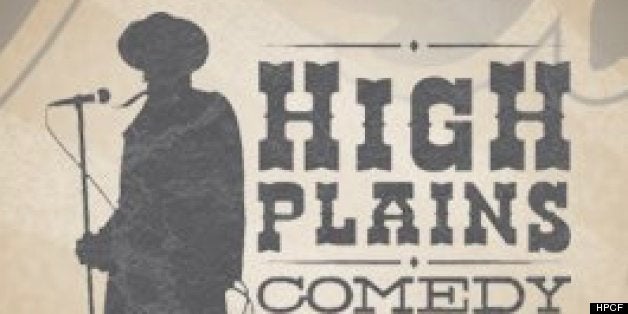 Denver's stand-up comedy scene is booming, from the bigger acts at Comedy Works to the alternative scene at Bug Theater and Deer Pile to the Grawlix guys' "Those Who Can't" pilot for Amazon Studios -- the Mile High City stand-up comedy is experiencing a bit of a golden age.
And this golden age has inspired Adam Cayton-Holland (one third of Denver's Grawlix trio) and Andy Juett (comedy performer and producer of "Those Who Can't") to team up and create the High Plains Comedy Festival, a two-day celebration of Denver's dynamic and growing stand-up comedy scene, August 23-24.
"Adam Cayton-Holland and I are directing the fest," Juett told The Huffington Post. "The great folks at Illegal Pete's --- Pete Turner and Virgil Dickerson -- are fueling/sponsoring the whole thing. There is more exciting news to come. We are just teasing Denver now because we want to play this like James Franco at a bar. Obviously hot, maybe a little pain behind the eyes, but ultimately worth the mystery for most people."
The announced lineup so far includes Rory Scovel, Kyle Kinane, Sean Patton, Andrew Orvedahl, Adam Cayton-Holland, Ben Roy, Nikki Glaser, Kurt Braunohler, Jake Weisman, Bryan Cook, Ian Douglas Terry, Andy Wood, Kate Berlant and Amber Tozer. More comics are expected to be announced in the coming weeks as the festival dates approach in August.
"Denver is one of the best comedy scenes in the whole country," Juett said. "It is our home. We want to put the spotlight on this city in the same way that all the great comics in this town have showcased this 'burg' on so many levels for a lot of years. Denver comics and national comics on the same stage in a festival setting. Also we plan on selling a lot of lunch boxes to the public. Also interested in selling High Plains Comedy Festival logo'd top hats with beer holders. Nobody has done top hats with beer holders. Just those hard hats. Spineless. Denver is better than that. We will be selling HPCF skorts with logos for the mid 40's tennis mom because this fest is about covering demographics."