We love hearing about restaurants, hotels, markets, and products through the grapevine and, as food writers and consultants, have our ears to the ground. Places to Watch 2017 explores innovative concepts, local/national roll-outs, and what's coming to the US from abroad. We're excited about all of it.
NUDEL -- THE FORSYTH – NIX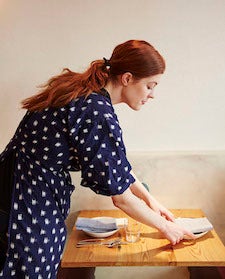 Nudel, on a charming street in downtown Lenox, Massachusetts, may be a white box with lots of noise, but its inventive food certainly moves it beyond "another one of those." Even before you get to their noodles-and-grains offerings, you're seduced by a cluster of small plates that you can taste clearly just by reading: smoked skate with apple, grapefruit and horseradish; cod with paprika, sweet peppers and cucumbers; littleneck clams, garlic, green olives and hot peppers. Very "cheffy," but in a good way.
With owner Bjorn Somlo at the range, Nudel's food is seriously seasonal and decidedly local, so the menu will have changed by the time you read this. As with first courses, Somlo's pastas engage your palate and your intellect: pizichi with duck meatballs and currant jus (pizichi being a rustic pasta made from an ancient Italian grain called farro); egg-and-swiss cheese spaetzle with pheasant leg schnitzel, and spiced couscous with braised lamb. Heartier, there's breast of veal with turnips, mustard greens and mustard, or 12-hour beef flap with onions, cabbage and smoked mustard seed.
In August when we were there with a devoted localite (who usually dines alone at the open kitchen to watch the chefs cook), we appreciated an app of roasted beets and strawberries (with crème fraiche, white balsamic, vanilla, poppy & buckwheat). It was savory jazz (not at all sweet, merely fruity) with each note a flavor trill. My fritter of skate, fingerling potato and pancetta with salsa verde and summer squash, was a beautiful example of cucina povera made more so with an astonishing menu admission of "peas from the freezer." Bjorn with many gifts, he's part of the new breed of chef/poets, stretching the boundaries of menu language into art. Notice: torn toast, pine nut "milk," and "kinda like Chinese flavors" to describe a fried eggplant grinder.
A long list of wines by the glass contains some intriguing selections (a rose blend, Chateau Unang, from the Rhone Valley), and there are some large format beers-to-share that make dinner here a great party. If you feel spoiled for choice, you'll find the patient waitstaff eagerly helpful. If you pass the bar and a pretty woman is sitting there alone, drinking a glass of wine, please say hi for me. (37 Church Street, Lenox, MA 413-551-7183)
Should you find yourself in Kingston, New York, hankering for a breakfast of super-crisp, super-smoky maple-glazed bacon, a vegetable-studded egg tart and superior coffee ... well, you can't have them unless you're an overnight guest at The Forsyth, a new bed-and-breakfast boutique. Located one block from Kingston's historic waterfront district, The Forsyth is run by chef-proprietor Tamara Ehlin and her architect husband Charles Mallea, whose designs for the gorgeous guest rooms combine a modern sensibility with large rustic gestures. Each of the four ample rooms is named after a great world explorer: The James, for James Holman, a blind 19th century explorer (who visited every human-inhabited continent in the world); Erden, named for Erden Eruc, the first to solo circumnavigate the world by rowing; Amelia, for Amelia Earhart, the first woman to fly across the Atlantic, and Isabella, for Isabella Bird, a 19th century English adventure seeker.
Both Tamara and Charles are recent Brooklyn expats, but they're more charming than hipster, so expect a warm and highly personal welcome. One of the guests was celebrating a birthday, so Tamara produced a fantastic gingerbread/tarte tartin kind of appley confection, moist, delicious – and we all shared it as though we were long-lost relatives. Tamara received a Grande Diplôme from The French Culinary Institute and her cooking is wonderful.
Served at a massive boardinghouse table, our breakfast companions were an assemblage of upscale Europeans and millennial strivers, all of them, coincidentally, planning a day of scenic hiking. Tamara's endless supply of homemade granola, refreshing fruit salad, and gingerbread birthday cake (with candle), means you, too, may happily linger with strangers for a third cup of coffee. (85 Abeel Street, Kingston, NY 845-481-9148)
There's a new breed of restaurants whose vegetarian food is so brilliantly conceived and artfully composed that you barely notice the absence of meat. Among the most recent is Nix, near Union Square in New York. It is a seriously glam and sophisticated undertaking by two high-profile partners -- chef John Fraser, who's been tantalizing us with vegetables at Narcissa and Dovetail but who goes whole hog here; and James Truman, formerly Condé Nast's editorial director, who knows everyone in the room.
No one in town is making food like this. It is singular and unique; highly personal Fraser food. Tandoor-baked flatbread with avocado, mint and chai curry spread; or jerk-spiced watermelon with goat cheese and sprouts; richly sauced shiitake mushrooms cacio e pepe over coarse polenta; sticky, spicy cauliflower-ettes tempura, fun on their own but better stuffed into steamed Chinese buns with house pickles; baby carrots in parchment with cracked bulgur, almonds and Moroccan spices. Creative cocktails and a wine list of familiar grapes from offbeat producers.
Sultry in the evening, Nix feels quite contemporary, and I immediately noticed the subtle apron/uniforms worn by a very knowledgeable and highly professional staff. The wallpaper in the bathroom was beautiful, the corner lighting elegant as could be, wooden blinds to suggest the kitchen behind, comfortable chairs, and more. So it was no surprise (and yet it was) to learn that someone I admired my entire career was actually the owner. Although I rarely say this, James's and John's highly personal Nix is among my favorite restaurants. (72 University Place, NYC 212-498-9393)
This post was published on the now-closed HuffPost Contributor platform. Contributors control their own work and posted freely to our site. If you need to flag this entry as abusive,
send us an email
.