Gallup surveys show her image falling particularly among men, as the pollster's analysts recently noted.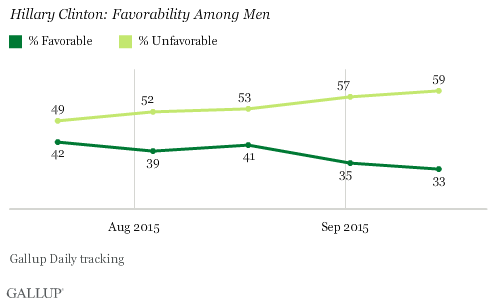 Women's views have remained about the same, according to Gallup.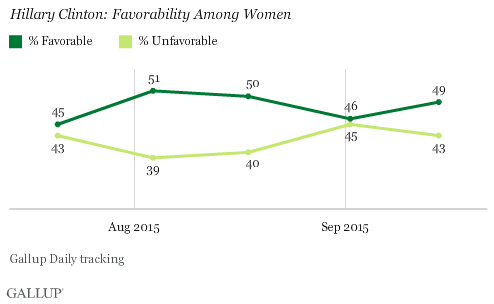 YouGov's most recent poll, by contrast, finds the presidential candidate down 5 points with women and just 1 point with men since early July. Surveys of the Democratic primary have also produced mixed evidence on the extent of a gender gap, with several polls showing her losing ground among her party's female voters. 
As Gallup's Andrew Dugan noted, the men who are souring on Clinton are relatively unlikely to be casting a vote in the Democratic primary. Men overall are less likely than women to identify as Democrats.
"Of course, Clinton's main aim at the moment is winning the Democratic nomination, so it may seem premature to scrutinize her favorable rating among national adults," he wrote. "The good news for Clinton is that among women who identify as Democrats or as Democratic-leaning, Clinton's image remains in very good shape."
Gallup's most recent survey did show a notable downturn in Democratic males' opinions of Clinton, with 64 percent rating her favorably now versus more than 70 percent earlier in the year. Whether that represents a temporary dip or a lasting change is not yet clear.
Gallup's daily tracking surveys use live interviewers to reach both landlines and cell phones.