New research presented at the American Heart Association's Scientific 2015 revealed that people who ate about two homemade lunches or dinners each day (or 11 - 14 meals per week) had a 13 percent lower risk of developing Type 2 diabetes compared to those who ate less than six homemade meals a week.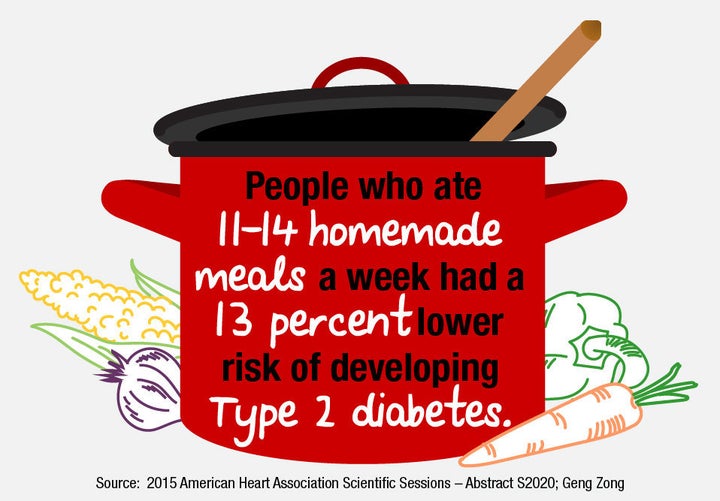 Researchers analyzed data from about 99,000 men and women from two large studies that followed participants for up to 36 years. None of the participants had diabetes, cardiovascular disease or cancer at the study's start. 
The findings come as Americans are eating their meals outside of the house more than ever before. In 2014, spending on eating out exceeded grocery sales in the U.S. for the first time. 
"The trend for eating commercially prepared meals in restaurants or as takeout in the United States has increased significantly over the last 50 years," study author Geng Zong, a research fellow at Harvard T.H. Chan School of Public Health, said in a statement. "At the same time, Type 2 diabetes rates have also increased."
Previous research has linked homemade meals with better health. When eating food cooked at home, people tend to consume fewer calories than when eating out. In fact, frequent homemade meal eaters consume approximately 200 fewer calories and 16 fewer grams of sugar on a daily basis. 
Separately, recent research found that sit-down restaurant meals are just as unhealthy as the more maligned offerings at fast food restaurants. Sit-down meals added roughly 58 mg of cholesterol and 412 mg of sodium to a person's average daily intake, according to a study, while fast food meals added 10 mg of cholesterol and 287 mg of sodium. 
Zong and his colleagues didn't offer a specific number of homemade meals people should eat every week to reap the benefits, but they assumed a "more is better" approach. Cooking in your own kitchen could reduce your chances for becoming overweight or obese, both of which are risk factors for cardiovascular disease and Type 2 diabetes. 
Fortunately, cooking a great meal at home doesn't have to be fancy, expensive or difficult. Check out a week's worth of delicious dinners (or lunches) for inspiration. 
PHOTO GALLERY
Healthy Recipes Till Thanksgiving