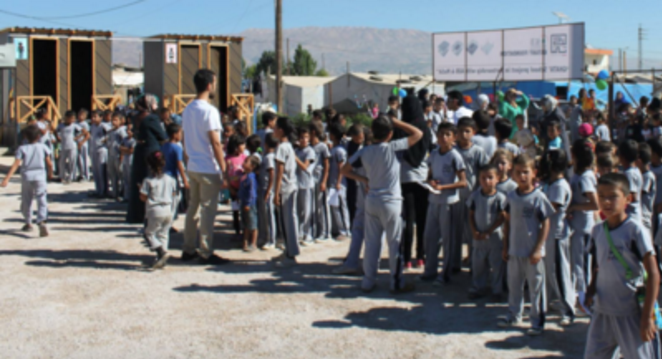 When art meets philanthropy, one can find a window of hope amid times of darkness in our world. It is through this interdisciplinary effort that aid can be created to those in need of it. This is what the American NGO, Friends of Kayany, co-founded a by retired U.S. judge, will bring next autumn an art auction through by a significant collaboration of galleries and well-established Western artists in the U.S. and Europe, and together with the organization's partners and donors. 
Kayany Foundation is a Lebanese NGO founded in 2013 to provide educational support to Syrian refugee children living in harsh conditions in the refugee camps in the Bekaa Valley in Lebanon— a country of a population of 4 million, and currently hosting more than 1.5 million Syrian refugees, 500,000 of whom are children. 50% of the latter have no access to education. The Syrian conflict is not only displacing the masses, but also depriving future generations the right to education. 
The organization has successfully educating 2750 students, with vivid successes in providing the necessary   education at a cost of $650 per student per year. In the summer of 2014, two schools were established in central Bekaa: Jeld School in Majdal Anjar and Telyani School in Bar Elias with an enrollment of 650 Syrian refugee children, providing them with basic literacy and numeracy sessions from May-August 2014. After the summer program ended, a partnership with Save the Children was formed in October 2014 and continued till November 2015 where the teaching staff were trained and daily child protection sessions were provided.
The aforementioned accomplishments were all made possible thanks to a similar event, which Friends of Kayany is planning for this year. The sale of 101 works of arts, donated by Middle Eastern artists, netted an unprecedented $1.1 million in the last years. After this year's event, the organization hopes to open at least four additional schools, bringing the number of educational facilities to more than 12.
Events like this art auction is where making peace begins. They are the driving force to change the rhetoric surrounding refuges, and focusing the positive energy on helping one another rather than attacking one another. This is how hope is created, and this is where making a better world begins. 
In an interview with Wassim Rasamny, board member and organizer of the art auction, he said:
"The Syrian refugee crisis is one of the biggest humanitarian tragedies of our generation. By harnessing the talent and efforts of some of the world's most respected contemporary artists, we hope to continue to raise money to build more educational facilities and programs for these families. I've had an overwhelmingly positive response from the artists, gallery owners and curators that have been approached. The art auction will be an exciting event as I think artists and buyers alike are enthusiastic about offering some relief for this devastating situation. Let's use the enormous potential of visual arts to help change the world for these children and for future generations of their children".
This post was published on the now-closed HuffPost Contributor platform. Contributors control their own work and posted freely to our site. If you need to flag this entry as abusive,
send us an email
.