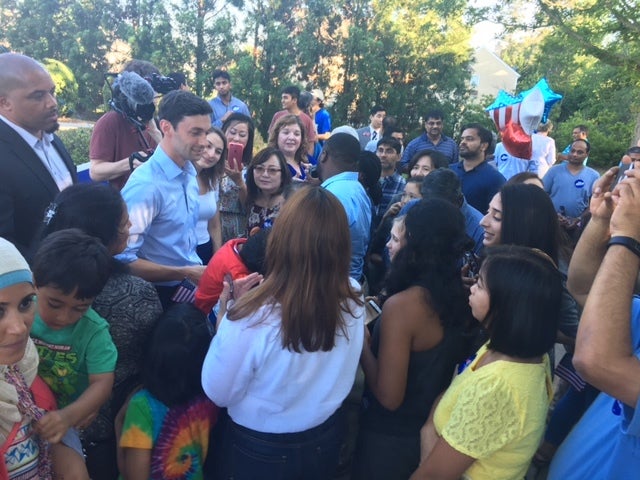 The white nationalist/white supremacist violence that erupted in Charlottesville over the weekend has shaken me to the core. There are so many wonderful ways to help fight the virulent strain of white supremacy that continues to infect and destroy our country. Here's one more way: Start planning now for 2018 midterms.
I know 2018 seems far off, but we need to start organizing now. I'm a Georgia 6th District resident who volunteered for the Ossoff campaign, and one of my regrets was that I didn't start earlier building coalitions with other progressives in my district. Here's how you can get started:
1. Midterm elections are Tuesday, Nov. 6. Mark this date on your calendar. Tattoo it on your ankle. Keep your evenings and weekends free the 6-8 weeks preceding the election, and if possible, avoid traveling out of town so you are available to volunteer, especially during your district's early voting period.
2. Create a master list of contact information for all of your progressive friends/neighbors/acquaintances who live in your voting district so that you can contact them quickly when you need to (more on this below).
3. Take out a map of your voting precinct. Break down the neighborhoods. Figure out if you know at least one person in each neighborhood who is progressive and who will vote for the progressive candidate. Ask this person if they will be that neighborhood's contact person for all upcoming elections. When it's time gather for a candidate's meet and greet or organize for canvassing, you can call upon this contact person to solicit their own neighbors for help. This is an extremely effective, hyper-local method of organizing and we can start it now, before we even know who the candidates are. If your precinct has a past precinct captain who is willing to continue in this role for upcoming progressive campaigns, work closely with them to build as many personal relationships with the residents in your precinct as you can.
Remember, the Tea Party/Freedom Caucus/white nationalist/Nazi party that is currently running our country began with small gatherings over tea in each others' living rooms to discuss politics.
4. Consider your own skills and talents. What can you contribute? Everyone can contribute something!
Can't or don't want to canvas? No worries. Offer childcare or meals to people who want to canvas after work. If you have a car, offer to drive canvassers to the neighborhoods they need to canvas. There's nothing more time consuming than walking the length of a neighborhood and then having to walk all the way back to move the damn car to canvas other parts of the neighborhood. Having a "driver" saves so much time.
Don't like phone banking strangers? No problem. Call or text the people on your master list (see #2) and tell them why you're voting for who you're voting for. Send follow up texts during early voting asking them if they've had a chance to vote. Offer them a ride to the polling place or to watch their children if you are able.
5. Support local campaigns in your community in 2017, too. You don't have to wait until 2018 to get politically active. There are elections happening around you right now and these elections are just as important as the 2018 elections. Make every election count to make America great again.