Finding a room with a superlative view has long been a top priority for travelers. But selecting a hotel that affords 360-degree vistas of emerald waves and swaying palms, or a panorama of flickering city lights can almost guarantee an elevated guest experience.
To help direct you to some remarkable scenes -- and discover less familiar ones, too -- U.S. News has spotlighted 10 hotel rooftops that pair a mesmerizing view with an unforgettable atmosphere. These in-demand rooftops boast some noteworthy amenities, be it infinity pools, inventive cocktail bars or sky-high gardens. So if you're in need of some peace and quiet (and maybe even a drink), escape the hustle and bustle below, and hit the roof.
In Pictures: Hotels with the Best Rooftops
Banyan Tree Bangkok
Bangkok
Floating above the Thai capital's glossy skyline, the Banyan Tree Bangkok's Vertigo restaurant and Moon Bar offers an unparalleled bird's-eye view of the city below. Set on the 61st floor, Banyan Tree Bangkok's open-air bar and restaurant combines a cool atmosphere with classic menu items, like Alaskan Salmon Tartare with Olive Tapenade. Venture to the Moon Bar to stargaze while sipping the Vertigo Sunset -- the venue's signature drink, a blend of cranberry, lime and pineapple juices with Malibu. Even if the inventive cocktails don't impress you, the panoramic views spotted from the Vertigo restaurant, named after Alfred Hitchcock's psychological thriller, are sure to capture your attention. Though you need not be a hotel guest to take advantage of the rooftop, you will need to make reservations far in advance and adhere to a smart casual dress code. Women are expected to wear skirts or slacks and blouses or sweaters (or a cocktail dress), while men are expected to sport trousers, button-up shirts and closed shoes. For further pricing and dress code details, consult the Vertigo and Moon Bar website.
The Beverly Hills Peninsula
Beverly Hills, Calfornia
Los Angeles features its fair share of glamorous lounges, but it's hard to rival the cool, Californian vibes of The Peninsula Beverly Hills. The hotel's rooftop patio boasts cozy lounge chairs, a crackling fire pit and its own private herb garden known as "The Farm." The stylish teak bar and lounge area contains a 60-foot-long cabana-lined pool. Even if you're not planning to stay at The Peninsula Beverly Hills, you can still savor a meal at The Roof Garden restaurant. Prices vary according to dish, but expect to pay around $31 to $50 per plate. Here, you can order tasty dishes infused with fresh fixings, such as lavender basil and chives, from The Farm. Another crowd-pleaser: the zesty juices and smoothies made with ingredients like wildflower honey and wheatgrass.
Eden Rock - St Barths
St. Barts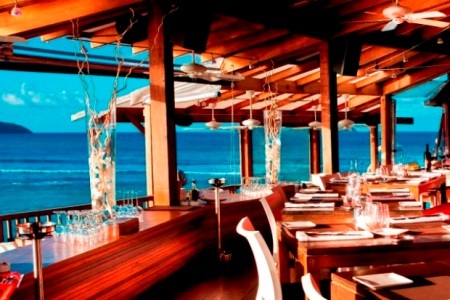 Courtesy Eden Rock - St Barths
Unparalleled views of St. Barts' cerulean waters, unspoiled sands and coral reefs are all major selling points for hitting Eden Rock - St Barths' chic, yet low-key rooftop restaurant, On the Rocks. But the view isn't the only reason to linger with a refreshing libation in hand. World-renowned chef Jean-Georges Vongerichten crafts French-inspired menu items, like foie gras brûlé, mahi-mahi paired with ratatouille and lobster layered with glazed carrots and black olives.
See: Best Hotels in the USA 2014
Viceroy Hotel Miami
Miami
With Japanese woodblock-inspired prints, bright blue accents and a private pool, the Viceroy Miami's open-air rooftop club, FIFTY, is a chic rooftop retreat. Set 50 stories above Biscayne Bay in Miami's Bricknell neighborhood, FIFTY is a prime spot for taking in a salty sea breeze and snapping photos of the city below thanks to its enviable location. After 11 p.m., the lounge transitions into a nightclub filled with a trendy crowd mixing and mingling over fruity cocktails and up-tempo beats spun by popular Miami DJs. To enjoy the nighttime revelry after 11, you'll need to pay a $20 per person cover charge.
Four Seasons Hotel Mumbai
Mumbai, India
From its post on the 34th floor of the Four Seasons Hotel Mumbai, the property's rooftop lounge envelops visitors in breathtaking scenery. At the aptly named Aer lounge, guests overlook the Arabian Sea and Worli's buzzing commercial epicenter. Though the sprawling cityscape is stunning at all hours, if you arrive between 5:30 and 8 p.m. you'll be rewarded with a sunset view and half-priced cocktails from the happy hour menu. As you take in Mumbai from all angles, you can clink a glass of bubbly and listen to classic, house, funk or club music after dark. Hotel guests may enjoy complimentary access to Aer, while visitors who are not staying at the hotel are required to pay a cover fee of 2,500 INR (about $40 USD) on Fridays and Saturdays, starting at 8 p.m. Additionally, you're required to follow a smart casual dress code (men may not enter with sleeveless T-shirts or shorts) and you must be 21 or older to enter. For further details, consult the Aer website.
Palazzo Avino
Ravello, Italy
Nothing beats sitting on a breezy rooftop terrace along the Amalfi Coast and gazing out to aquamarine waters and pastel-colored fishing boats. And there's no better place to do just that than Rossellinis Restaurant at the Palazzo Avino hotel in Ravello, Italy. Sitting on a 1,000-foot cliff, Rossellinis dishes up Italian specialties matched with regional vino. The best lookouts can be found from the restaurant's terrace, but take note: These primo tables are in high demand, so it's best to make your dinner reservation a few weeks in advance. Before making your dinner arrangements, keep in mind the restaurant shuts its doors from November to March. For further details, check out the Rossellinis Restaurant website.
See: Best Hotels in the Caribbean 2014
Rosewood San Miguel de Allende
San Miguel de Allende, Mexico
If you're looking for striking vistas of the city's cobblestone streets and spires and bell towers, plan to visit the Rosewood San Miguel de Allende's Luna Rooftop Tapas Bar. Apart from admiring the scenery, you'll also want to soak up a zesty margarita and some tasty Mexican tapas. Another bonus: Even if you don't plan to reserve one of this Rosewood outpost's opulent suites, adorned with handcrafted furnishings, wood-beamed ceilings and its own balcony or terrace, you can still sample the best views of the city from its rooftop bar.
Gramercy Park Hotel
New York City
Resting high above Gotham's urban bustle, the Gramercy Park Hotel's exclusive rooftop terrace offers an enviable spot for cocktail-sipping. From this 1,500-square-foot space -- only open for private events -- you'll have unrivaled vistas of Gramercy Park, plus a private viewing of 20th century artworks from masters like Andy Warhol and Damien Hirst. As you take in rarefied views from The Terrace's 18th floor post, you can stroll along the landscaped gardens skirting the rooftop and select your poison from an extensive bar menu. Though Gramercy Terrace is an events-only venue, the space is available to rent for private functions, such as weddings, brunches and cocktail receptions. If you're planning something special, The Terraces Special Events Team can help you craft a customized menu with dishes from the Terrace Kitchen.
Terrass Hotel
Paris
At this très, très chic rooftop terrace, The 7th, guests can take in Paris views as they indulge in classic cocktails and traditional French fare, like steak tartare and pommes frites. And thanks to the Terrass Hotel's choice Right Bank location in Montmarte, the swanky rooftop offers 360-degree views of the city, overlooking iconic sites like the Moulin Rouge and Sacré-Coeur, with the Eiffel Tower standing tall in the distance. What's more, this trendy terrace invites guests to enjoy gourmet cuisine and top-tier wines as they drink in the dramatic skyline. But you don't need to be a hotel guest to revel in the scenery; for further details and to reserve a table in advance, consult The 7th's website.
The Joule
Dallas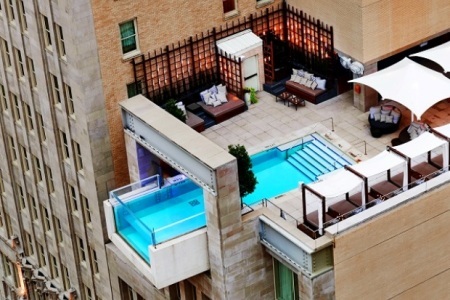 Eric Laignel / The Joule Dallas Hotel
Occupying a prime piece of sky-high real estate in Dallas' vibrant Arts District, the rooftop infinity pool at The Joule, a member of Preferred Hotel Group, extends 8 feet past the hotel structure. The stylish rooftop pool design earned it a prime place on our roundup of the Prettiest Hotel Pools. Apart from taking a dip or admiring the vantage points from the plexiglass window perched at the edge of the pool, you can imbibe in a cocktail from the bar (open daily from 10 a.m. to 10 p.m.; the bar closes earlier at 8 p.m. on Sundays).
See: Hotels with the Best Rooftops
-- Liz Weiss