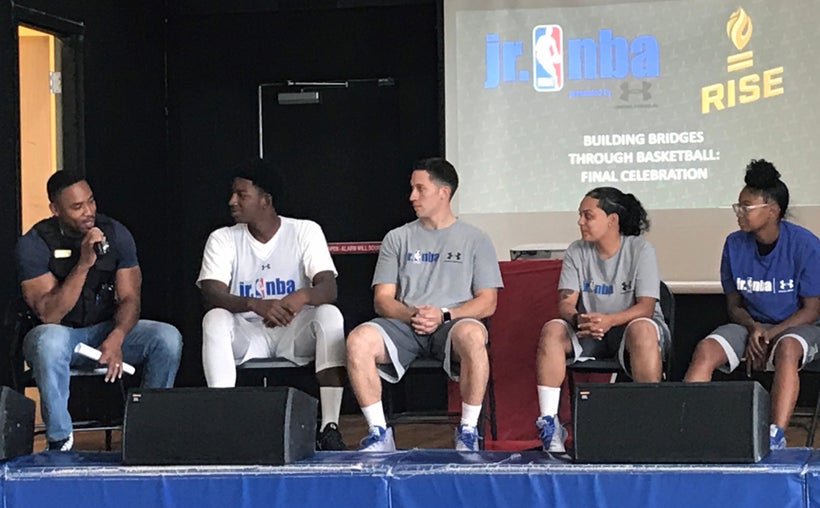 CHICAGO – Teens at a basketball summer camp at the Union League Boys & Girls Clubs here were thrilled Thursday, Aug. 24, when Chicago Bulls guard Jerian Grant stopped by to pay them a visit.
The youth went through drills and shared what they had learned throughout the summer about leadership, trust and communication, while Grant praised them for understanding these important aspects of team success on the court.
But the student-athletes at this camp came away with a much greater understanding this summer, learning that these same characteristics are the foundation for bridging a critical divide in their community.
That Thursday marked the conclusion of Building Bridges Through Basketball – a summer program of the NBA, Under Armour and the Ross Initiative in Sports for Equality (RISE) that brought local youth and law enforcement together through basketball to address issues of race relations and build a stronger and safer community.
Hosted by Union League in a West Side neighborhood, the program engaged dozens of teens from nearby communities and officers from the Chicago Police Department in 2.5-hour sessions Thursday afternoons over the course of 10 weeks. Each session featured a combination of on-court basketball training and hands-on, interactive education modules developed by RISE that focused on subjects such as leadership, conflict resolution, implicit bias, empathy, identity and diversity.
At the final session, I moderated a panel with student-athletes, basketball coaches and a Chicago police officer who all had just completed the program. It was encouraging to hear the progress that was made.
"I think it's important to interact with the youth because we both can learn from one another," Officer Paris Edwards said during the panel. "They need to understand that police officers are also fathers, mothers, brothers, sisters; we've got problems just like everybody else. We're human. Officers also need to understand that in some of the rougher neighborhoods that we serve, not every kid you see is selling drugs, not every kid you see is a gang banger, not every kid you see is committing crimes. The only way you're going to learn from one another is to communicate with one another. The only way you're going to communicate with one another is to interact."
For the student-athletes and coaches, basketball got them all in the door, but by the end, they all agreed that the relationships they built with peers from different communities and the tools they developed with the police officers on leadership and perspective taking were the most valuable takeaways of their experience.
"The first day was a big learning experience because everyone got to know everyone, and then as we went on, everyone was getting out of their shell and being more involved in the modules," said Anais Rodriguez, a coach with Union League Boys & Girls Clubs. "When we first started, I was just about basketball, the kids, just wanted to play basketball. The leadership part, though, was the more important part of the whole program."
Student-athletes and coaches said their perception of police officers had been shaped, up to this point, by either bad personal experiences or what they had seen or read online. The program afforded them a different point of view.
"The stuff that goes on with police officers, everybody knows. But as you can see in this program, there are officers that are way different than what you see on social media," Rodriguez said. "So, interacting with the kids is a blessing to me, because I didn't have this growing up. I just saw everything on social media … but now seeing it in person, (I can see that) not everyone is the same."
Added Naomi Willard, a student-athlete in the program: "For us teens, we see a lot of our friends being arrested, and we automatically have a bad take on police officers. And we use social media a lot, and we see a lot of bad things. There's nothing good about police that you can find on the internet. So, it's important for police to come and play basketball with us because it shows not all police officers are bad."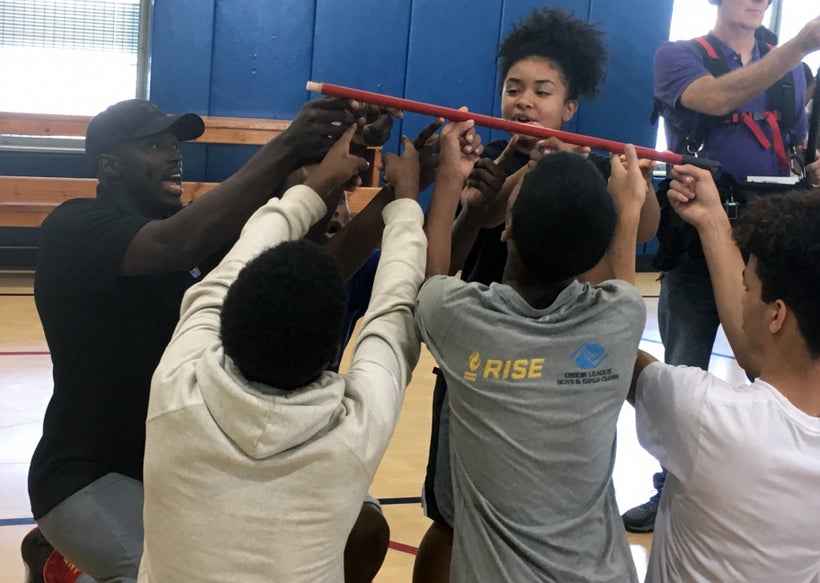 Going forward, Edwards called on the student-athletes to share more positive experiences they've had with police officers on social media, including from this program, to counter those negative perceptions. In turn, he said he would bring lessons from the Building Bridges program back to his colleagues, as well, and hoped the police department would adopt some of the modules that he and the student-athletes experienced together.
"I go back to that first exercise we did … (addressing stereotypes). And I actually tried to remember a lot of the examples given in that, and I've already started to talk to other officers about the exercise. So, you guys thought you learned something from those modules, I learned something, as well," Edwards said addressing the student-athletes during the panel. "And the only way we're going to start to change is to tell the people who aren't here and don't know about it."
Building Bridges Through Basketball is the perfect example of how sports can be used as a unifying force for improving race relations and driving social progress. A shared love of basketball allowed for young people of color and members of law enforcement to bond and create a better understanding of each other's backgrounds and perspectives this summer in Chicago.
The conversations and relationships built from this program show the power of sports to unite people in a way that could potentially save lives. Community leaders and law enforcement officials should continue supporting and participating in such programs.
One community at a time, they can make a difference.
Jocelyn Benson is CEO of the Ross Initiative in Sports for Equality (RISE).
This post was published on the now-closed HuffPost Contributor platform. Contributors control their own work and posted freely to our site. If you need to flag this entry as abusive,
send us an email
.