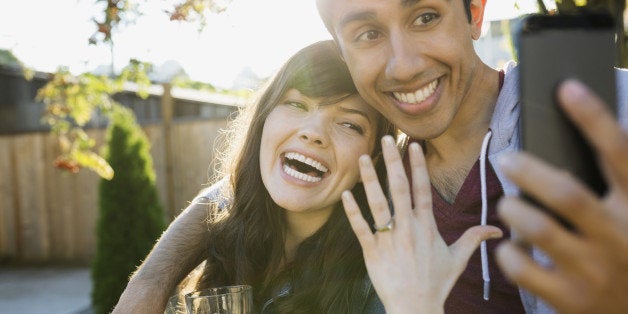 Getting engaged is one of the happiest times of your life and sharing this moment with your parents is something most of us look forward to. Yet, when your parents are divorced or separated, and maybe even remarried, this can be a bit tricky -- especially if both your and your fiancé's families are blended. Rather than being pulled in two directions between your parents and your partner's, you may have as many four sets of moms and dads to balance.
Rather than feel overwhelmed, look at your family situation as a unique chance to have more opportunities to celebrate your exciting news. Here are five ways to commemorate the occasion when you have more than two sets of parents.
1. Host your own engagement party. While, traditionally, parents are the ones who host these soirees, these days anyone can host an engagement celebration -- even the recently affianced couple. To avoid having to decide who throws the party (his parents, your parents, his mom and stepdad, his dad and stepmom, etc, etc), take the lead and host the event yourselves. Your respective families can pitch in, if they so choose, but ultimately this keeps you from choosing one set of parents over another.
2. Go out for a meal. Depending on your budget and how close you live to your parents, you may prefer to celebrate by going out to dinner, either with all of your parents or each set of parents separately. This will allow you some dedicated time with your moms and dads, giving you the chance to share your preliminary wedding vision and your excitement about this great step in your lives.
3. Plan a trip home. Now's a great time to fly or drive back home, especially if you haven't made the trek in a while. This way, you can get some face time with your parents and celebrate the occasion in person. Granted, depending on how many sets of parents you have, this can be quite an investment, time-wise and financially, but if you're able to see everyone in person, it would mean a lot to them.
4. Get on Skype. If traveling just isn't feasible, invite your parents to a virtual cocktail party -- together if everyone is amicable or in pairs if they're not. That way, they can toast you and hear your proposal story in a more personal way.
5. Ask for advice. Parents love giving advice and, given that yours may have gotten remarried in the not so distant past, they'll be great resources when it comes to wedding planning. As you share the news and start getting excited about the big day, ask them for their tips on planning -- what they're glad they did and what they wish they did differently. This gives your 'rents a chance to share their experience and feel part of the process from the get-go
A version of this post originally appeared on Robbins Brothers' Engaged blog