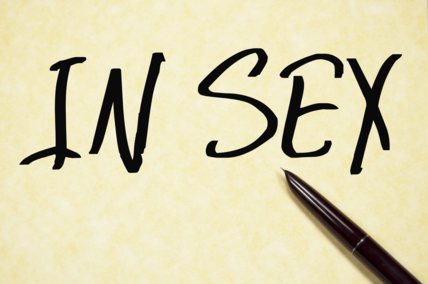 Sometime in the late '60s or early '70s, before I switched to computers, my method for preparing clean copies of my manuscripts for further work, or a final copy for my publisher, was to send my chicken-marked manuscripts out to a typist. The typist would incorporate any changes and send me back a clean copy. Since I am addicted to extensive rewrites, this could go on numerous times until I was satisfied that my novel was ready to send off to my publisher.
Sometimes I had more than one typist at work, or my regular typist was off on another assignment. I once hired a typist who I had never used before, a middle-aged lady. I can't quite remember the novel I gave her to work on, but I did give her a spot in my office at the time and set her to work. After an hour or so, she approached me, red-faced and indignant, holding the pages of my manuscript.
"You are a pervert," she screamed, throwing my manuscript on the floor. "I cannot do this."
What she had objected to was a common slang expression used to describe the male erection, hardly a cause for alarm, or at least I thought.
As both a student and practitioner of the novel, I am well aware that any depiction of human relationships in a novel cannot ignore the fact that sex, however described or disguised, is a primal motivating condition of our existence. Indeed, even if the act itself is not referred to in action or description, it is always there, however coded, and can't be ignored by reader or writer.
Without going into the long history of the censorship, the issue has always been about exactly how much to tell the reader, what to describe, what words to use, and how specific to be about mechanics, acrobatics, manifestations, and reactions. Whatever sexual descriptions were considered legal throughout history, sex was always there.
The depiction of sex in the modern novel has undergone radical changes. We've come a long way from the matter of fact sexual descriptions in the Bible and the subtle and coded hints and allusions in classics like Madame Bovary, which put the author Gustave Flaubert through a court case on moral charges. The Catholic Church was particularly vigilant in its prohibitions. James Joyce, Henry Miller and numerous other authors suffered a similar fate. Their books were perhaps not as titillating as contemporary works, but just as blatant and raunchy for readers who got the message.
Many contained passages that crossed the legal line, used language for which my mother would have threatened to "wash my mouth with soap." Many such descriptions relegated the author to a vast underground of so-called "dirty books." A number of those authors paid dearly by having their books banned or brought to court to defend their work against the charge of blatant pornography, even though not a single word used might have been considered obscene.
In my many novels, I have never shied away from engaging the sexual encounter, which, as we all know, is organic to any true story of the human condition. I have wracked my brain for different ways to describe such encounters appropriately for many of my readers in the seventies, eighties, and perhaps the nineties. However, in today's world a dedicated novelist rarely has to worry too much about causing offense. We all know what the "f-word," the "c-word" and a host of other one-letter designations mean.
The massive digital proliferation of Internet pornography leaves absolutely nothing to the imagination. It is out there in every possible category, upfront and uncensored, a vivid encyclopedia of sexual activity that has become so commonplace that, like it or not, it is part and parcel of our contemporary culture.
This does not mean that unbridled sex in literature or media is universally accepted. Even though we are all human with sexual urges there remains a gap between what is tolerated and what is not. Barriers -- legal, ethical, and religious -- still exist globally, and the author of mainstream fiction must continue to tread somewhat carefully. My own rule of thumb is to describe what is organic to the characters with both delicacy and honesty.
There are times I have used language that, while true to my characters' motivations, could strike some as inappropriate, but eliminating it would have been dishonest. There are characters who communicate or think in jargon that would make even a hard bitten longshoreman blush.
Since words are a direct path to the imagination, subtlety, delicacy, and honesty are the novelist's best tools to carefully describe desire, which is born out of pure love, and lust that seeks pleasure for its own sake. Eroticism, too, has its place in the novelist's toolbox, but it is the most skilled novelist who can portray it without pandering to those who search solely for stimulating fantasies.
In the past, any graphic portrayal of sex required skillful hints and clever dissimulation but in order to convince the reader of the essential truth and purpose of their characters' sexual experiences and present stories that mirror the human condition. It is the novelist's job to strike a balance between decency and authenticity in this age of a totally unrestricted and diverse sex menu. So now I have to ask, how do you approach sex in fiction?
View the original post on www.Warrenadler.com

Warren Adler is best known for The War of the Roses, his masterpiece fictionalization of a macabre divorce turned into the Golden Globe and BAFTA nominated dark comedy hit starring Michael Douglas, Kathleen Turner and Danny DeVito. Adler's international hit stage adaptation of the novel will premiere on Broadway in 2015-2016. Adler has also optioned and sold film rights for a number of his works including Random Hearts (starring Harrison Ford and Kristen Scott Thomas) and The Sunset Gang (produced by Linda Lavin for PBS' American Playhouse series starring Jerry Stiller, Uta Hagen, Harold Gould and Doris Roberts). In recent development are the Broadway Production of The War of the Roses, to be produced by Jay and Cindy Gutterman, The War of the Roses - The Children (Grey Eagle Films and Permut Presentations), a feature film adaptation of the sequel to Adler's iconic divorce story, Target Churchill (Grey Eagle Films and Solution Entertainment), Residue (Grey Eagle Films), Mourning Glory, to be adapted by Karen Leigh Hopkins, and Capitol Crimes (Grey Eagle Films and Sennet Entertainment), a television series based on his Fiona Fitzgerald mystery series. Warren Adler's newest thriller, Treadmill, is officially available.
Learn more about Warren Adler at www.warrenadler.com
Follow Warren Adler on Twitter: www.twitter.com/warrenadler