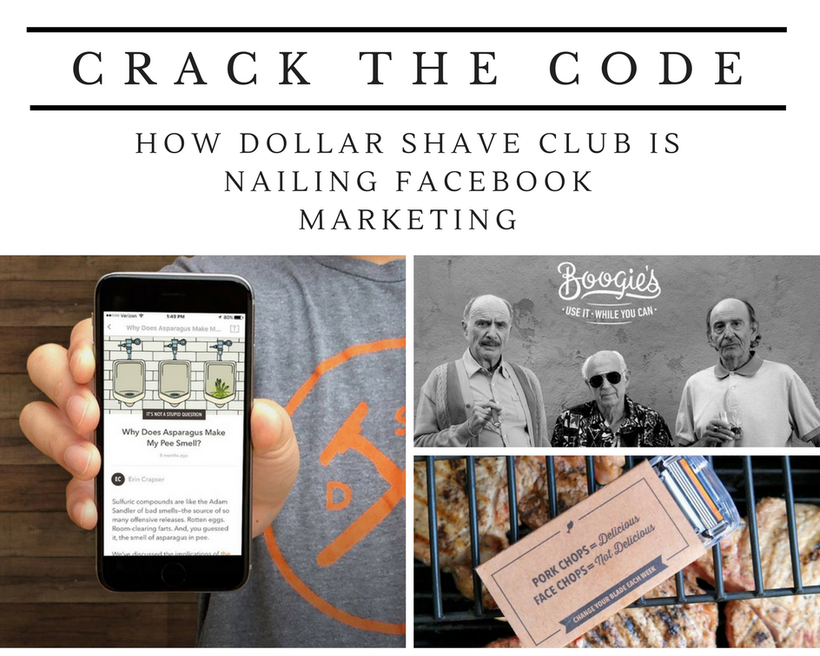 In 2012, the now infamous Dollar Shave Club infiltrated the razor blade industry and took it by storm with a wacky homepage video that went viral. 4 years and 2.7 million Facebook followers later, they continue to change the game in their industry with their off-the-wall, hilarious social media marketing.
They've nailed tying their business model, brand identity and customer service into one successful content marketing strategy that keeps their customers constantly engaged and wanting more.
How do they do this? Let's break it down.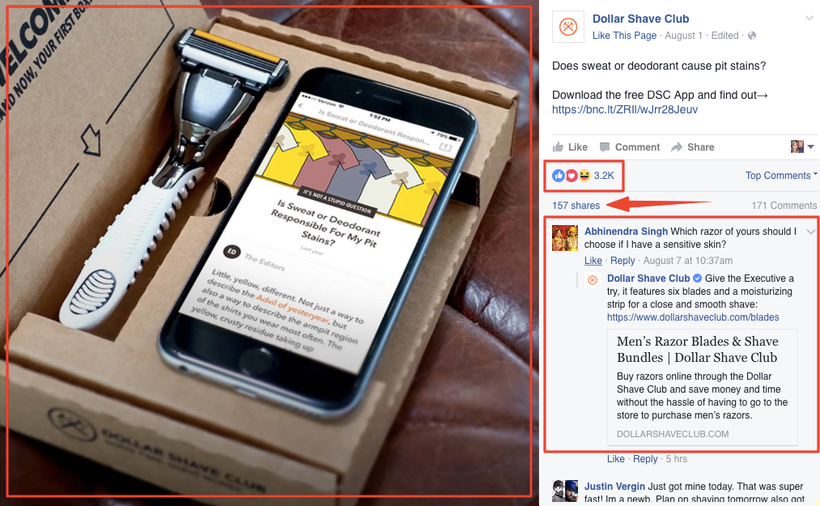 1. They Understand their Social Audience
Although diverse, Dollar Shave Club's posts are incredibly tailored. When it comes to social engagement, it's important to know who your audience is and how they are interacting.
Below is a visual representation of Dollar Shave Club's audience:

As you can see, there is an overwhelming gap between male and female followers and the significance of being both mobile and desktop friendly. This is not surprising considering the "quick to digest" and often masculine oriented nature of their posts.
So follow Dollar Shave Club's lead. Find relevant life struggles that pertain to your target market and research questions often asked by your followers and address them. Know who your social audience is and gear content and accessibility to them.
2. They Optimize Their Visuals for "Clickability" and "Shareability"
Dollar Shave Club not only posts information that is helpful, but is highly sought after. Not only that, they also share posts with personality.
When you share posts with personality you gain more engagement because it defines your voice, it's entertaining, and sets you apart from the masses of companies using Facebook as a marketing platform. Take this video introducing B.A. Loonman.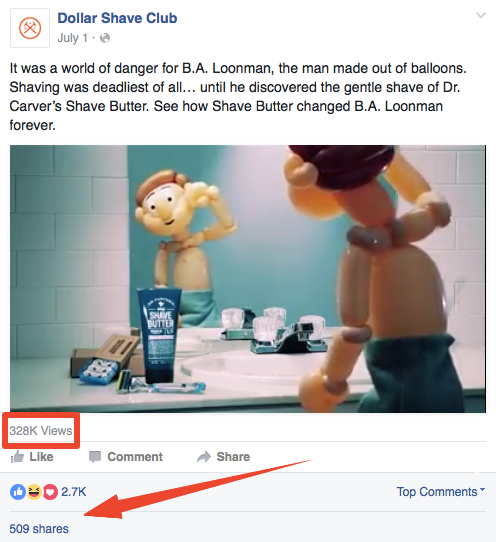 Another great example is one where they Dollar Shave Club posted an article on sweat control - a topic that has 1,960,000 search results from Google.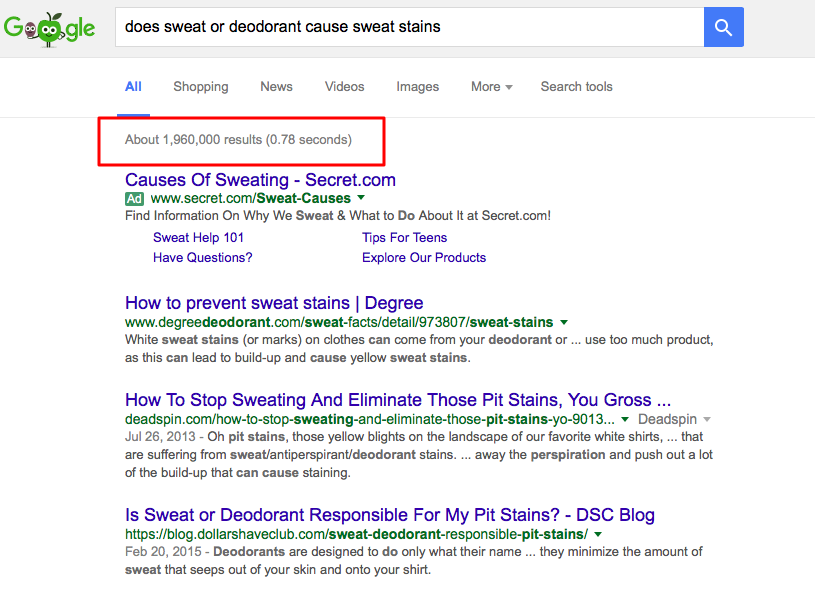 Look for topics that people seek answers to. This is a great way to catch their attention which then leads to a higher "shareability" rate.
People are social creatures by nature and love to share information that they find useful or interesting. Find a problem and a solution to that issue or a trending topic and discuss it. Jump on seasonal trends as well. Never forget the power of the holiday spirit. As a result, you'll get free, powerful organic marketing.
As you experiment, it's a great idea to track how your posts do by comparing them to others. You can find patterns and assess which topics result to high engagement and social shares. Use Buzzsumo to make this happen.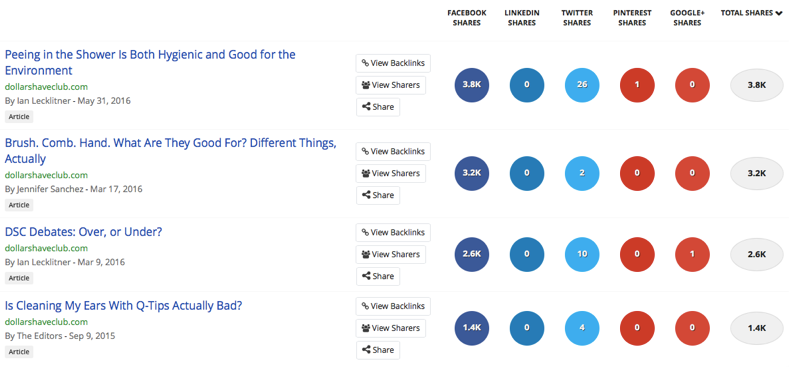 3. They Use High Quality Images
As they say, a picture is worth a thousand words. But when it comes to Facebook marketing, less is more. Less texts, less distractions, more concise.
Keep your images crisp and telling…and just like Dollar Shave Club, add your own spin to it.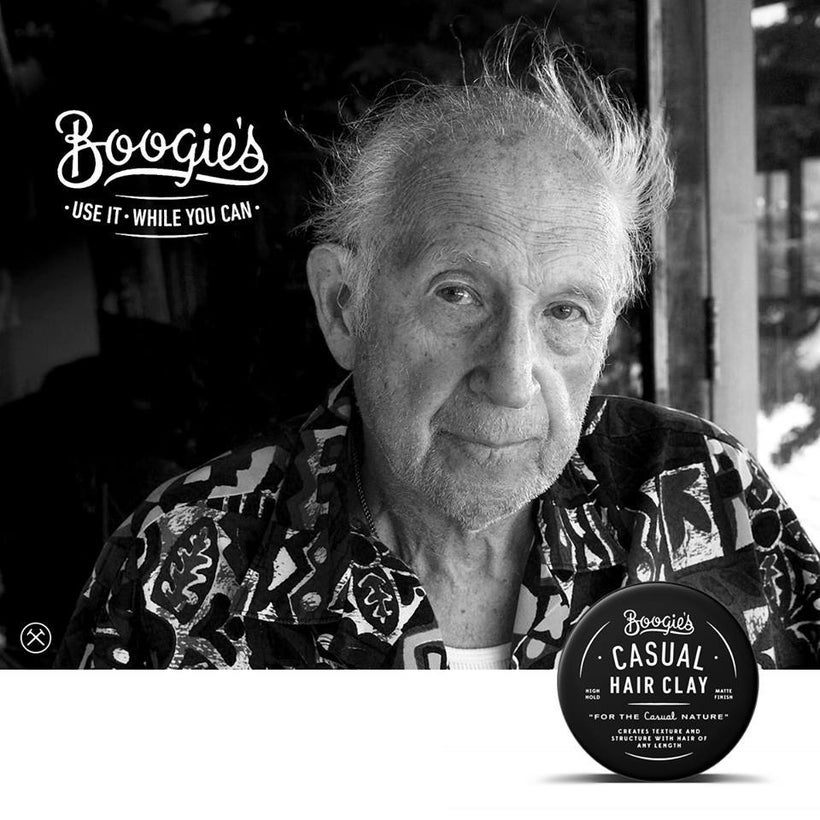 And never forget that quality images are a must. The image above would be far less impactful if it were blurry or pixelated.
Take these two images below that have been posted on Dollar Shave Club's Facebook page for instance.
Can you see the difference?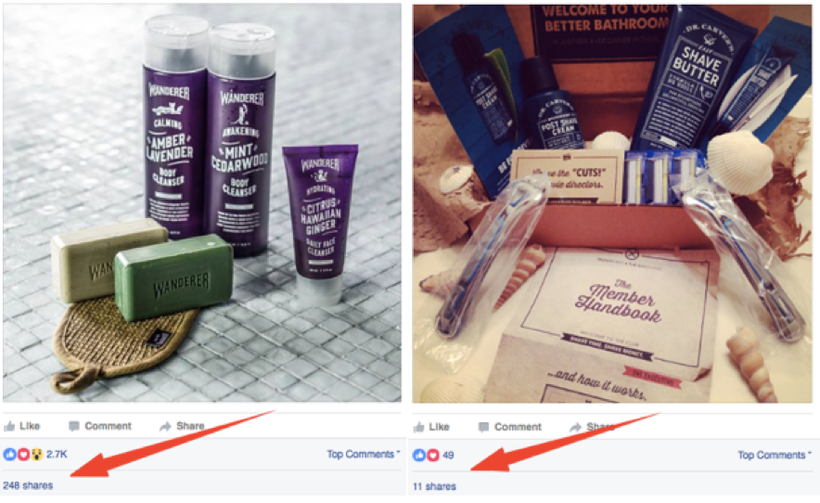 Both pictures have more than three items and refer to new products. But one is brighter and catches your attention more while the second is less crisp and a lot darker.
Product placement, quality of your images and relevance to your brand are all key when curating your images.
4. They Engage With Their Audience
People like to feel connected and heard.
One of the major contributions to Dollar Shave Club's successes on Facebook is their consistency to engage with their followers and customers. They reply to comments and repost pictures their customers put up of Dollar Shave Club products constantly. They even promote the action themselves. This is essential because it creates an emotional brand connection.
Imagine your favorite brand giving you a shout-out or a repost on their social page. It feels good. It feels great knowing that a successful company acknowledges their customers and not make them feel like just another dollar sign.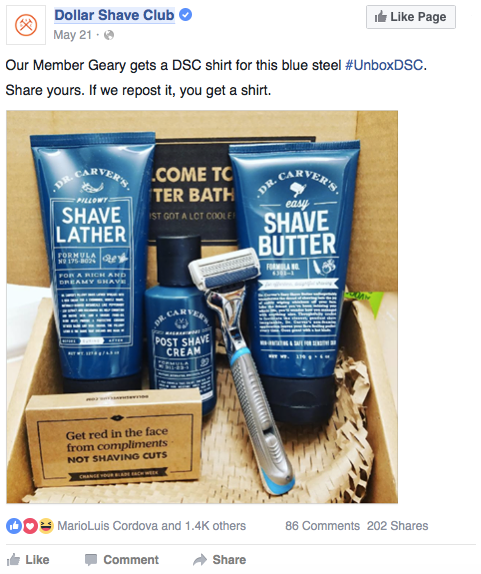 This also encourages customers to post how satisfied they are with their products. A golden opportunity for free advertising with genuine reviews. When you get this kind of publicity, it is more powerful and effective than paying ad agencies to convince strangers about your products.
Consumers are more likely to confidently purchase products from a brand unknown to them based on honest reviews from other paying customers. I mean wouldn't you?
Just take a look at this telling post about Dollar Shave Club: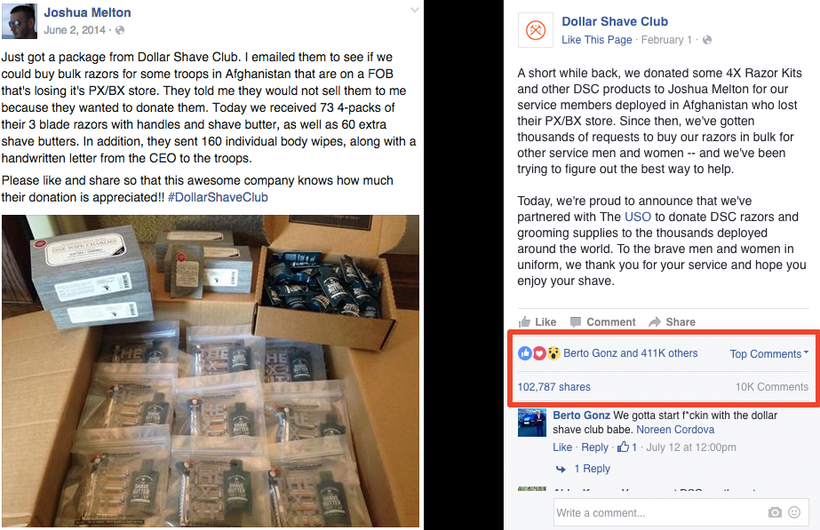 5. They Use a Variety of Visual Content
Great images tell stories, mirror a feeling or emotion a viewer will feel, or plant the seed for fantasy. Utilising a variety of visual content that drive these reaction make for compelling Facebook posts - as DSC knows.
One great example is Dollar Shave Club's promotion of their product: Boogie's Pacific Hair Pomade. The posts, like this one, are simple yet incredibly evocative.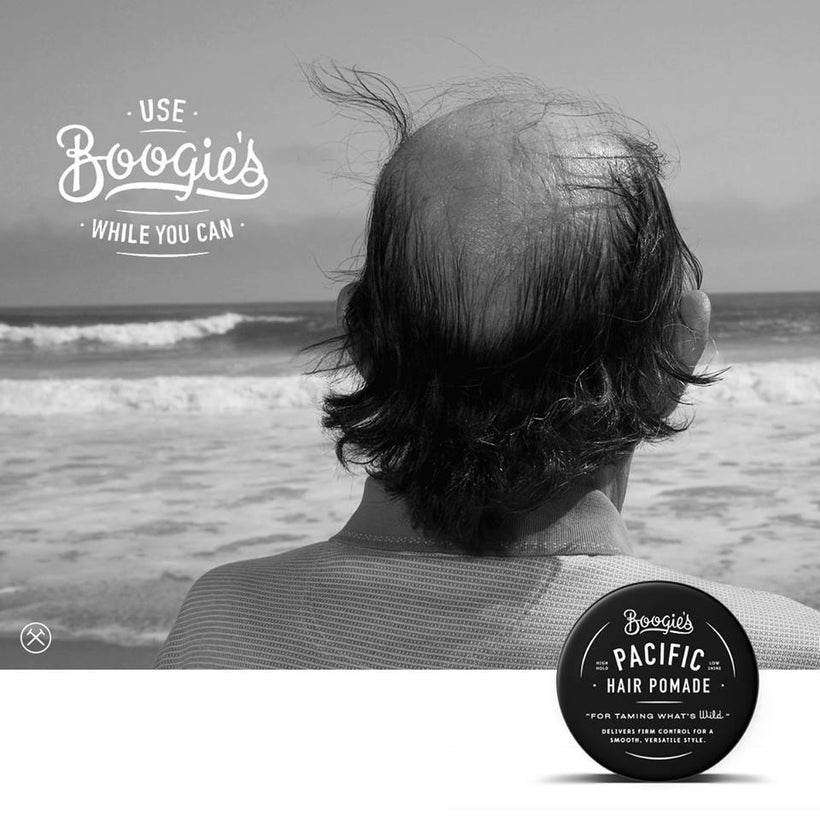 Another way to use imagery in an interesting and compelling way is to create your own graphics. Here're two examples: one from Canva and another specifically made for Dollar Shave Club.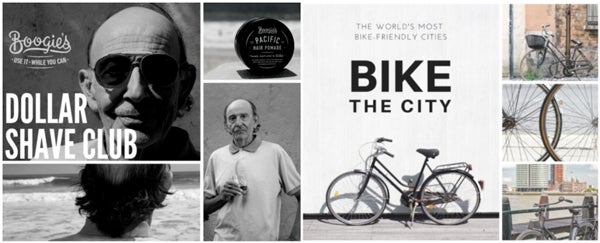 Designing simple collages like these can be done even without a big budget or graphic design team on staff. Try for yourself using one of Canva's professional collage templates - upload your own images or choose from stock photography to achieve results just like the big brands.
When creating a collage, keep in mind different angles and always include focal text. You want your images to tell the story so choose a variety that imbue different meanings.
6. They Include Strong Calls to Action
To successfully pull off good marketing campaigns, you need to be able to measure them. Do this by tracking conversion. Once the information is out there for the public to see, make sure you give them instructions on what to do.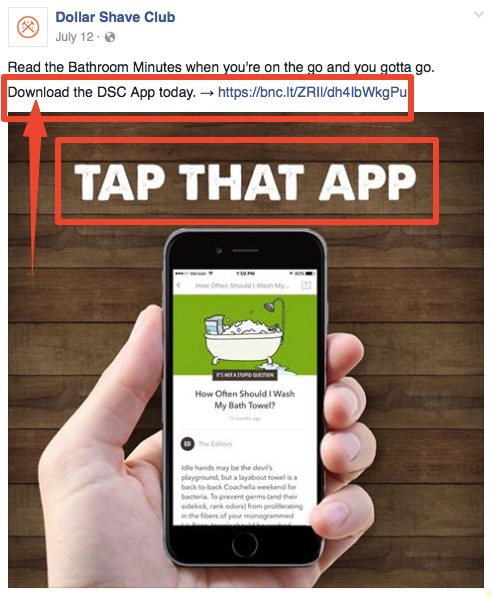 Be direct with your calls to action and ensure there's a clear intent behind every post that you publish. Whether it's engagement or shareability, keep your conversion goals top of mind.
How Dollar Shave Club is Nailing Facebook Marketing - And You Can Too
Understand your audience, create quality content, optimize your posts for engagement, and then rinse and repeat. This formula, used by Dollar Shave Club to leverage millions of Facebook fans, is surprisingly adaptable. Have you tried any of these techniques? Are you a fan of any others? Leave your thoughts in the comments below.
This post was published on the now-closed HuffPost Contributor platform. Contributors control their own work and posted freely to our site. If you need to flag this entry as abusive,
send us an email
.