Halloween is one of those holidays that lingers, isn't it?
Whether it's all of those decorations that are still out in the yard (which you'll finally get around to taking down & packing away later this weekend … right?) or that bowl of leftover Treat-or-Trick candy that you've been slowly make disappear one fun-sized bar at a time, while All Hallows Eve should have been over at the stroke of midnight on October 31st … Well, just like that jack-o-lantern that the kids carved (which should have gone in the trash days go, but is still proudly displayed out on the front steps), this holiday somehow always manages to hang on a few extra days.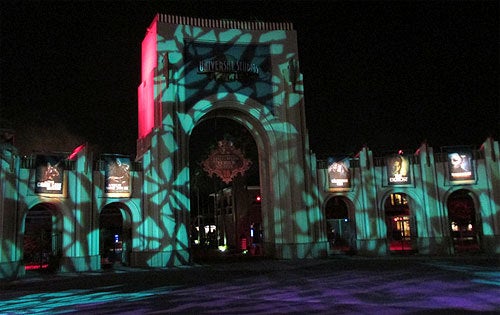 Mind you, this was all Matthew's fault. You remember that hurricane which happened in early October, right? The one that – at one point -- achieved Category 5 status while it was out in the Atlantic basin, gathering strength. And when the National Weather Service's computer models showed that there was a very high probability that Matthew would come barreling out of the Caribbean and then send torrential rains & hurricane-force winds Central Florida's way, Universal Orlando officials swung into action.
"Given what this Resort has to do in order to prepare for a hurricane, we knew that Matthew was going to impact at least two days of this year's Halloween Horror Nights event," explained Alyson Lundell, the director of Public Relations for Universal Orlando. "Once we made the decision to close the parks on Friday, we were in constant communications with our Guest Relations team. Who were ultimately going to be the front line when it came to dealing with that closure. We were also fortunate that – out ahead of Matthew – our call center was properly staffed and ready to deal with all of the people who'd now be looking to exchange or reschedule their Halloween Horror Nights tickets."
Unfortunately, what with both of Universal Orlando's theme parks & CityWalk closing at 5 p.m. Thursday (so that the Resort's team members would then have sufficient time to get home safely and begin their own preparations for Matthew's arrival), that meant that UO's call center also had to shut down.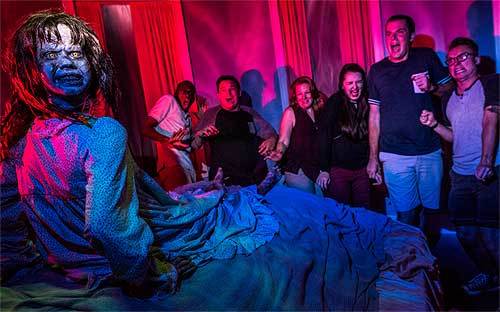 "But that's what's great about having a partner like Loews. When we were forced to temporarily close our call center in Orlando, Loews was able to jump in and help us with a call center that they had out-of-state that could then assist us with answering guests questions until our own call center team could get back up and running the following day," Lundell continued.
Speaking of teams … While first Universal Orlando's call center and then Loew's call center was helping Halloween Horror Night fans exchange or reschedule their tickets, out ahead of Matthew's projected arrival, Universal Studios Florida was a veritable bee hive of activity. As the HHN tech & décor teams scrambled to dismantle all of this annual event's temporary stage spaces. Not to mention all of that gruesome décor, those thousands of carefully constructed props & set pieces which are placed throughout this theme park to properly set the scene for this seasonal show.
"I definitely have to give credit to our tech & décor teams -- and honestly almost every discipline or division at UO -- in their ability to react to this situation," said Patrick Braillard, who's a show director with Universal Orlando's creative development department. "This was the first major hurricane to even come close to us in – what? – the last 12 years. And while the theme parks themselves, wherever you go, they're all hurricane-rated as far as their infrastructure is concerned. But as for all of that Halloween Horror Night décor, that had to be quickly & carefully struck and secured. Largely because – as soon as this storm passed – it was then all going to have to go back up again."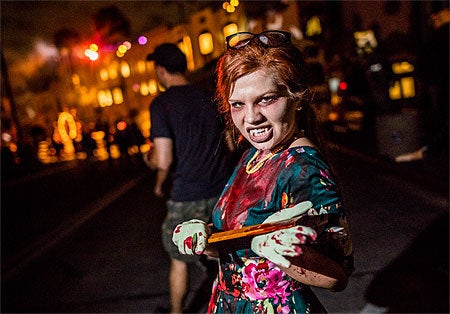 "That's the thing that truly amazed me about the teams here at Universal Orlando. They were able to strike every temporary element for Halloween Horror Nights in just 12 hours and were then able to get everything back in place 24 hours after that," Braillard continued. "Just the fact that they were able to navigate through the logistics of doing all that, getting our parks back in full operation so quickly, just amazes me. Our teams really went above & beyond the call here in terms of trying to figure out how exactly to do that."
But even so, in the wake of Hurricane Matthew's passing, Universal Orlando was then facing a huge HHN-related challenge. The 2016 version of this after-hours hard ticket had originally been scheduled to run for a record 31 days. And since tickets had been on sale since June, there were now thousands of people who'd been impacted by the Resort's decision to cancel those two Halloween Horror Nights which had originally been scheduled for October 6 & 7th.
Using social media (as well as other media outlets in & around Central Florida like the Sentinel & local television stations), Universal Orlando quickly got the word out that that tickets purchased for the October 6th & 7th dates of the event would be honored on any other night of HHN 26.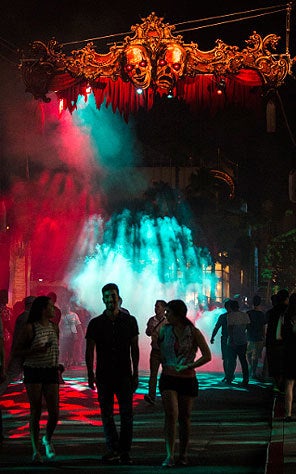 "But even then, we knew that we'd really need to do more here in order to give back to our guests what they'd lost. So pretty early on, we decided to extend Halloween Horror Nights' run, tack on two extra days to make up for those that had been lost to Matthew," Alyson stated. "To be honest, it didn't take all that long to get everybody on the same page and get this decision made. The only real hold-up – and it was really a brief one – was in getting this new ticket product online so that people could then actually book those dates. But this decision was made literally on the heels of that hurricane passing us by."
Which brings us back to Halloween Horror Nights extending its run into early November. Which might confound those who work in retail (Which -- according to what I witnessed in our local Target this past Wednesday – there was a one day-long post-Halloween sale. Which was then immediately followed by a store-wide "deck-the-halls" effort in order to get that place ready for the holidays). But according to Braillard, adding two extra days to HHN 26's operating schedule is really Christmas-come-early for horror fans.
"This extension now gives them the opportunity to reexamine, reexperience this event. Do a deeper dive on the nine mazes, five scare zones and 2 shows that we've staged at Halloween Horror Nights 26," Patrick enthused.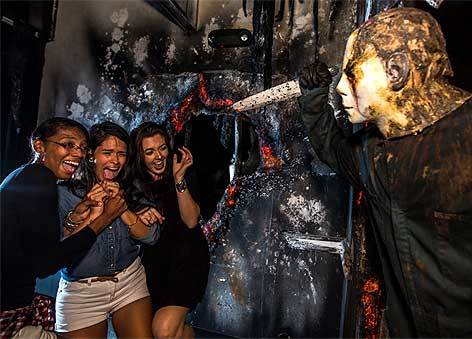 And speaking of shows, given that this year's HHN features the 25th anniversary edition of "Bill & Ted's Excellent Halloween Adventure," the very last presentation of this live stage show is sure to be something that pop culture fans really don't want to miss.
"Traditionally, the final show of the season for Bill & Ted -- because so many Halloween Horror Night fans have already seen this live show multiple times over the course of the event, they're now screaming the lines along with the actors onstage because they now know this show so well – can get pretty wild," Braillard said. "Especially when you get 2000 people in the stands doing that."
But as much as Patrick is looking forward to that Rocky-Horror-meets-rock-concert moment at HHN 26, he and his team are already hard at work on HHN 27. In fact, just before getting on the phone with me to talk about Hurricane Matthew's impact on this year's event, Braillard had been down in the lab with his colleagues at Universal Creative discussing concepts for mazes for next year's event.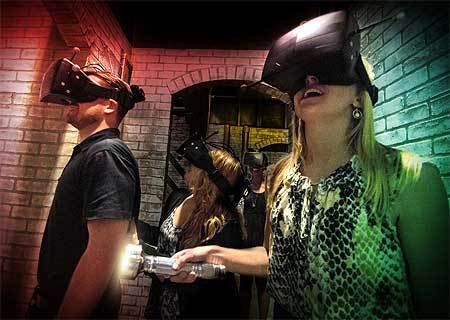 "We are literally knee deep – or should I say neck deep? – in what's going to be happening at the 2017 edition of Halloween Horror Nights," Patrick concluded. "That's truly where our focus is right now."
So while you're spending your week actively looking for excuses to put off pulling this year's Halloween decorations out of the front yard and then putting them away, Universal Creative team members are already hard at work designing mazes & decorative elements for Halloween 2017. Doesn't that make you feel lazy / ashamed?
Here. Eat a fun-sized Snicker's bar. It'll make you feel better.
This post was published on the now-closed HuffPost Contributor platform. Contributors control their own work and posted freely to our site. If you need to flag this entry as abusive,
send us an email
.