I recall hearing first about the Chadar trek couple of years ago when it was shared multiple times on social media tagged as the world's most remotest region (Zanskar Valley in Ladakh) where locals have to trek for days on sheets of ice used as a route for them to send their children to school and get access to local supplies.
'Chadar' refers to a blanket of ice and can only be accessed during the coldest months from January to February. The region remains close off for eight months to a year due to heavy snowfall. The thought of treading through deep icy waters and walking on a thin layer of ice was somehow fascinating and thrilling to me. My first impression of the Zanskar region was one of isolation
Coming from a tropical country and diving deep into the frigid mountains was not the best decision ever, but I came prepared. I rented a mountain jacket from the Indian Mountaineering Foundation in New Delhi, but turns out there was only one size available in XXXL. It looked like my Uncle's jacket and it felt like I was wearing a hard-shell space suit.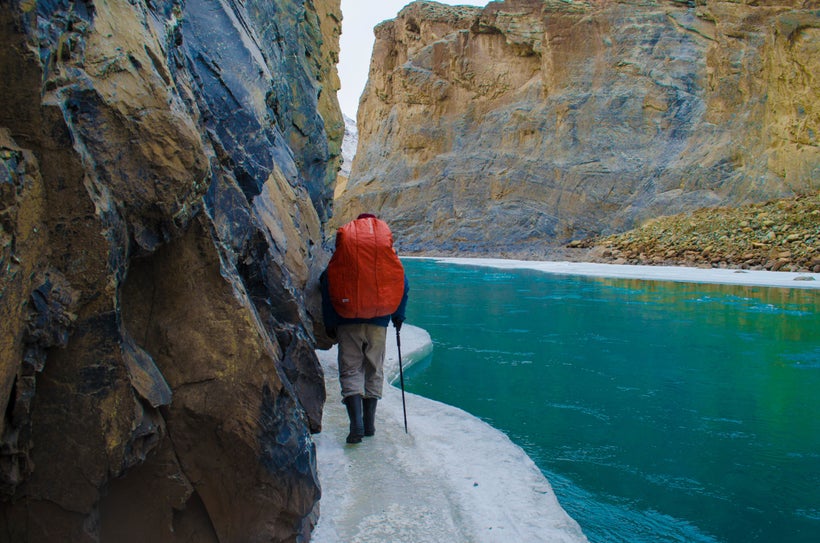 Day 1 - Leh to Tilat Sumdo
Having made a steep 45 degrees descent into the valley, I felt like a pro after walking on the sheet of ice for 1-2 hours. I did not fall, and did not think this was hard at all.
The porters took their time to set up our first campsite and this was when we were served Chai (Tea). When you're high up in the mountains, there is nothing that comes close to a simple cup of aromatic tea. Soaking in the last of the sunshine before nature's sunset arrives, I knew when night came, I would be a frozen popsicle.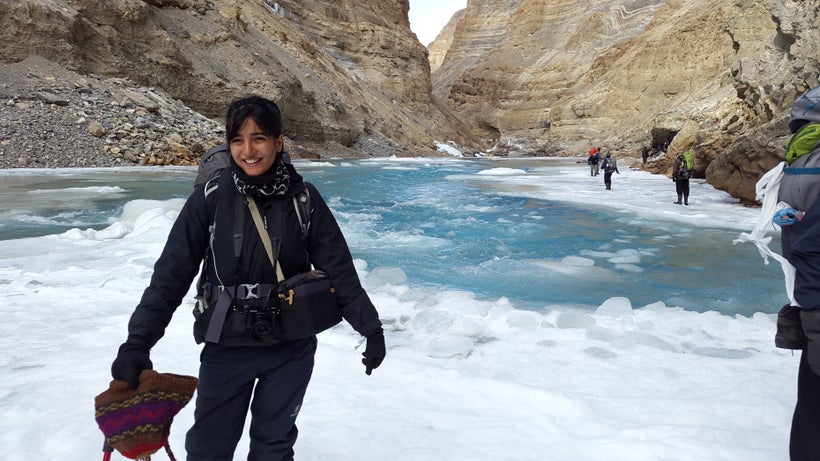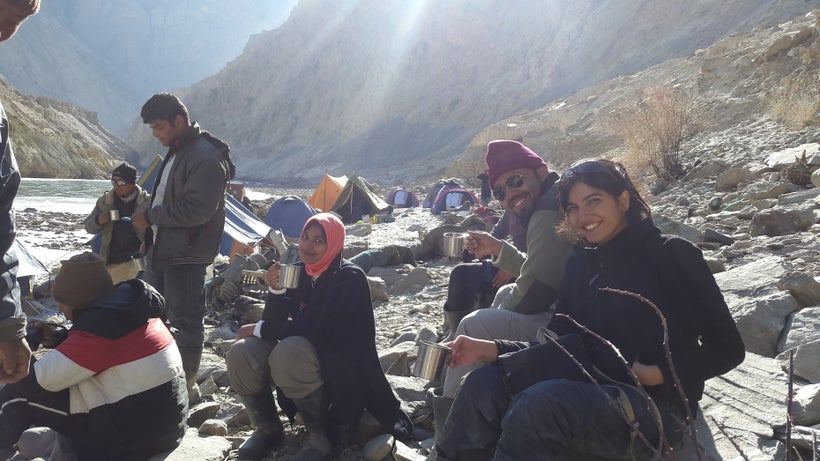 Day 2 - Tilat Sumdo to Shingra Koma, 9.5km, 6 hours
Ready to take charge of the next day. I woke up at 7.00 am and the rest of us were ready to leave by 9.00 am. Today was supposed to be an arduous trek. Parts of these places do not get any sunlight until mid-day. Our face and ears completely exposed, it was hard to even look up.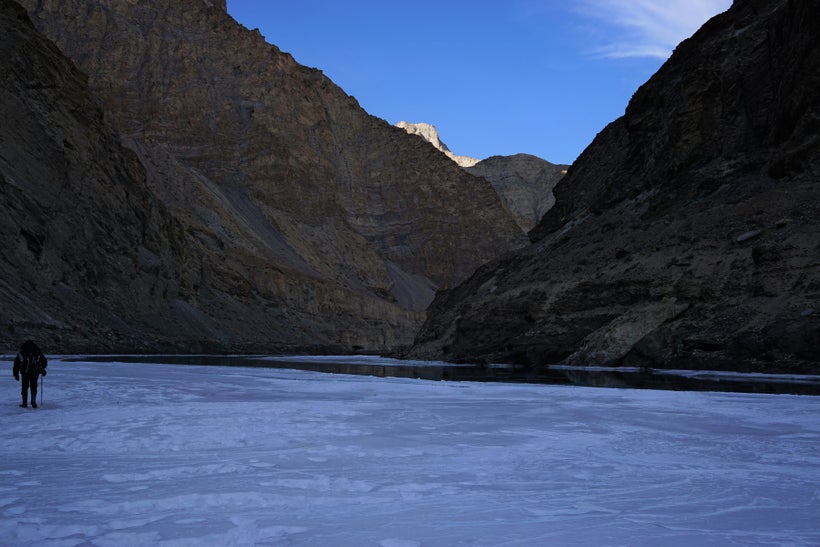 During the next few hours, we walked and walked to what seemed to be like an endless game. There was no inclines and we thought the easiest way to have fun was to slide, fall every 2 times, walk and repeat.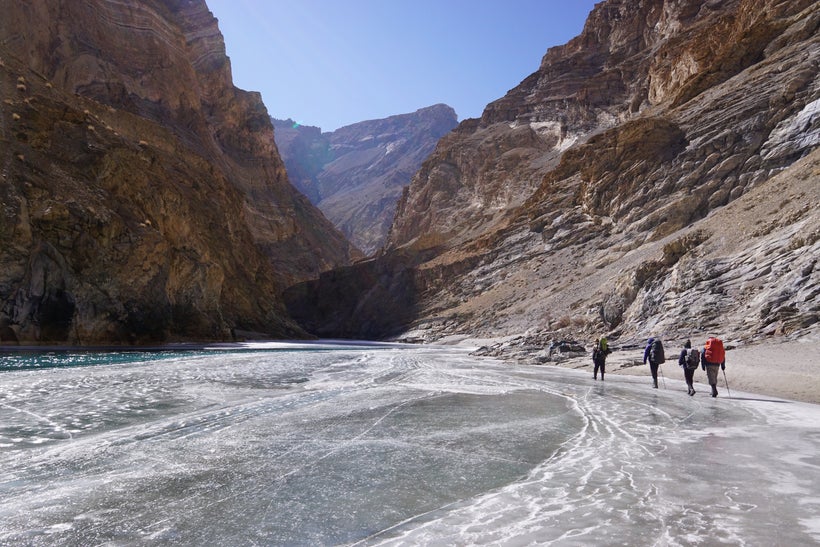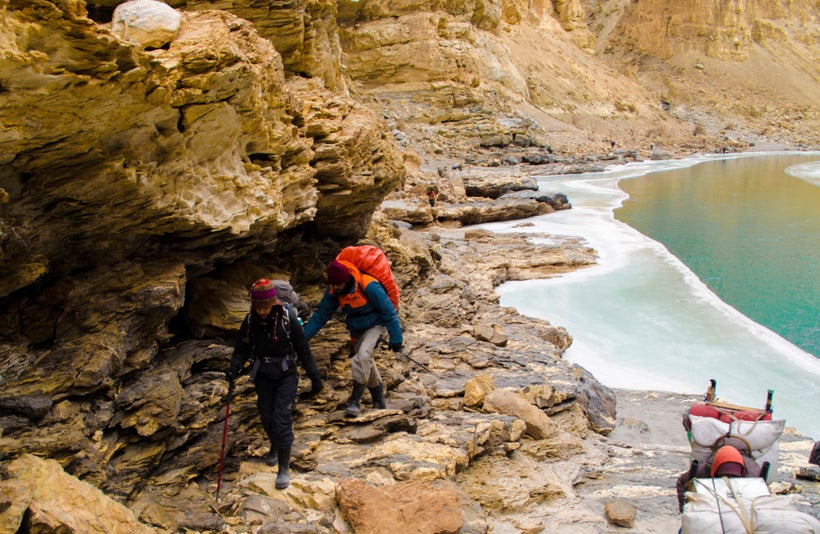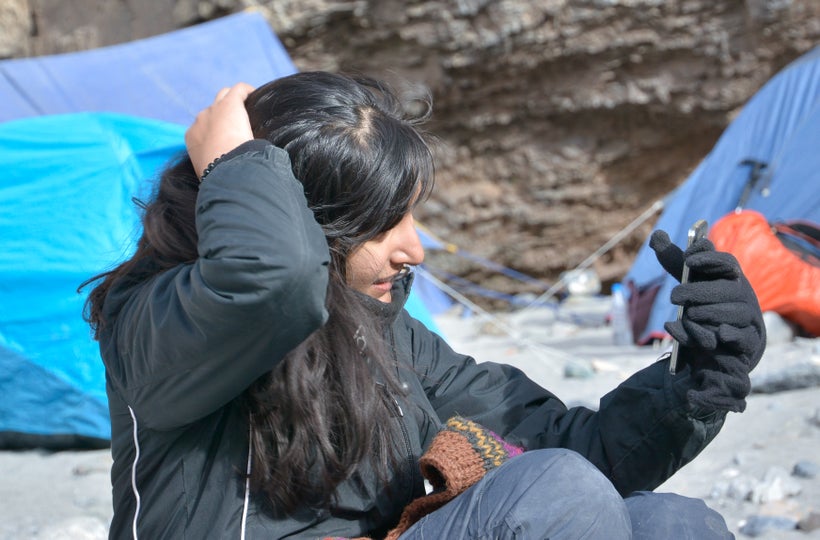 One of the joys of the mountains for me is the way that life is so simple. One's focus is on living and expressing rather than keeping up or keeping in time.
Day 3 - Trek from Shingra Koma to Tibb, 15km, 7-8 hours
Our journey to Tibb cave was a long adventurous one, we were completely entranced by the beauty of the ice formations. Hanging on to our dear lives while inching closer was hard. I had never felt this nervous and was afraid that I could tear my ligament, or worse still, fall into the cold rapid waters.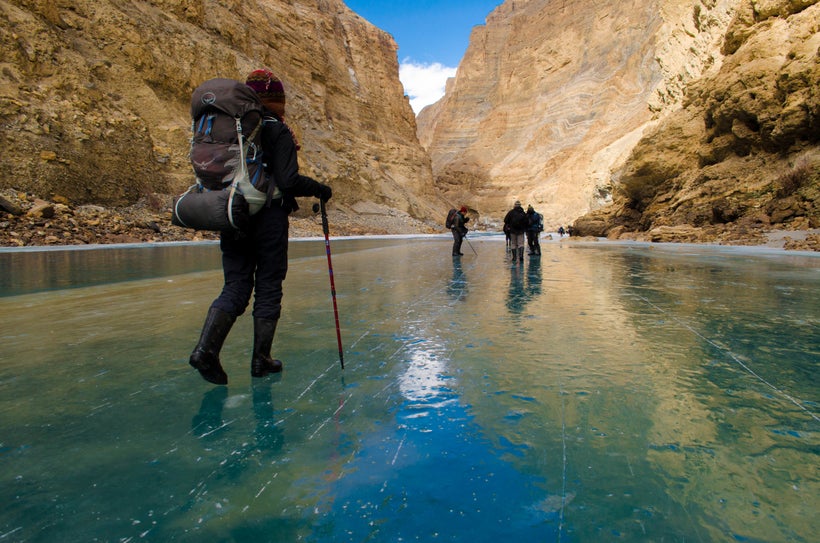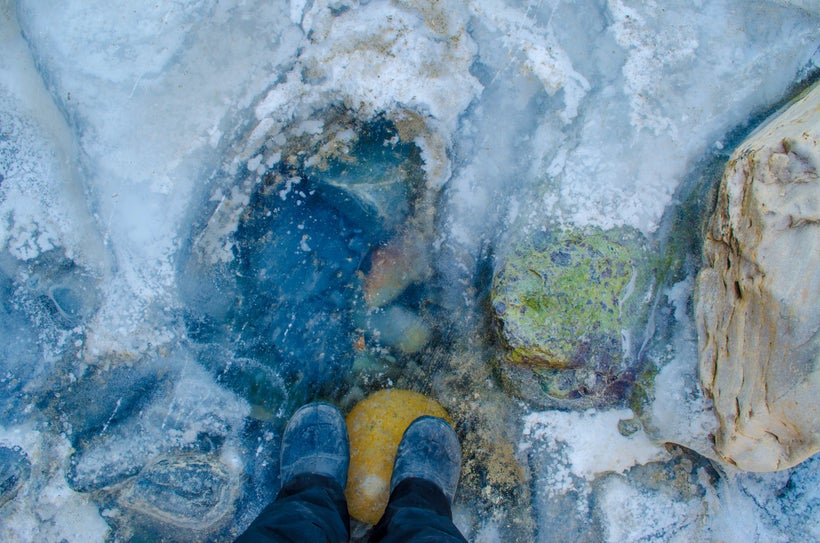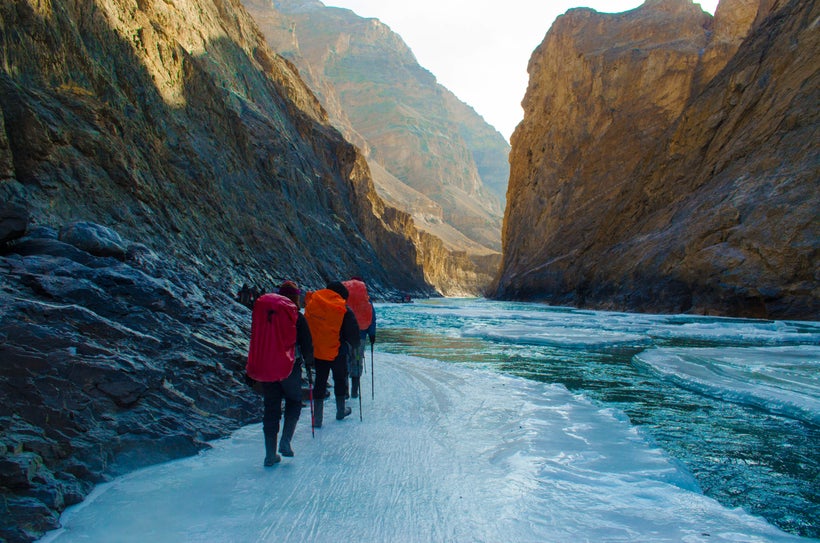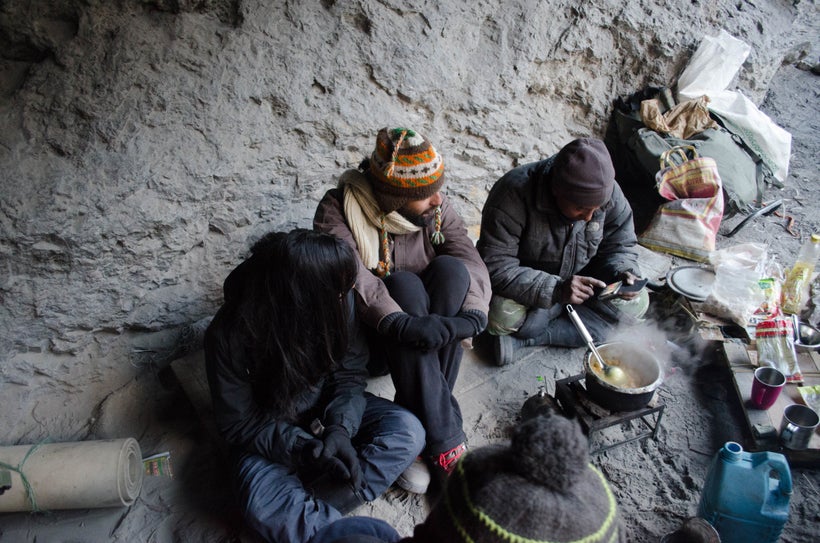 Day 4 - Trek from Tibb to Nerak, 12km, 7 hours
The shadows of our feet and reflection was hardly visible, because we were back in the freezer. This was a day of adventure as we climb through cliffs, and cross gorges within Chadar in order to reach Nerak, which ironically means 'Hell' in Hindi. 
The curse of Nerak was upon me. Chadar was not fully formed and it was quite a challenge to get across. The simple bouldering we started with quickly turned into rock climbing. I decided to pass my camera bag to the porter who thought it was a brilliant idea to toss it to another guy, in hopes he would catch it but in minutes my bag slipped through his hands and fell into the cold waters.
My mind was racing, I couldn't decide if I should transfer my energy onto my limbs to get moving, or simply be furious at what I just saw. With the unpredictability of what comes next, I didn't know what to expect. But when I encountered the much-awaited frozen waterfall, I thought to myself that this is definitely heaven on earth.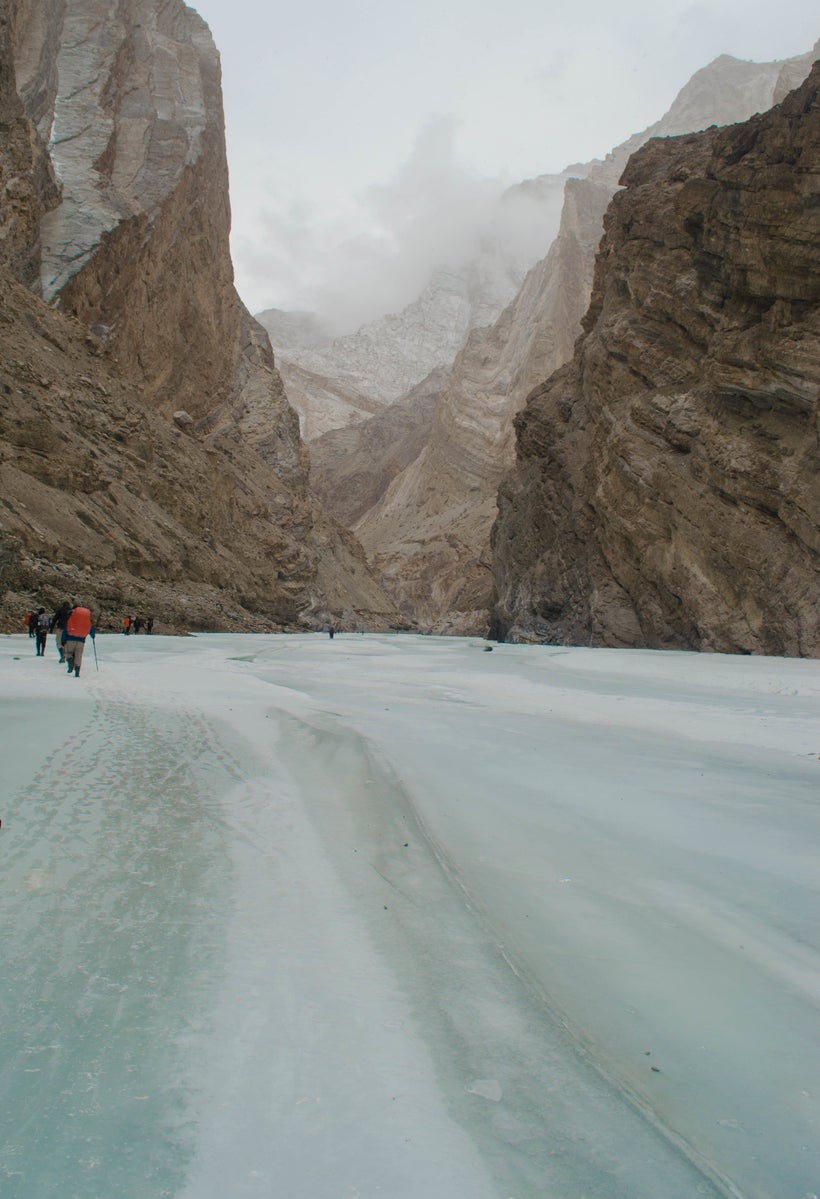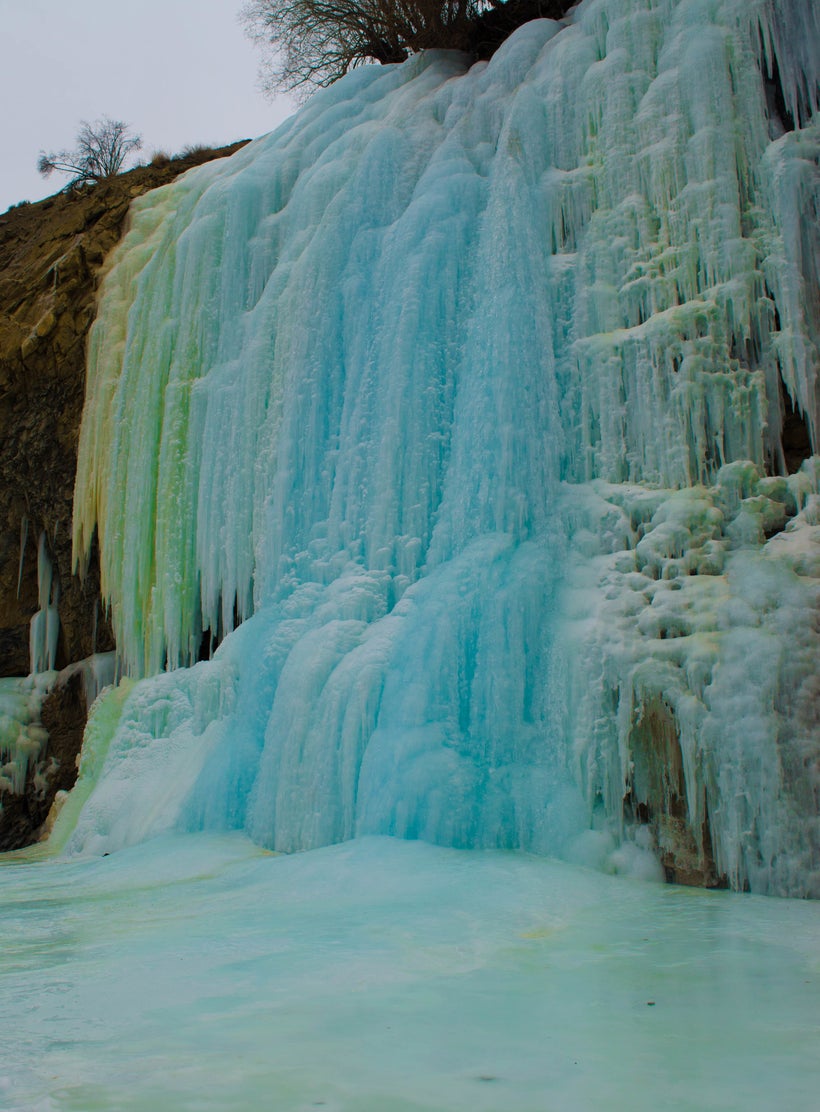 Day 5 & 6 - The Return from Nerak
The next two days, we begin our journey back. "Quick, quick, quick, the ice is breaking. It's snowing. We have to leave now!" exclaimed our trek guide.

Today, we thought that we'll be retracing our steps and it should be fairly simple, but this is when you can never underestimate what comes next.
So we made our descent to the Chadar and I noticed that my gumboots were eerily grating against the breaking ice. By now, the water was knee deep and had seeped through my gum boots and pants, all in frozen temperatures. I looked up at that moment and also remember the sky to be slightly overcast with dull grey streaks.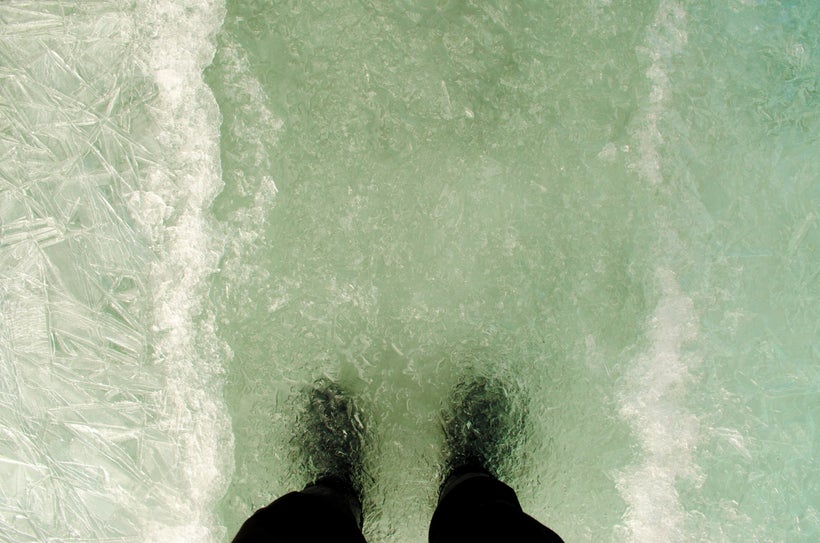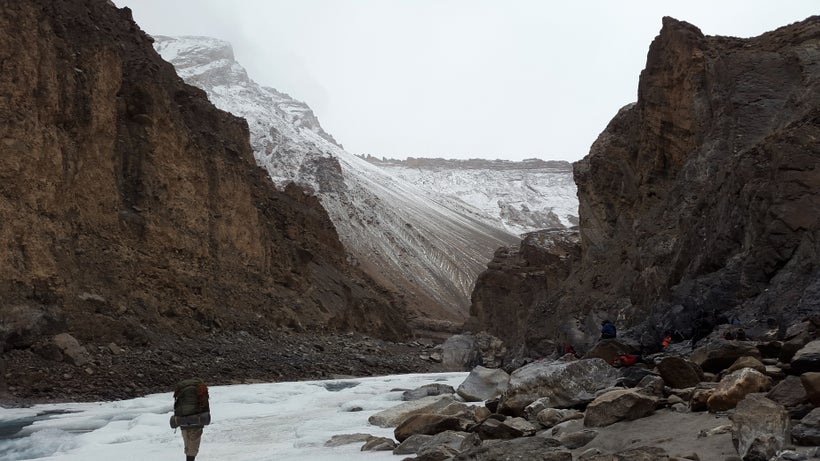 Day 7 - Return to Chilling
Our journey at Chadar was coming to a bittersweet end.
With the successful completion of my epic voyage, I have never had such a wintry experience before in sub-zero temperatures. Jaw-dropping sights, the humility of the people and the physical and mental challenges that we had to overcome, these are the little lessons that I have taken back which trickle onto my other areas in my daily life.
The conversations on tall high rocks as you overlook the blue waters to inspiring stories you hear when night falls are moments that I value and replay at least 10 times over now, as I type this in the comforts of my own home.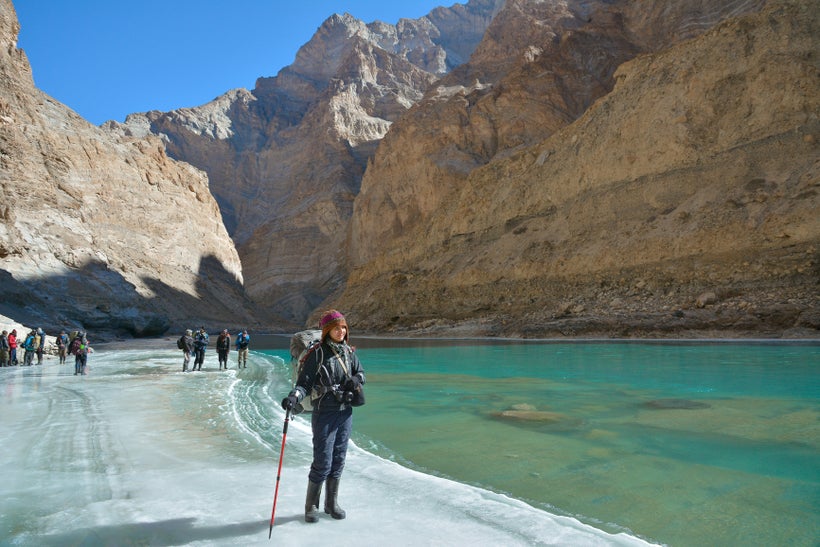 This post was published on the now-closed HuffPost Contributor platform. Contributors control their own work and posted freely to our site. If you need to flag this entry as abusive,
send us an email
.