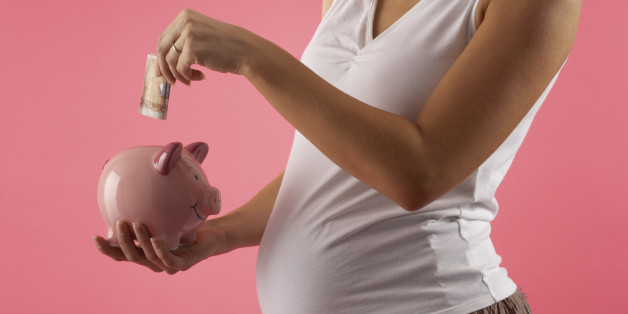 Nothing inspires the desire to make money like a pressing deadline.
Being single and 20 weeks pregnant with twins, I had a pretty big one. I made the decision that I needed a 10 year investment plan for my babies. If I didn't do something before they were born, I'd totally miss the boat and all available income after they arrived would need to be spent on their every need. Two babies on one single income will allow little for investment plans!
So I made the decision to buy a property; a decision that would have to fit in with my financial ability to take maternity leave. There was no doubt that it could only be seriously crappy one; but a flat nonetheless. I would need to buy it and renovate it all within a matter of 4 months (almost unheard of in the UK with their lengthy property exchange timings) before I gave birth. My plan is to hold onto it for 10 years and then sell it to pay for the teen years and university.
I've lived in London for 7 years so I have inadvertently been doing my research into areas that are yet to flourish for some time. Competition in the capital for good property is fierce. A recent RightMove report suggests that properties are even selling 19 days faster than they did last year, so it pays to be super diligent; assertively contacting agents and attending the open house several times to be sure and scope out the competition. I even took a builder along with me as this is always good for loudly pointing out all (and playing up) the things that are wrong with the property and putting off other prospective buyers with the amount of work required - oldest trick in the book!
I found a particularly terrible flat up for auction in sought after Zone 2. When I finally had an electrician to the property he openly said to me, 'This is the possibly the worst place I've ever seen'. I actually beamed a huge smile upon hearing this because let's face it, if the flat had already been great (or even just 'ok'), then I would have less value to add. But be prepared, taking on a seriously lacklustre property is not for the feint hearted.
The property went for auction and upon securing it, I had 6 weeks (including two weeks of Christmas holidays) to exchange all the paperwork. It was incredibly tense. Sleepless nights were spent pacing; wondering if I'd just been so careless as to lose the money I had for my babies' future. If you purchase at auction and the sale doesn't complete for any reason (it might not be anything to do with you), then you lose your total deposit of 10% of the property value. But on the upside, purchasing at auction is a much faster way of completing on a property. It's the risk you need to weigh up. It pays to get legal advice BEFORE you place any bids at the auction.
In late January, the property completed. At this point I was 28 weeks pregnant. I started renovations the very next week with a builder that I had pre-briefed and already had quote on the work. I had pre-prepared and confirmed a start date with him (following up every other week) so that I didn't lose valuable days with the property sitting vacant. As with all renovations, additional costs came up and I had to cover a complete rewire of the property and replace a roof at the back that I didn't allow for. I had a contingency though, so this helped and I just had to suck up what was necessary to fix. I pulled in on other costs including not getting the dreamy bathroom suite I really wanted and anywhere else I could. You have to compromise with yourself!
What YOU can add value to the property:
The day after I took ownership of the property, I created a design powerpoint document that I followed religiously (and also had the builder follow). This listed exactly what items I'd need for each room, how much I was prepared to spend on every single item and then I went about seeking out the best prices I could find. It might sound a little over the top, but it was my way of keeping tight control of costs.
At 35 and 36 weeks pregnant, I did what work I could myself to save money including clearing out an old storage area that had old bags of concrete, tins of paint and bike tyres that had been there for years. It was rancid and I was told by the builders that they were hesitant to get in and clear it out themselves because of rats and spiders. Seriously, not all builders are the burly kind!
So with my big girl pants firmly on I spent a day with a wire brush cleaning out that storage space, putting down a rubber matting floor and getting the electrician to run a new light into it. It is now a really valuable and fairly large storage space for bicycles etc, something that is quite unique in the heart of London.
I also got my builder to use the empty space under a blocked off set of stairs to erect a built-in desk and the electrician to install a spotlight, making this vacant area now a new and very usable dedicated study nook. Also a huge bonus in the centre of London.
One afternoon I sat on my bottom for 4 to 5 hours with refuse bags just clearing out the garden to make the place look tidy and attractive. This is so easily done by anyone, you don't need professionals who cost for everything. I added a planter box in the front window with cheap but lovely colourful blooms and a few plants in the back garden too. It was worth it. I was filthy and at this stage barely able to waddle, but the street appeal increased ten fold. I had a friend come over and she kindly re-painted the front door in high gloss black for me as we chatted. Everything really started to come together.
I searched ebay and got a great couch at a reasonable price. I found an Asian trunk on the street that I cleaned up and it looks great (in a distressed shabby chic kind of way)! I had some pieces of furniture and art that I repurposed for the flat and I purchased some bits of IKEA furniture that friends helped me put together.
Getting to the finish line
Push your builder for a completion date and keep them on track with this. I ended up going over by about 2 weeks (this was due to the rewiring that was required) but in total, I had taken ownership of the property only a mere 58 days prior.
I had organised both a letting and a sales agent to attend the property. I suspected that I had added a bit of value (you couldn't not!), but when the agent gave his valuation at £120,000 more than I had paid for it less than 60 days earlier, I was beyond astounded!
I am now due to have my twins tomorrow. Was buying this property at auction and renovating it during a pregnancy a risk? Absolutely... but it was a calculated one. There's a difference. Even heavily pregnant, you have all the power in the world to maximise the money that you can create in a property.