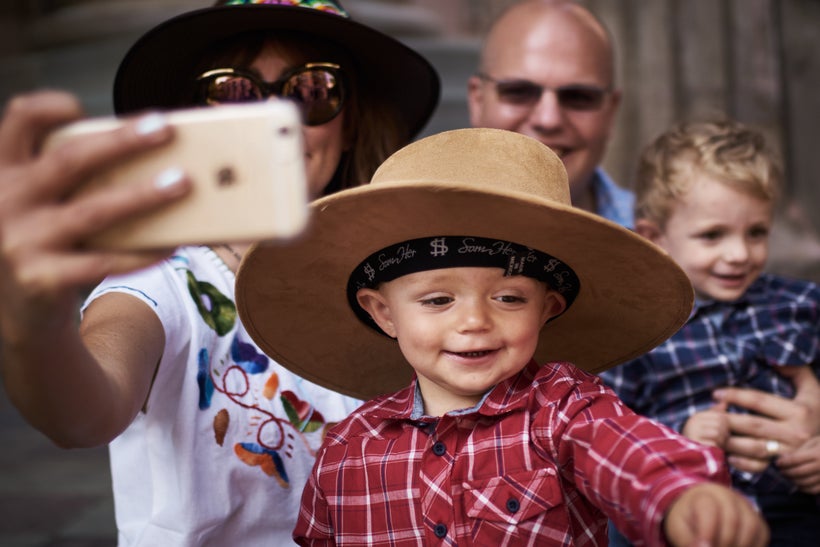 I was a potential statistic.
I grew up in a bad neighborhood in San Bernardino, California and baseball and art helped me avoid a lot of negative choices. I was surrounded by gangs, drugs, racism, and violence… and I didn't succumb to any of it. I played baseball - organized and unorganized, I worked the Little League scoreboard, the snack bar… I dragged the field, umped games, coached teams. I spray-painted an entire baseball field on our street and we used a tennis ball to avoid breaking windows. There was a big tree in right field that I used to pull the ball into left-handed because it was an automatic home run, imitating my hero Ken Griffey, Jr. as I did so. These were the best memories of my childhood. 
Art was very important to me, as well.
I didn't grow up with an artistic background - neither of my parents are interested in art and have never really encouraged it… and yet I've always loved to create. I've been creating art since I was 3 years old! If it involved using my imagination, I was in my element - whether it be drawing, painting, creating paper airplanes, or spray-painting the street I grew up on into a baseball field, as I mentioned before. At age 12, one of my drawings was exhibited on a nation-wide tour. This was one of my first confirmations that I had a future in art!
After high school, I didn't know what to do with my life. 
I knew I wanted to create art for a living, but I didn't know what that looked like or how to accomplish it. Having no clear direction, my mom told me I'd better go to community college. One of the classes I took my first semester was an art class. Surprisingly, I didn't enjoy art classes in high school because I usually had some bitter, failed artist as a teacher. One semester, I even got an "F" because I didn't completely follow the teacher's instructions on a coffee mug assignment. (This coffee mug proudly sits in my parent's china cabinet to this day!)
This community college art class rekindled my enthusiasm for art and I created my first paintings here, using acrylics. From then on, painting became my passion! I went on to earn an art scholarship to the University of Arizona. I began selling my oil paintings while still in school and I went on to pursue my career in the fine arts after graduating in 2004, Magna cum Laude. I worked as an art framer, delivered exercise equipment, and hustled as a waiter while transforming my bedroom at my parent's house into an art studio. Without knowing how difficult it was supposed to be to sell art, I proceeded to sell my paintings in a gallery in Scottsdale, Arizona and I even had an exhibition in New York City - though never making enough to quit having a day job after giving the gallery 50% of all earnings.
In 2006, I met Monique, the love of my life, and we got married in Tucson on 7/7/07. Being a married man now, I figured I'd better have a "real job", so I got a job as a landscape designer. I quickly became the top salesperson of the 8 designers at my firm. However, the recession hit and the landscape design jobs dried up, so my wife and I decided to start our own business, designing and marketing websites. We quickly built this into a six-figure business. Over the years, I continued to create art in my free time, but the free time became less and less and the inspiration wasn't quite there like it used to be.
All the while there would be this nagging voice in my head.
I knew I had sold out and gave up on my passion, gave up on my dreams, gave up on myself. Flash forward to April of 2015 - my wife and I now have 2 boys under 2 years old and our youngest son, Grant, fought for his life in ICU at Tucson Medical Center. It had a profound impact on me… I didn't grow up very religious, but I prayed every day and night for my son to make it. I realized that there are so many things I don't have any power over and I put my faith in a higher power. My spiritual journey is still evolving and it informs my life and my art. We were with Grant around the clock and when he slept I would draw on my iPad to keep my mind from worrying. Luckily, he fully recovered and we brought him home a long nine days later.
I realized that life's too short to not do what you love for a living. 
Monique approached me one night not long after we got home from the hospital and told me she felt it was time to pursue my art as a career. This gave me the encouragement I needed to really go for it. Since then, I've made an irrevocable commitment to my art and I've devoted time to creating my art nearly every day since early 2015. 
What I thought was a detour has become a source of strength for me.
When I was working 12 hours a day creating and marketing websites for other businesses, I felt completely sidetracked from what I felt I should be doing - art. But now, this experience has been a blessing for me because I know how to market my art online. 100% of my sales come through my own website - I've built my own email list that follows me, I have a following on Instagram and on Facebook, and I know how to run ads to get traffic to my website and convert them to sales.
I want to be a great example to my sons and I hope to serve as inspiration for any father out there who feels stuck. 
Maybe you're not working a job you love, maybe you're not pursuing your passion, maybe you're not doing what you're meant to be doing. That was me not too long ago - there was a lot of soul searching, a lot of sleepless nights. I was doing what I thought other people thought I should be doing, but I wasn't being true to myself.
If that's where you're at, I've been there.
I lost myself, but now I've rediscovered my purpose, my inspiration, and joie de vivre. You can, too - do it before it's too late!
Derek Alvarez has been creating art since he was 3 years old. One of his drawings was exhibited on a nation-wide tour at age 12. He earned an art scholarship to the University of Arizona, focusing on oil painting, graduating in 2004, Magna cum Laude. He began selling his oil paintings while still in college, exhibiting his work in Scottsdale, Arizona and New York City. His work can be found in several public and private collections throughout the country. Currently, he is working as a full-time artist in Guanajuato, Mexico, traveling with his wife and two sons, and shipping his artwork throughout the world. You can view his work at DerekAlvarezArt.com
This post was published on the now-closed HuffPost Contributor platform. Contributors control their own work and posted freely to our site. If you need to flag this entry as abusive,
send us an email
.