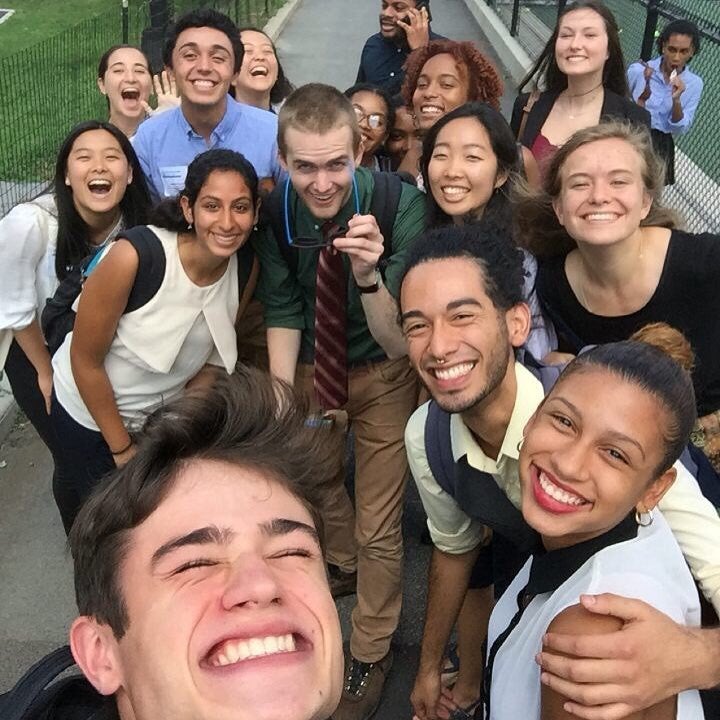 The picture above cannot even describe the transformative experience I had at the Breakthrough New York Teaching Fellowship. Breakthrough New York is apart of a larger educational project called Breakthrough Collaborative that tracks the academic success of middle school students starting in 7th Grade, until the end of their college careers. In addition, during the summer, the organization offers a teaching internship where college students team teach these bright young kids in Math, Writing, Science, or Literature. I was blessed to be given the opportunity to teach two  7th Grade Writing classes in the Bronx. While it is true that I spent most of my time being foolish and looking that way in a lot of BTNY photos, I gained a lot of professional and educational insights that I use to navigate my environment at Penn and in life.
When I first found out that I was going to be a Teaching Fellow for Breakthrough, I did not know what to expect. I first had a few weeks of Breakthrough's Orientation "O" Week before I could start teaching at my site in the Bronx. Breakthrough NY has sites in the Bronx, Manhattan, and Brooklyn. The purpose of "O" Week was not only to introduce me to the nuances of teaching in the Bronx site, but it was also to introduce me to the teachers across all three sites as we developed a stable foundation of Breakthrough's culture, including its "student teaching student" model, its curriculum for transition into high school, and its site specifics.
I came into O Week with obvious hopes to develop myself as a teacher, but I certainly was not prepared for the interesting experiences that followed the end of  O Week. The minute that first day of class hit, and I stepped foot in the Bronx site at the Cary Leeds Tennis Center in Crotona Park, I immediately was amazed by the enthusiasm of about 61 bright students (~30 7th Grade, ~30 8th Grade). The first week of Writing class was definitely the easiest time, mostly because the job of my team teacher and I was to establish classroom norms, and to access the student's current writing skills.
As the weeks progressed, the material got harder, and the kids definitely were challenged. Some students did not complete assignments because they did not understand them, and they did not have the self advocacy skills to ask for help yet. In addition, my team teacher and I also got into some problems because this was not only our first time teaching two whole Writing classes, but we were also still developing a team teaching "rhythm" by getting to know each other's teaching styles, etc… Also, just putting it out there, Writing is not necessarily an easy subject to teach, especially when we as a Writing department had to change the curriculum constantly to ensure that it was enriching for our students.
Luckily, BTNY hired Instructional Coaches: actual licensed teachers that led our subject Departments, and helped us change curriculum, and effectively prepare for lessons through class observations, weekly Department meetings, and two rubrics (The TER and YPR) that graded us both professionally, and on our teaching.
*Note: My IC for Writing was actually the best IC, and I do not care what anybody says.
I am happy to report however, that my team teacher and I achieved that rhythm especially when the students had to take their final Writing tests to assess mastery of skills. A lot of students scored above 90%, and some students even scored 100% on their final tests; obviously exceeding BTNY 80% mastery benchmark.
The most sad part for me though was saying goodbye to the students during our BTNY Celebration ceremony. Since Teaching Fellows come from all over the country and only contractually teach the students for the summer, we had to solemnly tell students that we had to go back to our respective colleges and universities. Fortunately, BTNY allows and encourages past Teaching Fellows to apply for next summer and teach again, but only a small percentage of teachers actually return. So I spent the last few hours of Celebration cheering (as noted with the picture below), dancing, singing, and crying.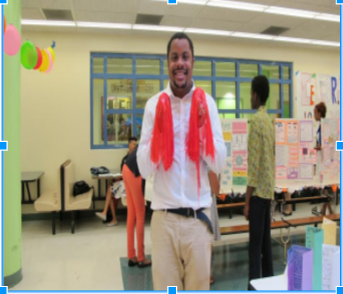 The BTNY summer program taught me a lot about myself as a professional, educator, writer, and person. Here's some of the ways:
It taught me how to have difficult professional conversations with staff and students through my first attempts of actually having those conversations, and with the advice of my wonderful Instructional Coach.

It taught me how to better organize my time for myself and for my students. Through the use of organizational tools like curriculum maps, daily/weekly planning sheets, and calendars, I learned how to make sure that I did not waste my time, my team teacher's time, or the time of my students.

It taught me that I have a very special interest in education. I learned from the summer program that I love both being in the classroom, and education on all levels. This interest is why I am minoring in Urban Education at Penn. In addition, it also showed me how I can use platforms like HuffPo and other writing media outlets to address my love of education and social activism, and use these platforms to actually educate others.

It taught me the beauty of networking and resourcefulness. During the summer program, a lot of issues arose in our site that tested our ability to be flexible and resourceful. A lot of times, I had to use my creativity to adjust to a new situation, or fix a problem that would have potentially affected my students.

Lastly, I learned that the sky is not the limit. For our last day of the summer program, the Teaching Fellows and staff participated in an education panel with educational organizations all across the East Coast. This panel showed me that there are several ways to be involved in education, and that I should not just limit myself to teaching. I learned that I can find new and interesting ways to link the amazing things that I am already doing to the field of Education.
Currently, I am still involved with BTNY and Breakthrough Collaborative while I'm at Penn. I work as a High School Application Mentor (HAM): a position that helps BTNY 8th graders navigate the high school admissions process so that they can get into the best high schools for them. Also, I currently work as a Breakthrough Ambassador where I tell Penn students about the Breakthrough summer program, and inspire them to apply for the summer position.

I certainly believe that Breakthrough influenced my life in many ways. I am constantly reminded of my amazing summer experience and the impact that I had in the shaping of those student's lives. But like the students, I too feel educated and inspired my Breakthrough and its mission. Breakthrough not only helped me find my interest in education, it also helped me define myself as a person. I am grateful to Breakthrough because of that, and similar to those students in Breakthrough from all other the country, I too am on the journey of breaking through life to find my purpose in it.
This post was published on the now-closed HuffPost Contributor platform. Contributors control their own work and posted freely to our site. If you need to flag this entry as abusive,
send us an email
.