Whenever you think of startups, you most likely think of young graduates coming out of college, chock-full of ideas, working in dorm rooms and garage trying to solve real-life problems with technology.
I've always found tech startups flamboyant and one thing that elates me about these startups is that they always have something in common.
They talk about passion, their drive to solving problems with technology and ultimately morphing into a big corporation in a few years down the line with fortunes and wealth at their disposal.
What this might indicate is that the Generation Y is more driven by their passion to pivot if something fails rather than persevering and hanging on to their business when it's dooming.
If you dig into the past and look into some of the most successful companies today, like FedEx, Elon Musk's Tesla and SpaceX, Airbnb, Evernote, and Blogger, all of them were on the verge to failure and shut down at one point in their business life!
These are also the most successful companies in the world today; all thanks to their perseverance and refusal to let their business die.
Similar is the case of this one startup from the hinterlands of a small third-world country called Nepal: Picovico.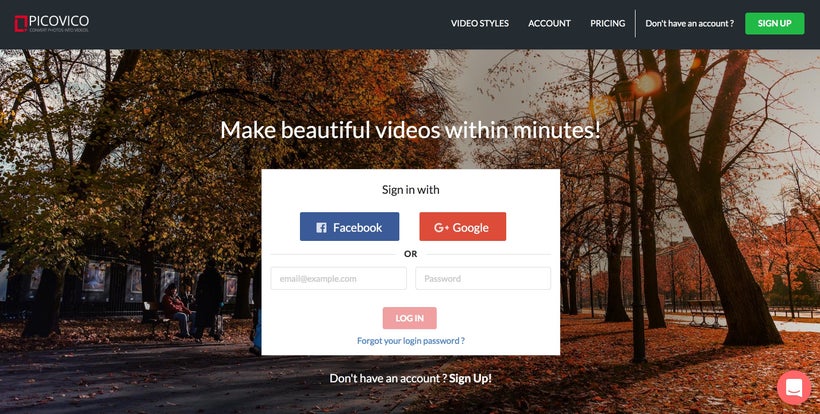 What's more intimidating is that this start transpired into a competitive technology environment from a country where only 18% of people have access to internet while the rest use janky internet connection and bad to the bone online payment system.
On-set of the Startup Journey
'Startup' was an inconspicuous word in Nepal when two computer engineers Manish Modi and Suraj Sapkota empelled on a journey to ensue their passion in 2011: write better code.
Mobile phones were still neoteric to Nepal and social media like Facebook, Twitter and Instagram were augmenting the lives of the younger generation.
With gazillions of photos and images shared on those platform, the two engineering graduates wanted to create something that would connect pictures together in a story.
They wanted to change the herculean process of creating videos to easy one-two clicks so that anyone with a mobile phone with camera could download their app and create a video in minutes.
The two were backed by the Morpheus, a community of entrepreneurs in India and they were welcomed as the 6th batch of the gang, in July 2011 while also raising $10,000 in seed funding.
With four months in incubation, Picovico scampered through development process and launched a public beta on March 25, 2012.
Users started plodding and in two weeks, the app had 500 users with more than 400 videos; a number that was only expected to grow.
Picovico started as a free app, just like most startups as they were full-bodied towards growth and traction. They still had no idea about their revenue model as they were unmingled on developing a user-friendly platform for the commoners, photographers and developers alike.
Their glee was inked to some extent when they came to know about Animoto, a video-slideshow product company in San Francisco backed by $30 million in venture funding.
With a powerful GPU based custom developed rendering platform, blending photos with text and music became easier and they felt accomplished when they cut down their video rendering time by half to 15 seconds.
This became their chief selling point.
In a year time, Picovico decided their revenue model and started charging per video for API usage. It was a lap of luxury for these millennials who were in iffy about their hard work.
The Breakdown
Picovico had nothing to write home about.
With limited resources, limited budget and no investors to reinforce, Picovico had a split in the founding team.
Things fell apart, dreams shattered!
The Revival, and Race to Top 20 in TNW Europe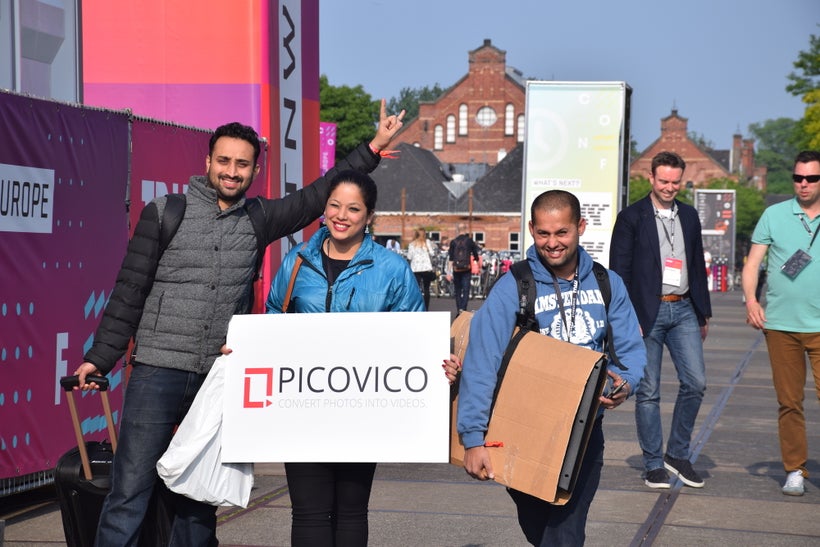 A lot had changed in four years.
After one of the co-founders parted in August, 2014, Amit Agrawal and Dhruba Adhikari joined forces and demanded a metamorphosis in the entire company.
The entire company had to play a new ball game.
Dhruba took the lead for product development and the company decided to take other projects to preserve the company from failure.
With dreams to continue the video wave, Picovico shared working space and logistics with their previous startup Sparrow SMS.
With tireless efforts into their Android app and API, Picovico had over 60,000 users on Mobile and over 2,00,000 users in total who used their product on the cloud.
Pivoting focus to small businesses, Picovico started gaining traction for real estate, and educational videos while also for personal life events like birthdays and wedding.
With a series of follow up questions by TNW, Picovico became the one and only company from Nepal to ever be selected for TNW's annual event in Amsterdam as a participant under 'media' category.
TNW's exposure not only gave Picovico a traction in terms of new customers, they were also selected as the Top 20 Potential Startups for the year.
Startup Chile and San Francisco
Things started going right when Picovico least expected it.
They kept their heads up and hung in their startup genesis and got selected for Startup Chile; a community where the top 100 startups around the world are brought together.
Startup Chile gave them a breakthrough of some sorts. They learnt about the Latin American Culture and Tech industry and got connected to more than 2000 entrepreneurs under the same hood.
Not just that, Startup Chile brought them $40,000 in grant scholarship, mentorship from professionals in the startup industry and media coverage they never expected of.
Soon, Picovico headed to the startup capital of the world, San Francisco, for a month where they met entrepreneurs, people in startup incubators, investors and mentors.
This visit gave them a profound knowledge of the real-world startup ecosystem and the thrill of how the tech capital works tirelessly, day and night to compete to the top.
So, what's next for Picovico then?
Picovico in 2017 and beyond
Picovico has been tirelessly working on improving their platform and making video creation much easier for their customers.
With their recent update, the startup has completely revamped their platform making it easy for their users to create Facebook cover profile videos.
Their API has had the most change with re-engineering and re-systematization, right from the core, all guaranteed to improve user experience and stability.
Not just that, from creating videos for birthdays and weddings, Picovico also recently started providing services for schools where teachers can easily create videos for their students.
On top of that, Picovico is also going head on in competitive niches like real estate, education and EdTech overall.
From slideshow videos, to creating stories, the latest changes are what the founders feel their unique selling point relies on.
Final words!
While the Nepali startup ecosystem is proliferating at a slow pace, Picovico team has been tirelessly working on their product and trying to compete in the international arena against video creation giants like Animoto, StupeFlix and Vemory.
It's also not surprising that startups like StupeFlix and Vemory were acquired by GoPro for $105 million combined.
This opens doors for Picovico to attract more investors and inspire them to improve their product further so that they bridge the gap between video making, editing and user experience all at the same time.
I wish Picovico all the best for their endeavors!
(Author's Note: I'm an ardent admirer of the burgeoning Nepali Tech Ecosystem, despite the community facing gazillions of problems related to payments, market outreach, a voice for them and a lot more to talk about.
All this time, while out of the country, the major problem I see with the startup ecosystem back home other than the problems startups face internally is they get very little public exposure.
As part of the change, I plan to write about at least one Nepali Startup a month, their story and publish on Huffington Post where I contribute.
If anyone reading this article can connect me to a startup that has a story and wants themselves to be heard, let me know about them.
I'd be happy to do a lot of digging about them, their market, opportunities and growth prospects to write the best I can! (Yes, I criticize a lot too, so please bear that for me).
This post was published on the now-closed HuffPost Contributor platform. Contributors control their own work and posted freely to our site. If you need to flag this entry as abusive,
send us an email
.