Elements of "The Deuce" feel familiar on HBO. The network has already shown us sex workers, sex scenes ― plenty of them ― and even a whole other series about '70s New York in all its queasy olive-toned glory. But never quite like this.
The show, which makes its official debut Sunday, revisits a past version of Times Square to document the dawn of the U.S. porn business. The Deuce, as it was known then, was a couple-block area around 42nd Street, now home to so many light-up billboards that nighttime never really falls there. Today's tourists swarm around the same pavement once pounded by women offering "dates" at any of the area's seedy hotels, neighbored by adult bookstores and theaters.
For his role as the twin Martino brothers, the gambler Frankie and "good guy" Vincent, James Franco may claim the flashier part, but it's Maggie Gyllenhaal's turn as a sex worker and aspiring pornographer that's the bigger treat.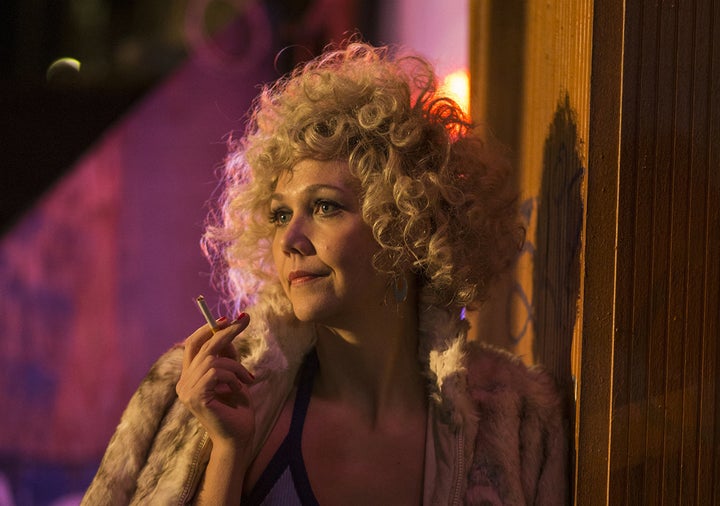 "What's always interesting to us is how capitalism works in systems like this, and labor. We're always talking about labor," series co-creator George Pelecanos told HuffPost, "and how the people who do the most ― who actually do the work ― benefit the least."
Gyllenhaal's character, known on the street as Candy but to her family as Eileen, is a mother and a sex worker unique in the fact she doesn't have a pimp and never has. While the Martinos juggle a mob-run "massage parlor" and a more-or-less legitimate bar, Candy eyes filmmaking in the budding porn industry as a more viable career choice. As New York obscenity laws are relaxed, sex workers run rampant around the Deuce, but the job isn't particularly cheerful ― let alone glamorous. A number of other women, whom viewers grow to understand throughout the first season's eight episodes, are emotionally and physically abused by both clients and pimps who masquerade as loving partners.
While the story is fictional, the characters are all based on real people. Years ago, HBO producer Marc Henry Johnson introduced Pelecanos and co-creator David Simon to a man who inspired the Martino brothers ― a longtime New Yorker who really had a twin brother involved with the mob. (In an unrelated incident, Johnson was recently sentenced in conjunction with a woman's overdose.) Candy, too, was a real person who sometimes also bartended and acted in porn to get by. 
None, or few, are still alive. "That's the thing about this world we're depicting, the attrition rate was very high. Most people didn't make it out," Pelecanos said.
With such dark subject material, viewers might be forgiven for regarding "The Deuce" with caution, especially since HBO hasn't had a sparkling track record with female characters. Hit series including "Game of Thrones" and "Westworld" have been criticized for gratuitous violence against women, particularly sexual violence; a Season 5 scene in "Game of Thrones" prompted particular outrage when a young female character was brutally raped. In order to avoid any such condemnation for "The Deuce," a show that revolves around women exploited by men for cash, Simon and Pelecanos reached out to a diverse array of writers and experts on the subject material.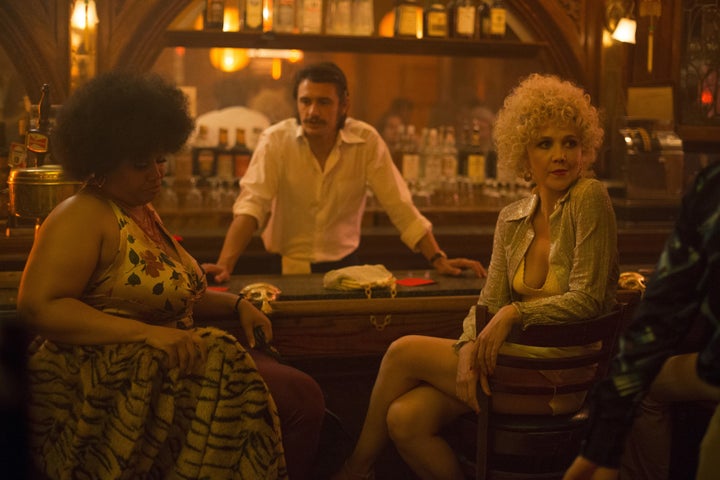 "Our intentions are good, but we're still a couple of middle-aged white, straight guys," Pelecanos explained. "And no matter what we did, it was going to come out being the boys' version of pornography, you know? Unless we preempted that and brought in some different voices." Writers Megan Abbott and Lisa Lutz, among others including a gay writer and a transgender writer, joined the staff. Half of the show's directors were women, including Michelle MacLaren of "Breaking Bad."
"We were trying to really get as much argument in the room as we can, because that's when we do our best work ― when there's a lot of argument and difference of opinions," Pelecanos added. The show employed a full-time researcher, and solicited input from former sex workers, porn actors, directors, police officers and journalists. Gyllenhaal's script notes were some of the most valuable of all ― providing an added depth to her character beyond what the creators had initially imagined. 
To Pelecanos, the finished product feels particularly relevant to 2017.
"The misogynistic culture that has reared its ugly head again right now ― I think one of the factors is that we've been in this sort of 'porn culture' for the last 50 years," he said. "When I was a teenager, and younger than that even, you went looking for a Playboy magazine whether it was at your friend's house or under your dad's bed or whatever, that was pornography to me, and all it was was a picture of bare breasts, basically. Today the same kid, that age, opens up a laptop and he can see anything. He can see a woman ― I'm not going to say 'getting made love to' because that's not what it is. He can see violent images of women."
He continued, "All these things have permeated the culture and the psyche of people growing up, it's now manifested itself in a much more misogynistic culture than when I was coming up. It's just like racism. We thought it had gone away, and it hasn't."
BEFORE YOU GO
PHOTO GALLERY
5 Features With Black Stars Coming To Netflix This September