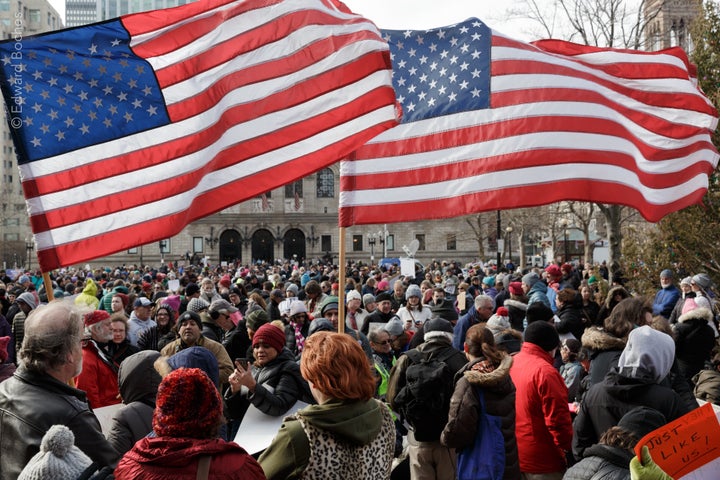 Last weekend, on the heels of the Trump administration's announcement of the Muslim ban on January 27, over 25,000 people came to Copley Square in Boston, including two U.S. senators, a U.S. representative, leaders of the Christian and Jewish communities, and the mayor of Boston. And the entire event came together in just over 24 hours.
As the event's lead organizer, and as someone who's never organized a rally, here's how I made it happen without ever leaving the office.
- We had been anticipating that the Muslim ban would come for some time, so a few weeks earlier our organization, the Massachusetts chapter of the Council on American-Islamic Relations (CAIR-MA), began planning. We scouted out a location that could accommodate a large crowd, near public transportation and with a stage venue. Then, we researched whether a permit would be needed, what was required to secure one, and our limits according to the law in holding the event.
- Next, we got all the media elements ready to go: we drafted a press release, asked a graphic designer to customize a logo, created a draft event Facebook page, and drafted an e-mail to our listserv and interfaith partners. This was crucial: when the announcement of the Executive Order was made, we wanted to be able to make our announcement immediately afterward. We knew that people would be angry and seeking an outlet, and we wanted to be the ones to provide them with a meaningful one.
- Following the results of the election in November, approximately 50 people e-mailed us asking how they could help. We compiled them then into a database, and when needed contacted them to request their help with the event. We made specific requests: two people to bring 100 pens each; five people to bring five clipboards each; one person to bring lunches for the lead organizers; five people to bring 100 copies of a listserv sign-up sheet, four people to bring boxes of trash bags to help with post-event cleanup, etc.
- We had initially hoped that a thousand people would attend the event, but once 10,000 confirmed that they would be there on Facebook, we realized that it had tapped into an energy for a response, and that it had gone viral. That unleashed a host of other complications that began to spiral quickly.
- The event's Facebook page began to be inundated with messages, such as whether we would allow local musicians to play, if there was a rain venue (we had checked in advance that it wasn't likely to rain or snow, so we weren't overly concerned about that), etc. These began to come in at a rate of several dozen an hour.
- Once we realized it wouldn't just be a small gathering, we contacted and alerted the Boston Police Department in order to give them time to prepare and to coordinate security. They ended up shutting down all the adjacent roads to accommodate the crowds and ensure safety.
- Each volunteer was asked to come an hour early and to meet in a predetermined location in the Square. They were each given a brightly colored light neon vest that would readily identify them. One of our staff had drawn a map of the area and divided it into ten sections, and each group of volunteers was assigned a section to maintain. A group of 20 volunteers were given clipboards, pens, and listserv sign-up sheets to fill. Their task was to get as many names and e-mails as possible to help us build a database that could be activated later, so that the event could have a lasting impact.
- In order to preserve security and room for the speakers, we asked ten large persons to form a human barrier in front of and behind the podium. No one got past The Wall unless they were media, a speaker, or an aide.
- One unexpected outcome of having so many people densely packed is that the data networks can't handle the load, so no one's internet worked. This meant that the Event page temporarily went blank since no one could upload anything until after the fact, and the organizers couldn't access their e-mail. It was also too loud for phone calls, so all communications had to be done via SMS.
- Immediately after the event, people began uploading thousands of photos of the rally onto the event's Facebook page. In addition to giving people a sense of belonging, this also has the effect of memorializing the event and providing a photographic record of dissent (you can check out the photos here).
- We were incredibly lucky that a sign-language speaker volunteered at the event to stand next to the podium and interpret the speakers. We should have had someone already in place for that.
- Designate a point person as a media contact and for interviews to speak on behalf of the organization. I tried to do this as the lead organizer, but I was unable to engage extensively with the media as I was also coordinating other, more urgent aspects of the event. Set up an automatic e-mail reply and voicemail directing people to that media spokesperson so that they don't have to wait on the main organizer for a response.
- Also designate a social media point person who can go through and amplify the messaging through hashtags and retweets, while also responding to messages directed toward the account in real time.
- Once we realized that the event was going to exceed 20,000 people, we should have sent out a second press release to attempt to get more national media coverage. We were featured extensively on CNN, but could have reached an even larger audience and helped shape the wider narrative on public opinion about the ban had we done this.
- Audio/visual was definitely our greatest weak point. Many people in the audience were unable to hear or see the speakers. We should have gotten as much sound amplification as possible the day prior and gotten it set up by a professional team.
- Our smartest move was getting thousands of names for a listserv to keep up the momentum. However, we should have had double the number of volunteers in order to capitalize even more on this aspect.
Despite an intense 24-hour period of preparation, the event was a true inspiration and well-worth the effort. It uplifted everyone who was present, and showed that our country will not stand idly by while the rights and freedoms of any minority are under attack.
BEFORE YOU GO