It's the format that made a star of Oprah Winfrey, gave Jay Leno a garage full of rare cars, and turned Trevor Noah into a household name a long way from home. And it used to be almost impossible to break into. You needed to have a background in television, contacts at the big networks and an agent willing to push you forward. That's no longer true. Now anyone can call a friend, point their phone at themselves and open the Facebook app. Hit the "Live" button and they'll be broadcasting to the entire world.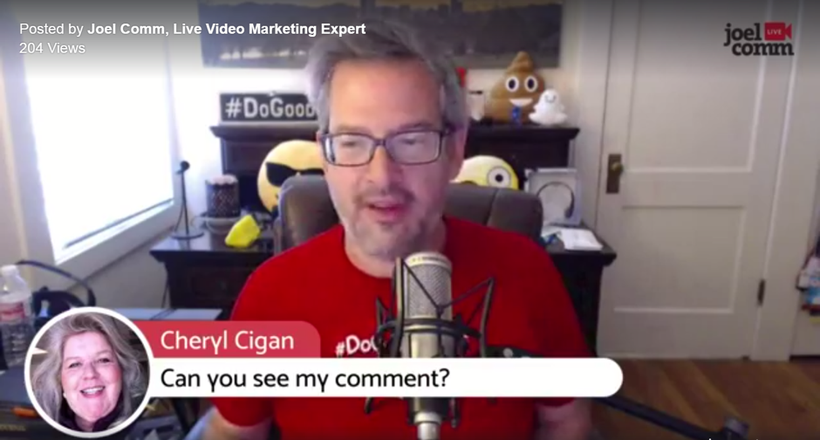 In theory, they could reach an audience even larger than Oprah was able to hit at her peak. Broadcast online, and there are no limits.
But if you are going to talk to a large audience and bring in a guest and take up your audience's time, it's worth doing it properly. Facebook Live is a very powerful tool. It lets you interact with an audience, answer their questions in the comments, view reactions as they flow across the screen so that you can see which parts of your content have the best effects, and review detailed stats once the broadcast is over. But other platforms have built on those features to offer users even more tools.
Some of those tools are targeted at particular users. Bluejeans, for example, is a video-conferencing platform that's intended to bring together scattered staff but it can also be used to broadcast interactive events. You'll still get to reach a big audience but you'll have moderator controls, bandwidth management and other tools that can make broadcasting a conference, a presentation or an interview in front of an audience easier.
While that platform is aimed at business users, Crowdcast gives teachers a way to reach students. They can screen share, invite audiences to take part in votes, and broadcast through Facebook and Periscope.
But one of the best options for broadcasting a guest show though, is Belive.tv. You'll be able to host a live interview with a remote guest, and show them using split screen, picture in picture or in the whole frame. That's a huge benefit. Without Belive, you can only share screen space with a guest if you're both broadcasting through Facebook from iOS devices. Most people don't yet have the functionality and it's difficult to use. But Belive.tv makes it very simple.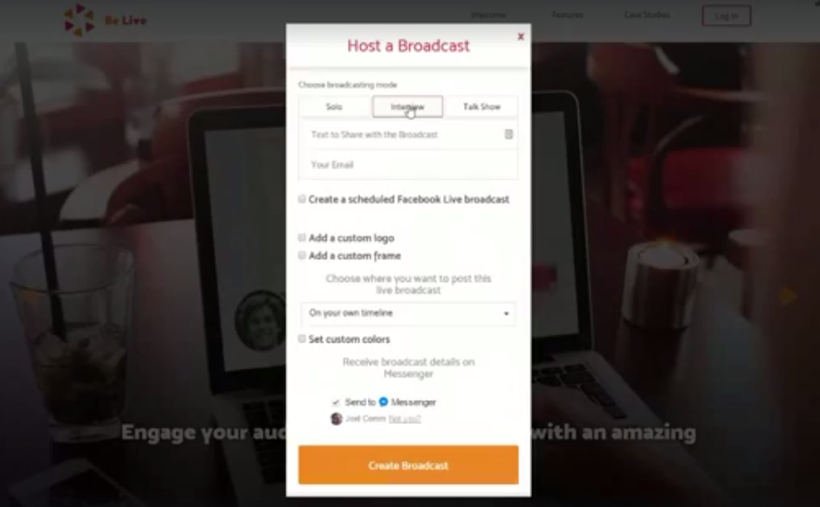 You can also put on the screen questions that viewers ask in the comments so that everyone can see them which turns the chat show into a much more interactive experience for your audience. And the user interface is very simple. You sign up through Facebook, choose the Facebook page you want to broadcast from and provide access to your camera and microphone. You can even choose a talk show format that lets you pull on the screen anyone watching. As soon as you hit the Create Broadcast button, you'll be on air.
The technical challenge of broadcasting a live talk show is now very easy to meet. It's the preparation that's harder. You'll need to have built an audience first, and you should tell that audience when you'll be broadcasting. Although followers might receive a notification when you go live, you really want them ready and waiting for you, having cleared a spot in their schedule to watch.
You'll want to tell them beforehand when you'll be going live, and send them reminders. Facebook's Events tool is good enough. About two weeks before your broadcast, create an event, invite your followers to take part and encourage them to tell their friends. Promise them that it's going to be an amazing show, and get them really excited about watching.
Finally, make sure that you have a topic you want to discuss, questions that you want to ask your guests and anecdotes that the audience will enjoy hearing. The show might not make you into Facebook's answer to Oprah Winfrey but it should entertain your followers and build your brand.
This post was published on the now-closed HuffPost Contributor platform. Contributors control their own work and posted freely to our site. If you need to flag this entry as abusive,
send us an email
.