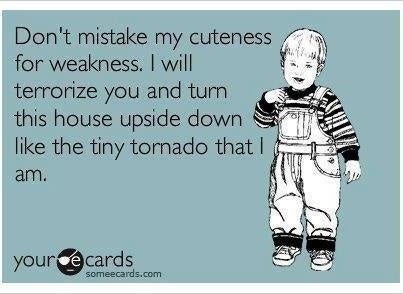 Have you ever decided to host a party and then the day arrives and you think what the…? And also why…?
This happens to me almost every single time I've planned a party. I concoct some lightly-themed shindig that seems like such a good and clever idea and then as it gets closer I keep thinking about the tempting alternatives; like ordering pizza and putting on my in-the-house-only pants. Or getting a violent stomach flu. Or throwing myself off a cliff. So many choices.
The other thing that happens almost every single time is that once the party actually starts I have a blast and I don't even think about my in-the-house-only pants. Not even once!
My hesitation with hosting isn't the small talk; I have been writing books and giving keynotes on the topic for years. My hesitation stems from a busy travel and writing schedule, a family that is growing with in-laws and grandchildren, and the fact that I need some downtime to recharge in my aforementioned pants.
Yet, I have learned over the years that other hosts question their party plans because of the actual hosting part. This comes easy for me because I sort of can't stop small-talking and making introductions and taking coats and pouring wine. But for the hosts out there who are gearing up for a holiday soiree, here are a few easy tips to get the party started:
Remember that hosting means more than cooking:
Think about the flow of your space and the timing of the event. When guests arrive, greet them (obviously) and help them with coats, bags, hostess gifts, unruly children. This will make guests more comfortable and avoid everyone setting their purses on the counter and coats on the couch and children in the kitchen.
I'm so happy to see you! We've got a space for coats and purses in the study and there are a few kids playing poker in the basement. (Or Connect Four or Chutes and Ladders. Let's not judge.)
Once everyone is settled and coats and children are stashed in the appropriate places, offer guests a bit of direction and a cocktail:
The bar is stocked with wine and beer and soft drinks! There's a group gathered around the firepit in the backyard - let me get a drink for you and then I can show you the way.
Make introductions quickly and efficiently by finding some common ground or sharing a bit of interesting news that will help any new conversational couple get started:
Beth, I'd like you to meet George. George lives next-door and just adopted a rescue puppy. George, Beth is one of the top vets in the area.
Judy, this is my dear friend Kevin. He just returned from Sweden last week!
Give guests something to do or something to talk about:
Margaret, would you mind shuffling the cards for the kids' poker game?
Steve made the spinach appetizer and insists it's better than my mini-quiches – we are taking a vote and the winner gets a reprieve from dish duty tonight.
And then become a guest at your own party. Really. Once you've welcomed everyone, made introductions, poured the first round of drinks and gone over the rules of poker, it's time to enjoy. Seeing a host rushing about picking up empty glasses is unsettling to guests. So stop. Eat and drink and laugh and be merry. Plus, if your mini-quiches turned out as planned, Steve should be handling the late-night dishes while you're slipping into your in-the-house-only pants. All you have to say is:
Debra Fine was once a shy and tongue-tied engineer and is now an internationally recognized keynote speaker, trainer, communication expert and bestselling author. This is proof that ANYONE can learn how to small talk. Really. Even you. Fine established The Fine Art of Small Talk to teach others how to make conversation, build rapport, mingle and grow relationships at business networking events, conventions, association meetings, trade shows, dinner with people you don't really like and other various functions you may be forced to attend. 
This post was published on the now-closed HuffPost Contributor platform. Contributors control their own work and posted freely to our site. If you need to flag this entry as abusive,
send us an email
.