As self-published authors, it's important that we build a professional image to differentiate us from the thousands of others ebook authors out there. One of the ways I do this is by converting my Kindle books into paperbacks using Createspace. Not only does this improve the professional image of my book page, it also allows me to reach a whole new market who may not own a Kindle, or who just prefer the old school experience of holding and reading a paperback. A bigger audience means a potential boost in sales.
Although I still get more sales through Kindle, being able to indicate that I am a paperback, an audiobook, as well as a Kindle author, really improves the credibility and professional image of my book page. Viewing my author page, readers can immediately see I'm not just another self-published author offering just another Kindle book.
Converting your Kindle book to print version using Createspace is a simple process if you know what you are doing. Fortunately I have done this many times before so I am here to help you along the way. I've written this quick and easy step-by-step guide to help you take your ebook from digital format right through to an ink and paper book you can hold in your hands.
In a nutshell, the process includes: formatting your book cover for Createspace specifications, formatting your book for paperback, and uploading it through Createspace per their qualifications.
Before starting you'll need your finalized book in digital format, a good idea of what you want to put on the cover, a clear marketing strategy, and of course, an account with Createspace.
Got all of that ready? Then let's get started.
Step 1: Use Upwork to find a book formatter

Before you can upload your book to Createspace or have your cover designed, you need to hire a formatter to convert your book's content to Createspace format. Upwork is a great place to find a book formatter at an affordable price.
Step 2: Enter in a brief description of your job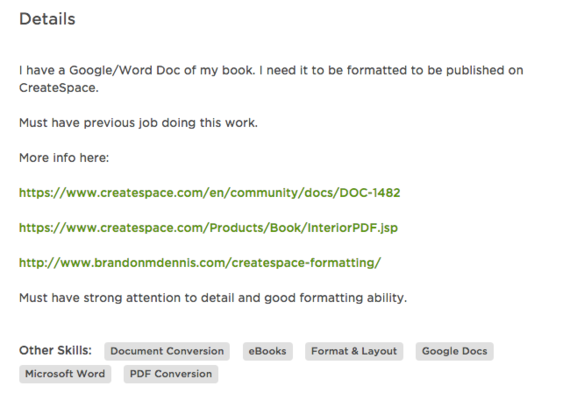 There are a lot of formatters on Upwork, so you don't need to enter in a very detailed description of your requirements. Above is a screenshot of what I include.
Step 3: Create a book cover for Createspace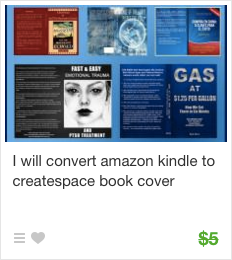 Before you upload to Createspace, you'll need both a book cover and a book file. You can either use Fiverr to convert your Kindle book cover to a Createspace cover, or have your Kindle designer do it for you. You will need to tell your designer how many pages your book is so they can make the spine the appropriate size.
Step 4: Start a new project on Createspace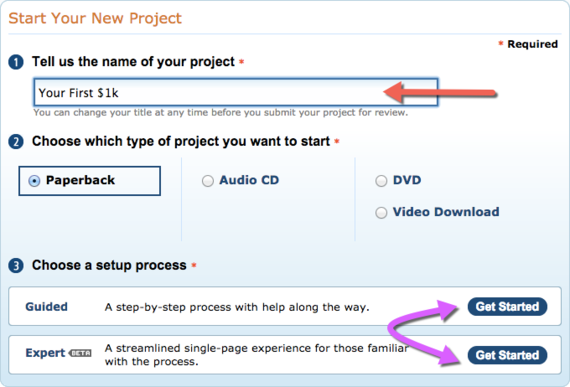 Now you are ready to upload your book. Head over to Createspace and log in to get started. Enter in your book title, select paperback format and choose either the guided or expert setup process based on your level. I choose the "Expert" process as the "Guided" process doesn't actually make it much easier.
Step 5: Upload your book cover to Createspace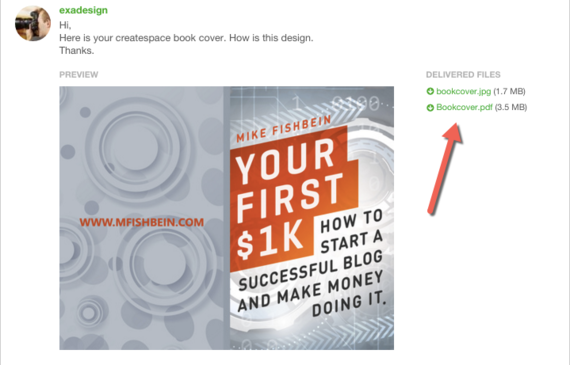 Once you have got your cover back from Fiverr, provide feedback if you require more changes or, if you're happy with it, download it as pdf to upload to Createspace.
Step 6: Enter all book information on Createspace

Enter all the relevant information for your book such as title, subtitle, author, description and categories. It's best to just use your Amazon book description to describe your book. Here's an example of mine below.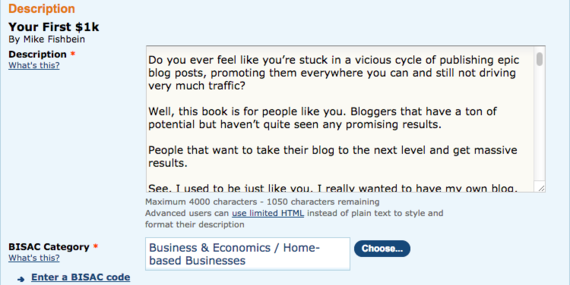 Step 7: Submit for review

After you've entered all the information needed for the cover and interior of your book, submit it to Createspace for review.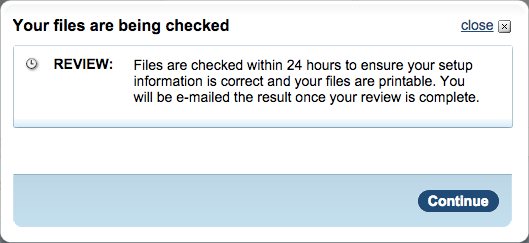 Your files are now under review and Createspace will get back to you within the next 24 hours. Once it is ready, you'll then have the chance to either order a physical copy or view online for publishing
Step 8: Receive email accepting interior and cover files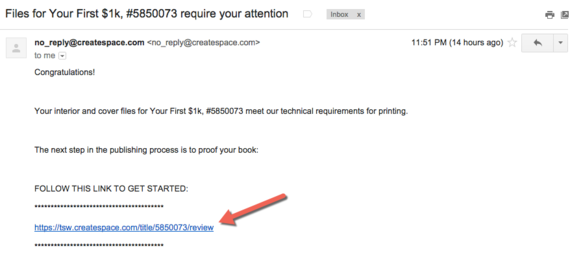 You will receive an email from Createspace once your interior and cover files have been accepted. You are now ready for a final review.
Step 9: Proof your book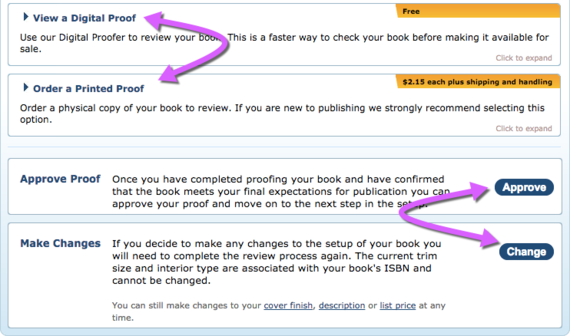 You can choose to either proof your book in digital or physical format. Once you have reviewed it, click "change" to make changes if necessary, and then "approve" once you are happy and ready to move on to the next step.
Step 10: Your setup is now complete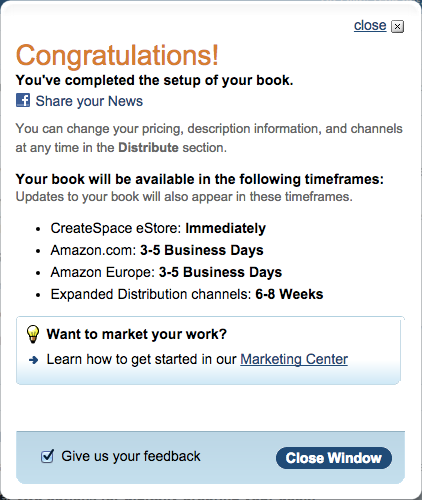 Once your book has been improved, it will immediately be live on Createspace. You will need to wait a bit longer for it to be available on Amazon.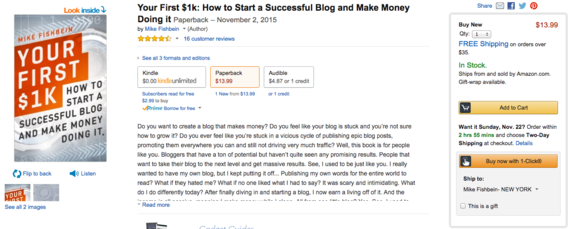 Your book is now live! Remember to go back to your Createspace dashboard to check your royalties and watch the passive income roll in! To learn more about self-publishing on Amazon and book marketing, grab my free 29-step checklist here.