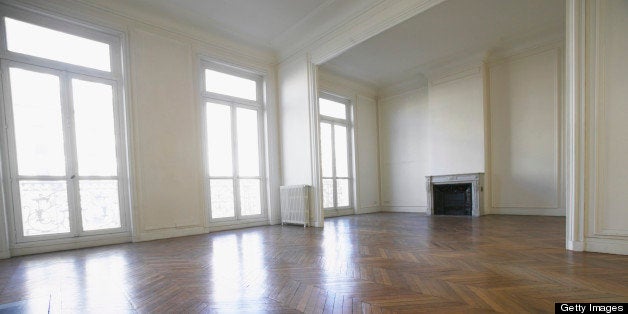 As one friend of mine delicately put it: "Apartment hunting in New York City is a bitch."
I couldn't agree more. For the past month, I have been trolling Craigslist and commuting to New York City to visit apartments. As a person who likes an orderly and unambiguous life, I found that the process of apartment hunting has thrown my world upside down. Truth is, transition periods are messy by nature. Not only do you have to deal with changes in the outside world, but stressful feelings, resistance and distorted thoughts can come up to the surface. Staying even-keeled throughout the process is key to staying sane. If you're going through a transition stage in your career, relationship or finances, here are a few things I learned to help you meet the mess with grace and ease.
Thank your mind for sharing and keep taking daily action. Inevitably, my mind would jump to conclusions in its well-intentioned way ("I'm going to be homeless!" "I'll never find a suitable apartment!" "Craigslist sucks!"). I found myself feeling like it would be better if I just stayed where I am and pay less rent.... until I had a conversation with my friend John Wesley, who sagely told me, "If you make the move, the universe will support you." I was extremely skeptical of this, but in retrospect, it was just my resistance speaking, because after that conversation, I couldn't stop revisiting my dream of living in New York City. Little by little, I started spending time on Craigslist and "just looking" at what was out there, emailing prospective places and making visits on the weekends. Taking these daily actions moved me closer to my goal than if I had stayed in my resistance mindset.
Embrace uncertainty with gratitude. Uncertainty has a way of making me fearful, but it also is a reminder to be thankful for what I have right now. I found myself more thankful for my living situation now than I ever have been before, telling the universe each night how thankful I was to have a comfortable bed to sleep on in a beautiful shelter. We have a tendency to discount the positives when things are going well. The beauty of not knowing where we go next is that we fully experience and enjoy what we have right now.
Know that you have support if you ask for it. In my darkest days of resistance, I was panicking about how to look for apartments when I was not in the city. This process has made me so much more aware of how much support I have around me. When I shared my housing predicament with friends, acquaintances and colleagues, I received a deluge of offers to stay at their homes or offers to spread the word to friends who may be interested in rooming with me. This generosity has been beyond what I expected and you can have it too if you're open to asking for it.
Opportunities arise in unexpected situations. Interestingly, moving to New York City is not a single event, but a series of smaller miraculous events that catapulted the move. One major roadblock had been affording the rent. I had been looking for part-time work to fulfill this need, but just not having much luck. At the same time, because I truly believe in my purpose, I'd been investing heavily in myself, despite living off of my savings. In one of my online courses, I buddied up with a classmate, Christina, to complete the assignments together. I later learned that she was living in the very neighborhood that I wanted. When she learned that I was looking for part-time work, she immediately put me in touch with her bosses, who were looking for someone to fill a position. A series of communications and an in-person interview followed. I got the position, which provided the means for me to afford living in beautiful Brooklyn. If I had not invested in that course, I would not have met Christina and my move to my dream location may have taken longer. The point is, when you are in alignment with your desires, you'll be attuned to the opportunities that come along with them.
Look for the best in your situation. Apartment hunting, as you may know, is a process that involves multiple criteria. The right apartment for me had to be at the right price and location (close to park, far from graveyards). The room itself had to have good feng shui (sunny most of the time, not dark or depressing) and roommates had to have similar lifestyles. The frustrating part was finding something that reasonably met all of these requirements. I'd find something at the right price, but had less than desirable feng shui. Or, I'd find something that had a great interior, but the location was unsafe. The process felt a lot like my dating life, to be honest. The more places I saw, however, the more I knew what I wanted and what I was willing to make concessions on. In the end, I ended up with a spacious room on a quiet, tree-lined street one block away from Prospect Park, with a rockstar for a roommate who owns the cutest little Yorkshire Terrier named Schmutzie. Not bad!
So, when life starts to change gears, know that with a little patience, openness to support and consistent action and a dash of gratitude can take you gracefully into your next chapter! You'll find that these attitudes can help you survive any stressful transition.
Now, it's your turn! Are you going through a transition in your life right now? What are some helpful ways you deal with change? Tell me in the comments below, I want to know!

Catherine Chen, Ph.D., is a Health Coach who supports high-octane women to achieve with ease, have time for what they love and live a balanced life. Prior to launching her wellness practice, she worked in the management consulting industry and at one of the leading cancer research biotechnology companies. She loves to bellydance. Click here to sign-up for a complimentary Stress Relief Session with her or sign-up to get free work-life balance tips at http://catherinechenwellness.com