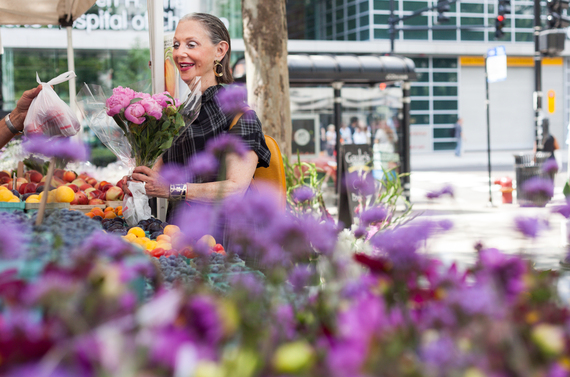 Life plays all kinds of unexpected tricks, darlings! In my wildest dreams, I never imagined I would be a widow,remarry and become a stepmother (I do not love the title) and grandmother in my 40s.
There are huge adjustments with the adult children in second marriages, whether from divorce or widowhood. In the case of Shelly and me, we were both widowed.
One day, my daughters had their father. The next day, they were fatherless. One day they lived in the Hawaiian Islands. One year later, they were moved to Chicago. One year after I became Mrs. Sheldon Good, my daughters had a substitute father (the title Step Father is not in my vocabulary). And, the day of my wedding, December 22, I added to my list of new roles that of Step Mother and Grandmother in a family that was not mine...yet!
From the beginning, I wanted to blend our families.It was not always easy. Daughters want their Mom's time! Sons want their Father's money! At least that was our situation.
I learned that if I wanted to blend our two families, which I deeply desired, it would be my role as the head of the families to be the one to unite, not to divide! It is not an easy task. There were so many new players and so many new emotions. And this was no game. This was our lives.
I had to deal with my young adult children, his adult children, my grandchildren and his grandchildren, though dealing with "the Grands" was never a problem.
How did we accomplish the feat of successfully blending our families?
LOYALTY TO ONE ANOTHER AT ALL COSTS, DARLINGS!
Shelly and I had the insight to know that our first obligation was to one another. We set out to show our families that we were one hundred percent loyal to one another. You hurt one of us...you are hurting both of us! You ask both of us the same question and request separate answers, you will get one united answer.
This loyalty, between us was felt and constantly observed by all the members of our blended family. They knew we would stick; so they knew they were stuck! I say this tongue in cheek.
Our newly joined families began to admire us because they realized our love and loyalty to one another was steadfast. Please never lose sight of this in your relationship with your second spouse, darlings!
In a new marriage, where death is the reason for a second marriage,there is always stress, sadness and adjustments for the adult children. It is not easy on them even though they are young adults. And it was certainly not easy on us. Sainthood was bestowed upon their deceased parents! They became perfect; no longer here to say anything the children did not want to hear. Remember this, darlings.
Here were some of the problems our blended family faced.
My daughters lost their father. They had to establish a new life and watch their mother fall in love with a man other than their beloved father and eventually see their mom enter into a new marriage. My daughters were also thrust into a new family. It was a lot for them to handle and they tried very hard. They were wonderful.
My husband's son's situation was not easy either, though they were much older than my daughters when the boys lost their mother. You never get over the loss of a mom. A new woman entering the scene was hard on them.

Our problem was this: How do we blend our group?
I believe that the loyalty of Shelly and me to one another, through thick and through thin, was the ultimate key that created an inclusive blended family and stopped what could have become a non- inclusive family.
My story is not a Brady Bunch story. Any time you are dealing with human emotion you know there is... no perfection. Why? Because you know there is no perfection in any family!
I am just giving you one tool that I know is successful. Loyalty! Loyalty! Loyalty!
Loyalty also solidified our relationship because it was not easy dealing with the emotions of his and hers.
Our children's happiness is so important to us as parents. But remember, darlings, that a happy home life is an essential element in raising well-balanced children.
And so, keeping the core relationship healthy, that of Mom and Dad (or Stepmom and Stepdad) is the real secret to success in blending a family. And that means loyalty to your spouse above all others, because when Mom and Dad are a united, loving front, children will, in due time, fall in line. And though there may be occasional battles and life will not always be perfect, spouse loyalty will help create a happy ending for all.