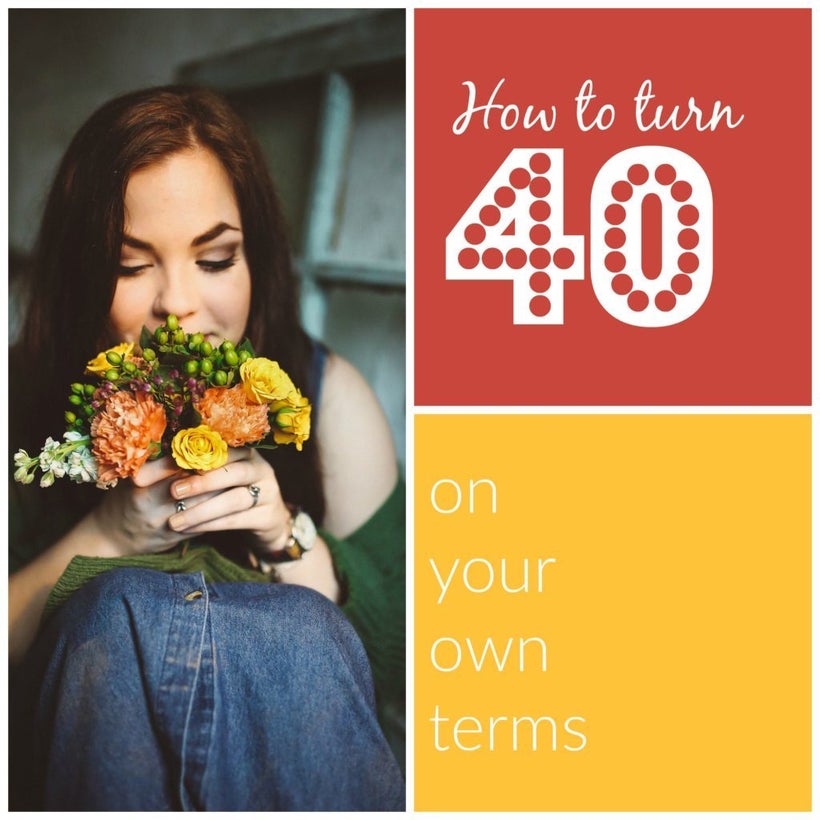 Today is my 40th birthday. If you ask people their thoughts on turning 40, you're sure to get a lot of strong and varied reactions. Of them all, I think I was the most surprised to hear how much fear and disappointment my own friends expressed when they talked about 40. I heard it in deep conversations about our lives, and I read it in seriousness and in jest when I asked my Facebook friends their thoughts about turning 40. I collected those feelings here, both to honor the struggles of my friends in turning 40, and to find some commonality among us all. I hope that by realizing we're all in this together, my friends and I can conquer 40, on our own terms, regardless of where we are in our journey.
One of the most common fears people expressed to me about turning 40 was the physical reality of getting older, their bodies falling apart. Some are battling cancer, while others worry more seriously that it's coming. We are increasingly losing our parents, friends, and the icons of our youth. We still feel young on the inside, but our skin, hair, and bodies look and feel a little older on the outside. We don't have the time or energy we once had, and it scares us.
With the fear, many expressed disappointment at the realization that they weren't where they thought they'd be, or that things hadn't turned out the way they thought they would. Some friends are working at a job that isn't making the most of their skills or dreams. Others thought they'd be married or have kids by now. Changes have happened that they don't know how to bounce back from. They don't know who they are or where they're going, when they thought they would by now.
The things I loved hearing, though, were people fighting through the fear and disappointment to start living at 40! Some of the most inspiring stories involved people really putting themselves out there when they realized their story wasn't playing out the way they thought it would.  One friend started practicing law at 40, while another became a nurse. A single, professional gay friend, expecting that he'd have already settled down, found the courage to publicly enter the gay dating scene and met the love of his life. One friend found herself feeling lost as her daughter grew up and neared leaving home. She reinvented herself, starting with her hair, and went back to school. I have friends running their first marathon, or finally losing the weight they've been trying to shed for years. People are finding the courage to get pregnant, adopt, or bring "fur babies" into their home, when they thought 40 would look very different than this. Perhaps because they thought 40 would look very different than this.
So, why such different reactions to 40? Having talked to many people, it's definitely not the absence of fear or disappointment. I think we all have the same fears and disappointments, just about different things. We've all loved and lost, gotten some of the things we wanted and sorely missed on others. So from what I've seen, the people who are crushing it at 40 are just choosing to do something different about their fears and disappointments.
What does this look like for me? Well, when I was in elementary school, I decided I was going to write a book. I've always loved to write. I thought by 40 I'd have that book written. But somewhere along the way, I lost the habit of writing for fun. In college, writing poems turned into writing papers. As a new lawyer, I only wrote legal briefs. In my 30's, I still wanted to write something else, but I was out of practice, struggling to find the right place or voice to express myself meaningfully about things other than the law. Approaching 40, I feared that I wasn't devoting enough of myself to following my passions and making an impact. I was disappointed that I hadn't done more with my personal potential. Writing came to back to my mind. I realized that in blogging, I could do something I loved, that would also help me grow personally. I could share what I was learning along the way with others who might benefit or just enjoy reading. As a result, my blog was my birthday gift to myself! Best. Gift. Ever.
What can this look like for you? It depends. Assess your current base. What fears, troubles, items on your bucket list, or goals are gnawing at the back of your mind? And more importantly, what is holding you back?!  Once you know what direction you want to go, here are ways to get there:
One of the funny, sad realities of 40 is that we're generally at home in bed by 10:00, even on the weekend nights. We can view that as yet another indicator that we're getting old, or we can recognize that that we're taking care of ourselves! 40 is a great time to get serious about our bodies. We have enough life experience and wisdom to know how to tackle it. We have enough fear of our mortality to have the real motivation to do it. Hopefully, we have more resources and ability.
One great lesson people are learning at 40 is gratitude and appreciation for their loved ones. We love our family more fiercely because we've learned how important family is. We've loved and lost, so we hold on and enjoy the moment. We cry with each other because we know how it feels. Our friendships have weathered the tests of time and the changes of circumstance, so our friends are like family. Really like family. If you worry about losing people or not being around for them, do yourself the favor of giving them your best now.
So many people expressed to me how old 40 sounds to them, and how they just can't believe they are turning 40. The people who are making the best of it are wearing that number 40 like a badge of pride. We can take what we've learned in these years and allow ourselves to just. be. ourselves. We can let our awareness of time cause us to smell the roses and let go of the bad. To know when to say no and when to say yes. The beauty of finding yourself truly manifests when you find the courage to be yourself and do the things you've always wanted to do.
The one thing I hope more than all the others, is that we'll be kind enough to grant ourselves the grace to change our path.  To simply rewrite our story when we realize things aren't the way we thought they would be. And to write it with love and forgiveness for ourselves and others. We can incorporate the wisdom, humility, gratitude and self-trust we have collected over these years into our new goals. We can abandon the needling opinions of others, or the judgey voices in our heads, for something more compatible with our 40 year old reality. As a result, our new direction will be meaningful, realistic, and kind.
I'm excited about turning 40. For me, each decade has been better than the last. Since 30, my career has grown to include personal and professional freedom. I've started a family, so the loneliness I often felt as a young professional has been replaced with busy love. I've taken a more active role in my health, and am feeling better than I have in a long time. I'm in a generally good place, but I'm also really ready to grow! Share your thoughts - what did 40 bring for you, or what are you most anticipating about it?
This post was published on the now-closed HuffPost Contributor platform. Contributors control their own work and posted freely to our site. If you need to flag this entry as abusive,
send us an email
.