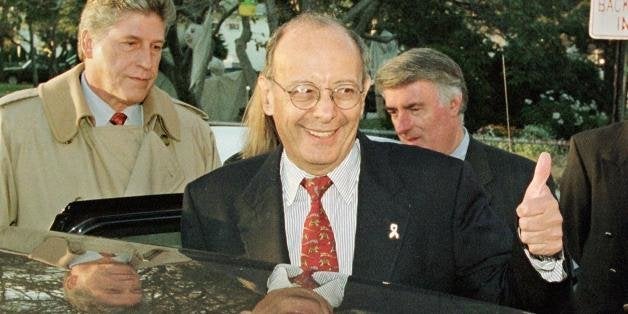 This week, the Human Rights Campaign has endorsed Illinois Republican Senator Mark Kirk for reelection over Democratic candidate Tammy Duckworth. Many in the community are outraged, but we have been here before, and unfortunately, I actively participated.
In October of 1998, I, along with majority on the Board of Directors of HRC, decided to endorse New York Republican Senator Alfonse D'Amato over then Democratic candidate Chuck Schumer. That's right, now Senator Chuck Schumer.
I was won over by the arguments to support Republicans who were helping to move LGBT rights forward. My inner voice said "this makes no sense," but in the end I wanted to support the endorsement to show solidarity with others on the Board. Boy, was I wrong.
HRC CEO Chad Griffin and his Board of Directors are wrong again. History is repeating itself. Nothing was learned from the backlash by many LGBT residents and HRC supporters in New York over 17 years ago. One of my best friends has a husband who still will not contribute to HRC because of the D'Amato endorsement. Yet, HRC remains tone deaf in 2016. Straight, Washington salon diva Marylouise Oates, and wife of Democratic consultant Bob Shrum, quit the HRC Board over the D'Amato endorsement. Oates said ''I do not wish to be a part of any organization that applauds and endorses a senator merely for his signing on as a co-sponsor on one bill, after many years of anti-gay votes."
D'Amato had a higher rating from the Christian Coalition than HRC due to his support of the pro-life movement and the gun lobby. Is there no one at HRC that knows the history of the D'Amato endorsement? Of course not, those in the know have simply forgotten or have no influence with the current Board. Schumer won, and to his credit, forgave HRC for its endorsement of D'Amato.
Griffin has trotted out the same old arguments I fell for when I supported the D'Amato endorsement in 1998. 14 others supported the endorsement of D'Amato, 7 HRC Board members maintained their opposition. I wish I was part of the opposition; my heart told me to say no, but my head said the argument to support those few supporting LGBT rights in the Republican Party made sense. Today I know better.
An endorsement for Senator Mark Kirk? HRC, I will support Tammy Duckworth, as any self-respecting LGBT person should. I wish I had done the same in 1998. HRC, here we go again.