A lot of ball-busters have visited the Huffington Post, but not with this big of a reputation.
HuffPost Weird News has obtained a pacu -- the legendary testicle-eating fish -- and this nut-nibbler needs a name.
He's albino. He's about 5-inches long. And he was a great guest on HuffPost Live, where host Ricky Camilleri welcomed him to our offices.
But what should we call our new friend? Should it be 2Pac? How about PAC-MAN? Or simply, Mr. Bitey?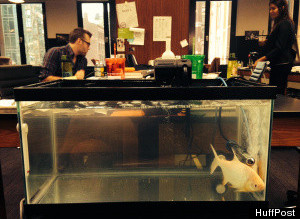 Leave your suggestions below.
Just remember, very few of us live up to our reputations, and our fine-finned friend is no different.
Even though male swimmers in Denmark have been warned to guard their wobbly bits, and this piranha-like fish has been spotted in New Jersey, Washington State , Illinois, and France, you needn't worry of an imminent Pacumageddon.
Our friend prefers walnuts to your nuts. And if you don't bother him, he won't castrate you.
Check us out at HuffPost Live, as we feed our new friend, give him a name, and talk about who's really to blame for the pacu becoming the scare of the week.
BEFORE YOU GO
PHOTO GALLERY
River Monsters