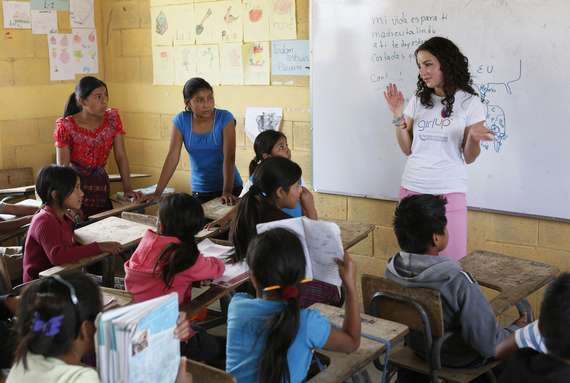 Over the course of our lives, we all find ourselves face to face with adversity. It is in that place when we are most vulnerable, yet often most resistant to ask for help. We fear that by asking others to lift us up, we are simultaneously holding them down.
I struggled to find my place in college. I felt alone in a sea of people and wondered how I was ever going to find my home away from home. I lost that confidence in myself and in others and I didn't know where I would find the courage to seize spontaneity and embrace the uncertainty of my future. Although I have learned that we are the only ones that can empower ourselves -- no one has the ability or right to empower us -- we have a network of women around the world who can support us. We are not alone.
In honor of International Women's Day, look to the women who have gotten us here and those who have continued on the fight for courage. The women in our past who put women on the agenda: Elizabeth Cady Stanton and Lucretia Mott, Susan B Anthony, Elizabeth Blackwell and Eleanor Roosevelt. The feminists of our time: Gloria Steinem, Shelby Knox, Mona Elthaway. And I look at the future generation of leaders are advocating for themselves and their sisters around the world for my inspiration. Malala Youssef has fought tirelessly for right to an education. Mary, who I met in Fiji four years ago, teachers the young girls in her village how to read since they are not allowed to go to school. Somayya Jabarti, the first female newspaper editor in Saudia Arabia, a country that is notoriously holds women back. I look to the young women I met in Guatemala who have overcome the unimaginable violence perpetrated against them, and I look to 11-year-old Zuriel Oduwole from Nigeria, who has made a name for herself by interviewing major public figures and for directing her very own documentary. I look to Suma Tharu, a Nepalese activist and songwriter who overcame indentured servitude during which she was abused and forced into hard labor for six years. I look to the brave women who I may never get the chance to meet, but who fight the barriers of gender discrimination everyday so that women everywhere have the opportunity to be counted, go to school, and stay safe from violence.
We have all faced and will face different types of adversity during our lifetime, but we can learn from each other -- from those who came before us and those who fight alongside us. They inspire me every day to live a life of purpose and they can give us the strength to persevere. I hope whenever we find ourselves struggling to keep going, wanting to give up, feeling lost, we allow ourselves to first validate those feelings of hardship and then empower ourselves to say, "I am courage." Together we can find the courage to continue to fight for a more just world for women everywhere.
We owe it to the women who preceded us, the women alongside us, and we owe it to ourselves.