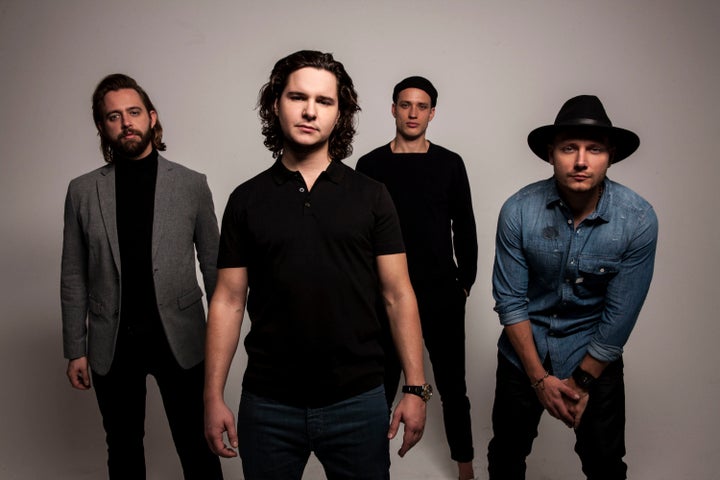 Lukas Graham isn't one to want to talk about himself. He'd much rather let his music do the talking. But chatting is exactly what the Denmark native has found himself doing a lot of lately. With his hit song "7 Years" and the band's debut album now out in United States, Graham is in demand for interviews, appearances and practically everything in between.  
"I get emotionally spent answering questions about my dead father and my criminal friends and my upbringing in a hippie environment in a marginalized community," the 27-year-old music artist told The Huffington Post. "So you get all these memories, and all of them aren't good. And it gets hard."
It's true: Graham grew up in a neighborhood located at the center of Copenhagen called Christiania, where there were no cars or streetlights, and only a few residents had personal bathrooms and running water. His dad died in 2012. And about those criminal friends ... well, we didn't ask.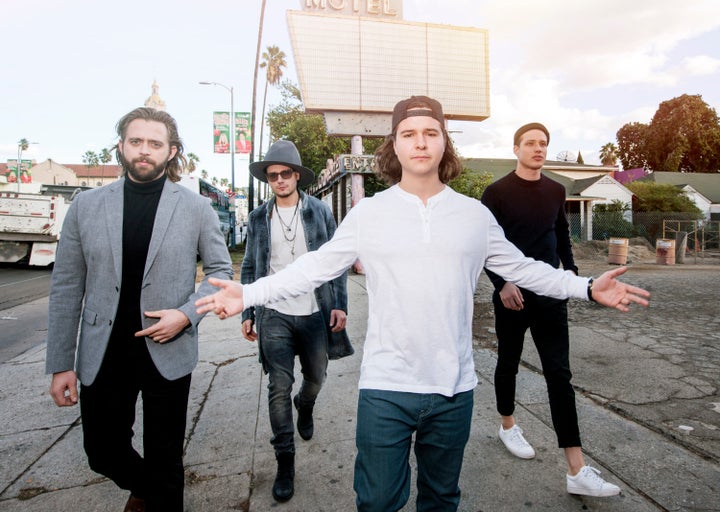 These experiences, though, were what helped to shape Lukas Graham's self-titled album and "7 Years." The song, which has surged near the top of both radio and digital music charts, isn't your standard pop single.
And that's why Graham likes it. Heck, he practically predicted the fate of the song. A few years ago, Graham did an interview (yep, another interview) in which he said something like, "I don't want to be in the Hot 100 with a Hot 100 song. I want to be in the Hot 100 with '7 Years.'"
"7 Years," which tackles themes of aging and growing up, came together quickly, but it took a long time to get it just right.
"The song itself just kind of materialized," said Graham, who noted how his producer was playing the piano when he just "got up off the couch" and started singing, "Once I was 7 years old."
"The song just flew out of me," Graham recalled. They spent only three and half hours working on the track, resulting in an eight-minute track. "We had to shave it down and became three minutes and 40 [seconds]. And then it took two years to produce it and write the string arrangement and give it the life it has now."
As for the the lyrics -- in which Graham  sings about different ages -- well, he calls that a "coincidence." 
"By the time we weeded out all the bad verses and the lines that weren't good enough, we had that 7, 11, 20, 30, 60 stepping-stone evolution to it, which I found fascinating because it's this age progression that captivates people," Graham said. "It's not necessarily a lot of beautiful lines and quotes in the song. It's the age that captures people first because everyone is getting older. You can't stop that."
Whatever it is, the track has resonated with fans -- something that Graham is pleased about, but almost appears overwhelmed by, too.
"It's both logical and illogical at the same time. I knew I was going to do this, but now, when it's happening, it's just all so surreal," he said.
Still, Graham keeps himself grounded. Some of his best friends are the same ones he knew back in kindergarten, and he doesn't seem caught up in the hype at all. He simply wants to share his love of music with as many people as possible. 
"I'm going to sound so kitsch and like a cliche '60s pop singer, but I hope they bring a bit of love away," Graham said about the fans' takeaway. "I hope they bring some unity, some belonging and some sense of loyalty to someone in this world. That's what I thrive on."
BEFORE YOU GO