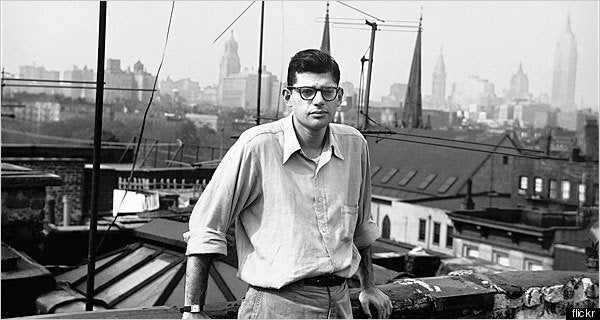 The premiere of Rob Epstein and Jeffrey Friedman's movie Howl led off the Sundance Film Festival on Thursday night. Their much anticipated adaptation of Allen Ginsberg's poem, and the obscenity trail it sparked, has generated some buzz thanks to its impressive cast--including James Franco, David Strathairn, Jon Hamm, Mary-Louise Parker, and Jeff Daniels--and its experimental structure: the film splices animation with courtroom drama, and all its dialogue comes straight from court records or an interview with Ginsberg himself.
For those of us who couldn't make it to Sundance last week, the studio also released four clips on Thursday, available here, that offer a taste of what the movie has to offer. The first shows James Franco, who plays Ginsberg in the film, reading the last lines of "Howl." Franco--something of a writer himself--brings the poem to life:
I'm with you in Rockland
where we hug and kiss the United States under
our bedsheets the United States that coughs all
night and won't let us sleep
I'm with you in Rockland
where we wake up electrified out of the coma
by our own souls' airplanes roaring over the
roof they've come to drop angelic bombs the
hospital illuminates itself imaginary walls collapse
O skinny legions run outside O starry
spangled shock of mercy the eternal war is
here O victory forget your underwear we're free
I'm with you in Rockland
in my dreams you walk dripping from a sea-
journey on the highway across America in tears
to the door of my cottage in the Western night
The clips also feature courtroom footage, including one fascinating exchange in which prosecutor Ralph McIntosh (played by David Strathairn), asks the critic Mark Schorer (Treat Williams) to translate some of Ginsberg's verse: "angelheaded hipsters burning for the ancient heavenly connection to the starry dynamo in the machinery of night." The expert's frustrating, but accurate, response is "Sir, you can't translate poetry into prose. That's why it's poetry."
In the final clip, McIntosh, trying to determine whether "Howl" has any literary value, asks the critic Luther Nichols (Alessandro Nivola) whether the poem will survive the test of time. It's safe to say that it has.
The judge in the case, Clayton Horn, ultimately ruled that Ginsberg's poem should not be considered obscene, as it had "redeeming social importance." The result was a victory for publisher Lawrence Ferlinghetti, for free speech and, of course, for poetry.
Will the movie be a success as well? Reviews from Thursday's premiere were mixed. The L.A. Times reported that the premiere "yielded a few laughs and polite applause ... but then, warm-but-somewhat-detached can't exactly be directors Epstein and Jeffrey Friedman's desired response to what is clearly a cri de coeur about a distinctive artist holding a mirror up to his soul."
James Rocchi of IFC.com found the movie to be "loud, but unclear." Playing off of Mark Shorer's aforementioned quote, he described Howl as "a film that could have used more prose to truly tell us what the poetry and prosecution both meant then, and what the poetry and prosecution both still mean now."
Time will tell if the film has real popular appeal. But the attention it brings to poetry, together with the recent successful run of Jane Campion's John Keats biopic Bright Star, can only be good for poetry.