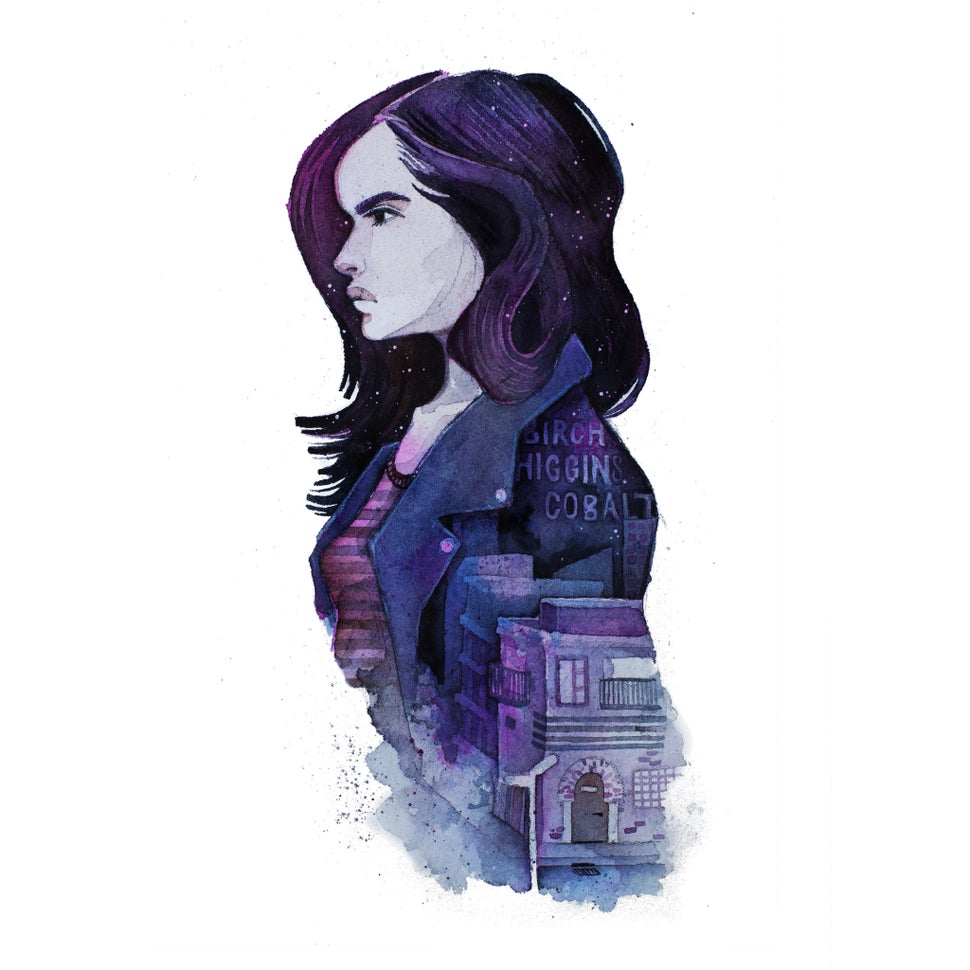 When you're stuck in suburbia with your parents over the holidays, you, like many others, might look to Netflix for an escape.
The recently released "Jessica Jones" is one of its most binge-worthy shows, centering on a hard-drinking, superhero-turned-private eye (played by Krysten Ritter). At the beginning of the series, we find her a year after she has escaped the mind control of the show's villain, Kilgrave, who held Jones captive for eight months and forced her to act out a romantic relationship with him.
Luckily for us, the Marvel show has found a fan in illustrator Sha'an d'Anthes (better known as Furry Little Peach). She debuted her watercolor illustrations of Jones and Kilgrave on her Instagram account, where she has more than 96,000 followers. In an email to The Huffington Post, the Sydney-based designer discussed her thoughts on the show and why it inspired her first foray into fan art.
(She joked that "Kilgrave made me do it," but we're pretty sure she's joking.)
What about Jessica Jones inspired you to create these illustrations?
My work is actually quite similar to the artwork of the opening credits -- hats off to David Mack for the incredible visual sequence. I use a lot of bleeding and washes in my works so the way the watercolor is animated and moves at the beginning of the show is reminiscent of what I see when I'm painting.
Besides that initial connection, I've always been drawn to layers -- whether it be layering pigment, or layering images and textures. As I watched the show, it became quite clear early on that there [were] incredible layers to the main characters.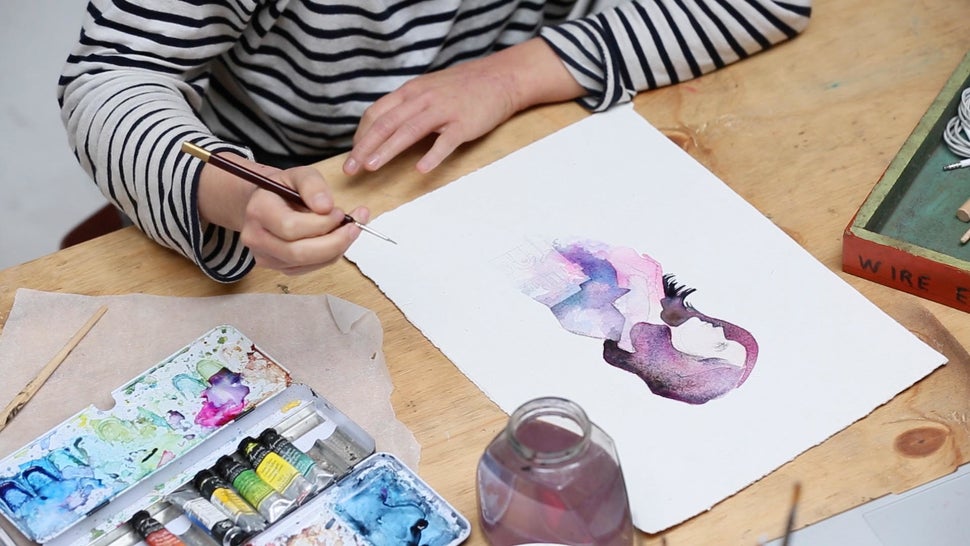 How did you decide what elements to include in your illustrations of Jessica Jones and Kilgrave?
I tried to include elements and a palette that I thought spoke to who the characters were in a way that was more than just two-dimensional. Initially I was going to make Kilgrave the darker character because he's the villain -- typical, but throughout the show he was almost more light, and more human than Jessica in some ways. Especially toward the end of the series.
Kilgrave is also known as The Purple Man, so I chose to use really electric purples. I wanted to use the brightness and vibrancy of the palette as a sort of contrast to the elements of the double exposure: the invasive photographs of Jessica, the puppeteer-like nature of his power, and the way he makes people do things against their will. David Tennant brought a lot of life and almost humor to a villain who was doing some really dark things.
Jessica was a different story; she was a good person who had experienced a lot of tragedy that gave her a dark demeanor, which is why I painted her in that way. I made Hell's Kitchen a big portion of her double exposure because although she didn't want to admit it, she wanted to protect people -- she was on the city's side. The street names and street sign were a motif at the beginning of the show, where Jessica was using their recital as a coping mechanism. I included them because one of the things that stood out to me most was the fact that she had super-human strength, but she was also very vulnerable.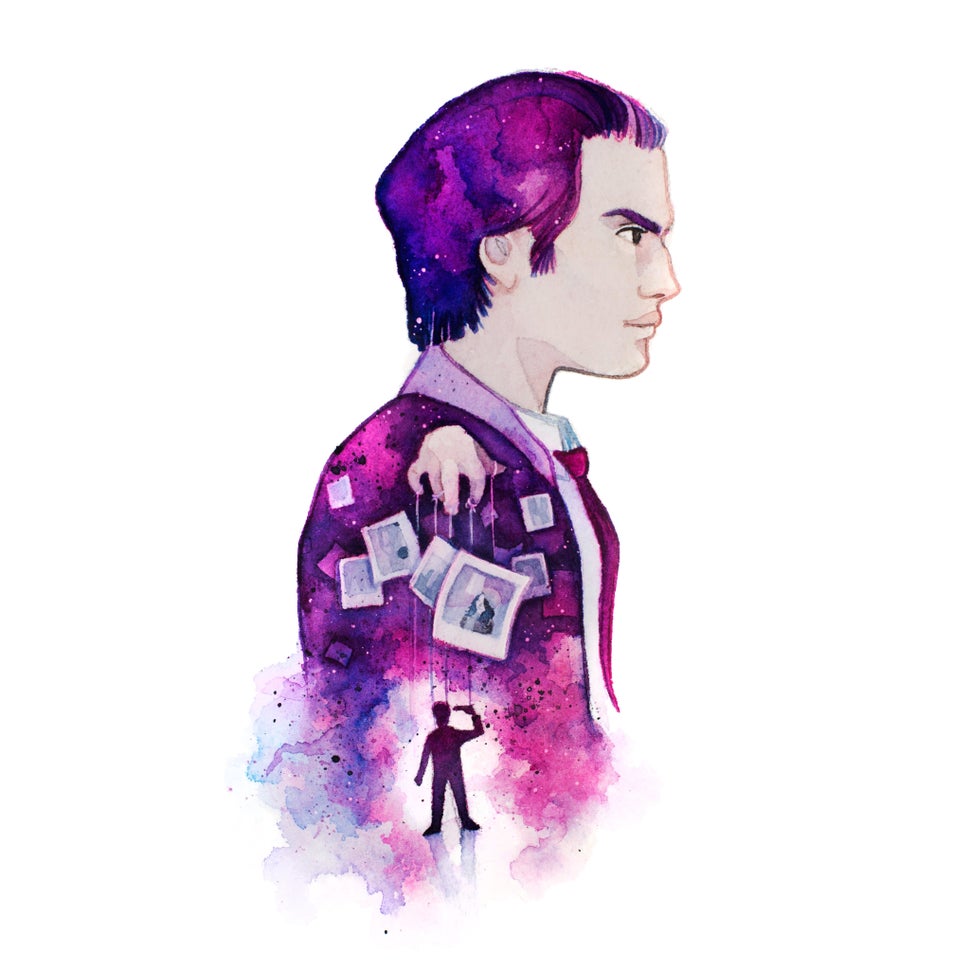 What do you enjoy about the show? Why do you think it's so popular and well-received?
I think my favorite things about the show may not be why the show is so well-received, but I like the focus on female lead characters and their complexities. The women in the show are strong, complicated characters with strengths and weaknesses. They're gritty, and I love that.
I love the on-screen gender stereotype switches that happen throughout the series. The female characters are the ones problem-solving. They don't turn to a man and say, "So what do we do now?" Men are the ones caught with their pants down and half-naked, and Jessica dominates Luke in sex scenes in a way that doesn't fetishize the character. Having said all this, I think the show switches the roles in a way that doesn't belittle or ostracize male audiences -- it's just a change that becomes very noticeable from a female perspective.
I also appreciate that the show touches on subjects that are still somewhat taboo. The grey areas and definitions of rape and abortion are two I distinctly remember.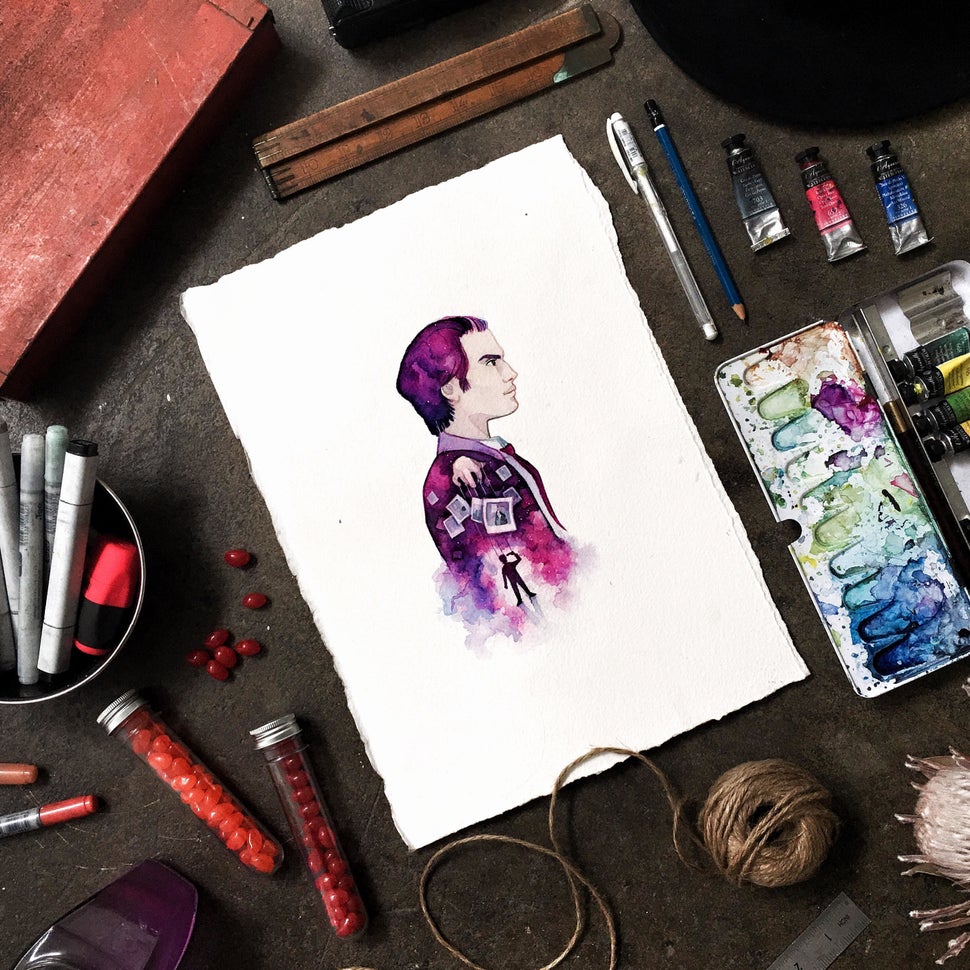 How do you feel about Kilgrave? Why did you choose to illustrate him as well?
Ugh! Even having finished the series I have mixed feelings about Kilgrave. I pity him, I like him, I loathe him. His character is maniacal, but still shows human emotion: love, the want to be accepted, pain.
I think David Tennant makes an excellent villain. I really loved his performance in this series. He's just so charismatic! I found myself forgiving him when he tried to be with Jessica, and then I stopped myself, like, "Hold on, he is evil. He is the aggressor in an emotionally abusive and one-sided relationship. You can't like him!"
I chose to paint him because he is the other side of the story. Without him, would Jessica have found a larger purpose, or would she only have used her powers to protect herself and her loved ones? They are painted in profile so that they face each other, two examples of people who faced traumatic events and came out on opposite sides of the spectrum.
PHOTO GALLERY
12 Illustrators You Should Know Right Now