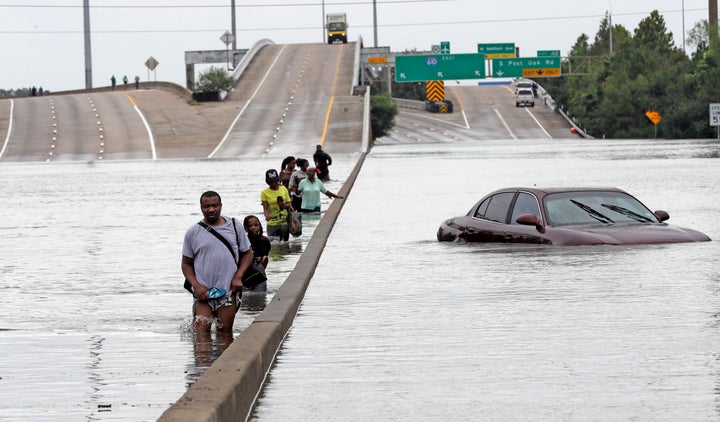 (The Knife Media) In an emergency like Tropical Storm Harvey, authorities often tell people to stay calm and they give clear instructions on what to do to stay safe. The media can help these efforts by providing clear, concrete information about the storm, such as data about forecasts and risks. Unfortunately, the coverage of Harvey hasn't always done this, and has instead mixed the facts with dramatic or fear-inspiring language.
To get an experience of how this can influence people's perception of the facts, consider the following sentences from the coverage we analyzed. We've stripped each line of its spin and included a data-based version so you can contrast the two.
How do you feel and what do you think when you read the underlined words? How do they influence your understanding of the storm, and how could they affect the actions you might take if you were in Texas?
1) Associated Press: "The fiercest hurricane to hit the U.S. in more than a decade came ashore late Friday."
The Knife: Harvey made landfall on Friday. It was the first Category 4 hurricane to reach the U.S. since Charley in 2004.
2) Reuters: "Harvey slammed into Texas as a Category 4 hurricane with winds of 130 miles per hour (210 kph)."
The Knife: Harvey made landfall in Texas as a Category 4 hurricane with winds of 130 miles per hour (210 kph).
3) BBC: "Tropical Storm Harvey continues to batter Texas with heavy rains"
The Knife: There are heavy rains in Texas. Harvey could bring up to 50 inches (1.3 m) of total rain for some areas of the state.
4) The Wall Street Journal: "Harvey was also pummeling San Antonio and Austin"
There's no denying the destruction caused by Harvey and its unprecedented amount of rainfall. But its effects both materially and on people can be reported without infusing facts with emotionally charged and dramatic words. Sensational reporting may encourage fear and hysteria instead of rational thinking. And in a case like Harvey where people's lives are at risk, making better decisions can be the difference between life and death.
Written by Shane Mottishaw
Follow us on Twitter @theknifemedia