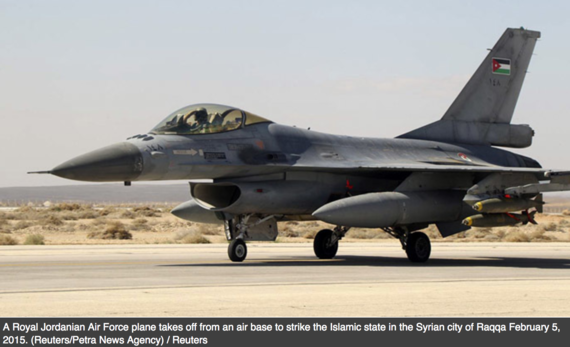 The Jordanian Royal Air Force bombed Islamic State-held positions in southern Syria on Friday, killing and wounding a number of ISIS members.
According to a statement released today by Petra, the Jordanian government's news wire service, the operation also resulted in the destruction of a number of ISIS-owned vehicles, an arms cache, a warehouse used to make car bombs, and barracks used by the terrorist group. Jordanian forces used drones and precision-guided munitions in the operation, according to the statement, as part of the "kingdom's efforts to eradicate the terrorist group."
Jordanian citizens have hailed the country's ongoing crackdown on terrorist cells linked to ISIS. Dozens of alleged ISIS-affiliated terrorists have been arrested since March of last year.
On February 3, 2015, ISIS released a high-definition video showing captured JRAF pilot Maaz al-Kassasbeh being burned alive in a cage, after his plane crashed in Syria in December of 2014. Yesterday's airstrikes marked the second anniversary of the video's release.
The statement released by Petra said the attack was carried out "in memory of our martyrs who have fallen in our war against terrorism." Footage of the operation can be viewed here