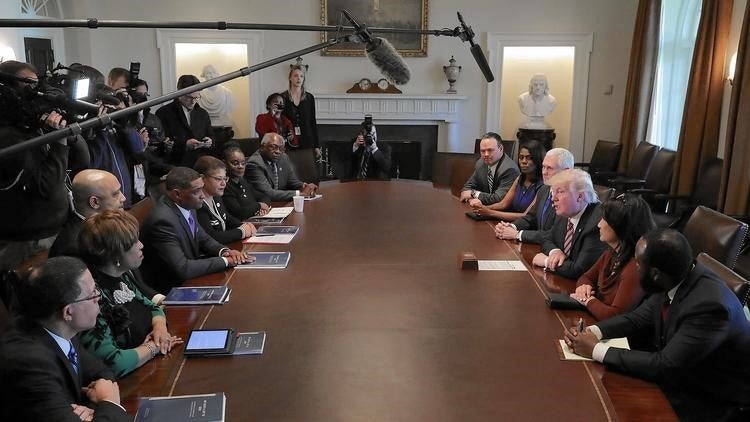 On March 22, the Congressional Black Caucus (CBC) met with President Donald Trump and presented a 130-page policy brief titled, "We Have A Lot to Lose: Solutions to Advance Black Families in the 21st Century." The group was responding to the president's campaign query from last summer:
"You're living in poverty, your schools are no good, you have no jobs, 58% of your youth is unemployed -- what the hell do you have to lose?"
Columnist Clarence Page noted that the CBC's meeting "was remarkable not for what it accomplished, which reportedly wasn't much more than a get-acquainted chat, but that it happened at all." During a presser at the White House on Feb. 16, reporter April Ryan asked President Trump about his intentions of meeting with the CBC. He appeared unfamiliar with the acronym, although it has been a mainstay in national politics for nearly 50 years.
"Am I going to include who? Are they friends of yours? Set up a meeting," Trump said to Ryan.
My hope is that this meeting was a first step, setting a table for the CBC to engage regularly with the President while continuing to develop its policy blueprint. Namely, evolving the more singular programmatic thrusts of the CBC's proposals toward building dynamic education and economic inclusion and competitiveness systems in distressed and underserved areas throughout the U.S.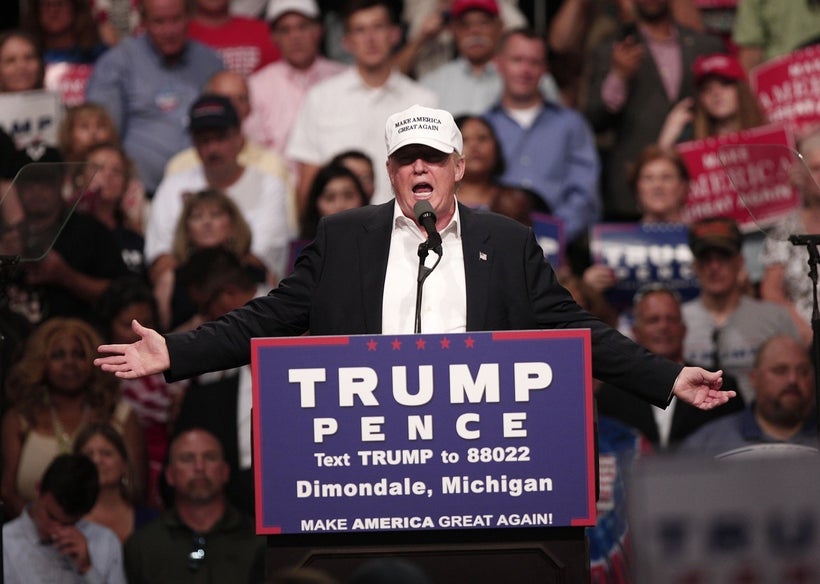 Competing in the 21st Century
A competitive national economy is one in which companies operating in the U.S. can compete successfully in the global economy while supporting high and rising living standards for Americans. New community systems represent the best means by which to help millions of Americans who are disconnected from our nation's best education and economic opportunities to contribute more to improve America's prospects for broad, enduring prosperity. The potential inherent within disconnected populations across America is a renewable resource that has languished, not fully realized throughout our history.
If President Trump, the "Dealmaker-in-Chief," is serious about addressing the CBC's concerns, then there's a "great deal" to be had to meet the needs of underserved Americans - and last week's meetup was a positive first step.
First Step: Programmatic Areas of Need
The CBC acquainted President Trump with areas of critical need in our nation. Some of their policy proposals that are especially important to the economic inclusion and competitiveness of disconnected Americans include:
Increasing federal grant funding to rural school districts and Historically Black Colleges and Universities
Establishing a tax credit for financial literacy programming
Investing more in STEM education and promoting entrepreneurship education
Increasing funds to help school districts better engage girls and underserved students in STEM
Increasing the Minority Business Development Agency and Small Business Administration's budgets and requiring them to team with the Census Bureau and Federal Reserve System to perform a yearly Minority Small Business Census
These kinds of programs are both vital and integral components that can make a profound difference in people's lives. However, often they are not aligned with education and economic competitiveness priorities that reflect top opportunities where people live. Moreover, there are scarcely any community systems-building mechanisms to aggregate, organize and leverage disparate and disjointed regional resources, blending them together to strengthen underserved Americans' abilities to cultivate, grow and sustain their contributions to the American Economy.
Transforming Fragmented Programs into Cohesive Community Systems
America's top-performing communities develop strategies, attract funding and implement organizational operating models that promote system development. Unfortunately, the type of (and level of) investment from government, philanthropy, individuals, and businesses that enable these successful operating models is wanting, or altogether absent in disconnected communities.
For example, education and economic services offered by leading organizations in underserved communities look nothing like those offered by market-leading entities (including business accelerators, venture development organizations and others) that steward regional economic competitiveness strategies. There is also difficulty in attracting and retaining talent in disconnected community organizations, which generally cannot keep up with their top-performing counterparts. Thus, the public is often disappointed; and those who fund efforts in disconnected communities become disenchanted due to consistently poorer outcomes.
The CBC could bolster its case with advocacy for community systems solutions that fulfill a primary need—over the span of decades—to continually plan with disconnected communities, produce, replicate and scale both effective programs and successful strategic initiatives that address education and economic inclusion and competitiveness goals.
Community systems lead the way to create favorable conditions to improve education and economic performance. Working together, disconnected communities can join with leading influencers to create conditions that help regional economies become more inclusive, competitive and robust.
Need to Build New Community Systems
The starting point to introducing new 21st century community systems is a process of convening the right kinds of regional leadership and stakeholders. Generally, in every region there are eight distinct communities of influence that all should be at the table for effective strategic planning and policymaking to occur. The Eight Communities of Influence (8 COI) anchor education and economic competitiveness community systems. The following diagram provides a useful perspective for identifying these interdisciplinary assets and is meant to serve as a general guide. The 8 COI all play (or can play) a role in, and have (or can have) an impact upon a community's level of competitive readiness.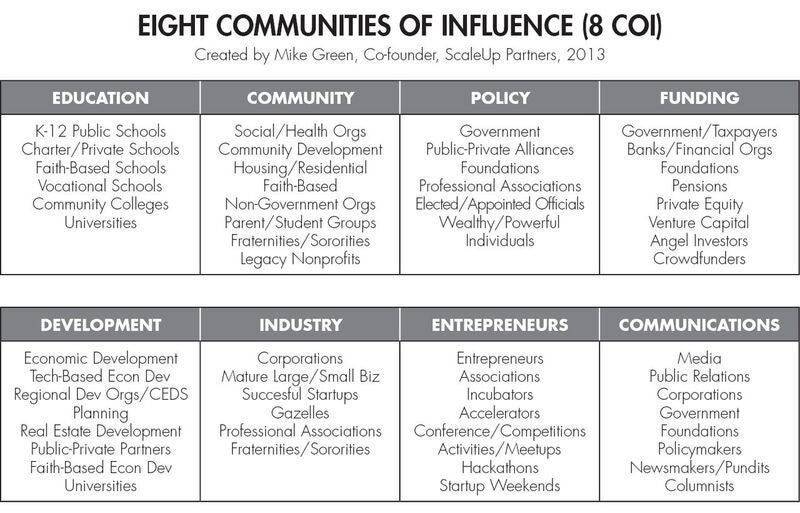 Although private sector engagement is a priority, federal policy is also important and needed to enable disconnected communities to convene credible leadership across these eight sectors to effectively analyze the regional landscape. The goal of this level of scrutiny is to determine pathways through which disconnected Americans can connect to and leverage the existing education and economic competitiveness strategies and plans where they live (to which they are largely disconnected) to improve their:
Education outcomes
Tech- and innovation-based workforce opportunities
Entrepreneurship (especially higher growth)
Business growth
Job growth
Wealth creation
Quality of life
For optimum and sustained impact, new community systems designed to uplift underserved Americans must be embedded into the existing regional education and economic competitiveness strategies and priorities, and not be relegated to an ancillary, separate or collateral goal. Introducing an integration policy is an important key solution to embedding economic inclusion and competitiveness objectives within the DNA of existing strategies and priorities that have been thoroughly vetted by the area's leaders and generally represent the area's top opportunities.
Complement (Not Replace) Incumbent Leadership
Disconnected Americans are served by a rich and diverse set of leadership organizations that typically provide direct and place-based services to residents. Still, similar to the current CBC policy blueprint, these organizations are largely focused on areas of 20th century traditional community economic development and education, employment, human resources, small business and social services. The introduction of new, community systems-focused leadership will inject incumbent services with new strategies, capacities, and capabilities that are aligned with regional, state, and U.S. education and economic competitiveness levers and opportunities.
The CBC is now poised to take the next step, a new direction with this new administration – by advocating for new community systems that build new bridges to the 21st century education and economic infrastructure that America is counting on to deliver future jobs and wealth in a global economy.
In other words, the CBC can be the tip of the proverbial spear to improve U.S. global competitiveness by accessing the heretofore untapped potential of disconnected Americans, the inclusion of which could make America greater than ever before.
That's a winning deal for all.
Johnathan Holifield is a former NFL runningback (Cincinnati Bengals) and author of "The Future Economy and Inclusive Competitiveness." He is a renowned speaker and national consultant on developing competitive communities. Twitter: @TheTrimTabber Website: johnathanholifield.tech
This post was published on the now-closed HuffPost Contributor platform. Contributors control their own work and posted freely to our site. If you need to flag this entry as abusive,
send us an email
.