It is hard not to notice Michael Zelehoski's constructions while walking on the weathered streets of the lower east-side. As I peer into the window before the door is opened by Gallery Director Craig Hensala, I see why Surface Tension has been so popular that it was held over for another week, but will close Sunday. Zelehoski works with a myriad of found objects, mostly from construction sites or from his new upstate studio which he is renovating. Although Zelehoski claims his work is not meant to be political according to Carrie Mackin, the founder of Mackin Projects who curated this exhibit, I say, but it is! Either it is the mysterious cosmos that pervades his found objects to materialize as the maze of construction sites we New Yorker's seem to travail everyday-- in a never ending roll out of gentrified manifestation, or it is just through coincidental happenstance that his National Grid panels are forcing themselves into grid-lock. The messy, often confusing constructs of mazes and barriers that signify the breaking up of the city's historic value.
We often find ourselves giving meaning to things where none was meant by the artist, but we find much in the Rorschachian essence of Zelehoski's forms. "Not meant to be" means nothing to the imagination.
The beautiful construction of his work Animism is however the antithesis of jumble and jam; a well-designed architectural Hexagonal shape with re-purposed wood puzzled into a nest of phenolic plywood with cable and fluorescent bulbs. This 65"x 67" piece is alive with mathematical movement and illumination.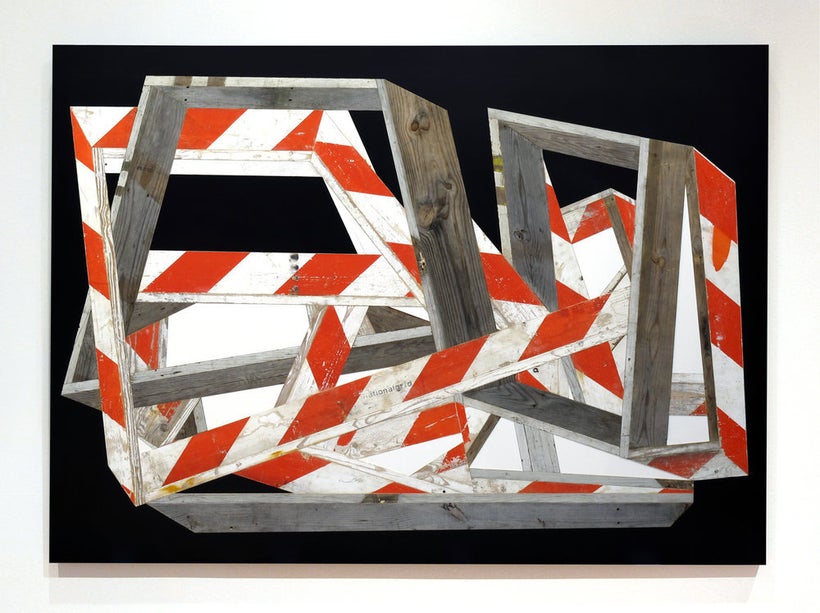 The work that drew me into the gallery is the lumberious clamber in the middle of Site 57 gallery, built in the stretch between the end to end entrances. This big elephant is like a jungle gym for kids and allows the site specific sensuality of large lumber and steel. A piece of construction built in place for our purview, alive and inviting but daunting nevertheless. Something that could also collapse in a moment should the tension release itself to weight or wind. It has an ephemeral nature speaking to the fragility of strength; one good push and down it goes. With the help of cranes, the nuts, bolts and steel pipes are healthily keeping the lumber standing in place, however, one bolt less might betray its existence, leaving us with what was there for a time and suddenly no longer. Chills climb up my spine, as it speaks to its eventual death when the show closes, hence it will arrive one day in another exhibit, inevitability in another form, as elements in a new piece, thus never as the original. In fact, it isn't in its original form now. It's only in that form that the elements shall be remembered by myself and others who visited the gallery.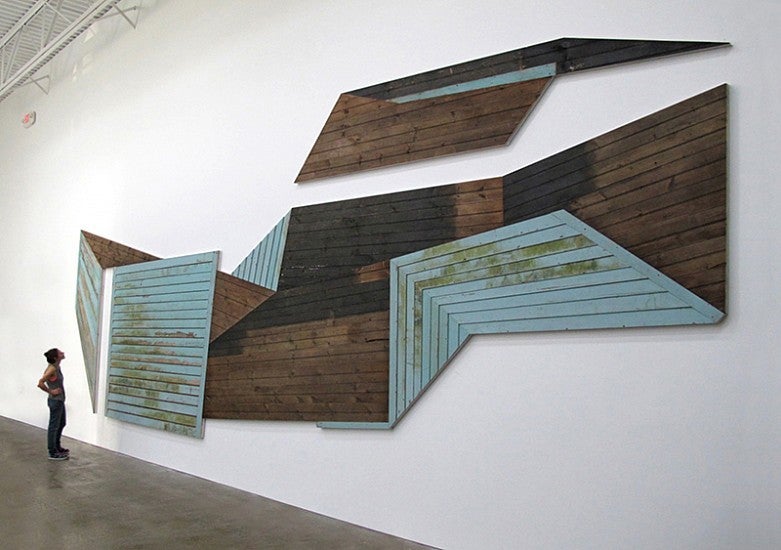 Above is Zelehoski's compelling work of rare splendor which hangs at the Musee National d'Art Moderne at the Centre Pompidou for its permanent collection in Paris. The piece called Open House (2012) is 13 x 35 feet, a magnificent two dimensional work made from a deconstructed ice house.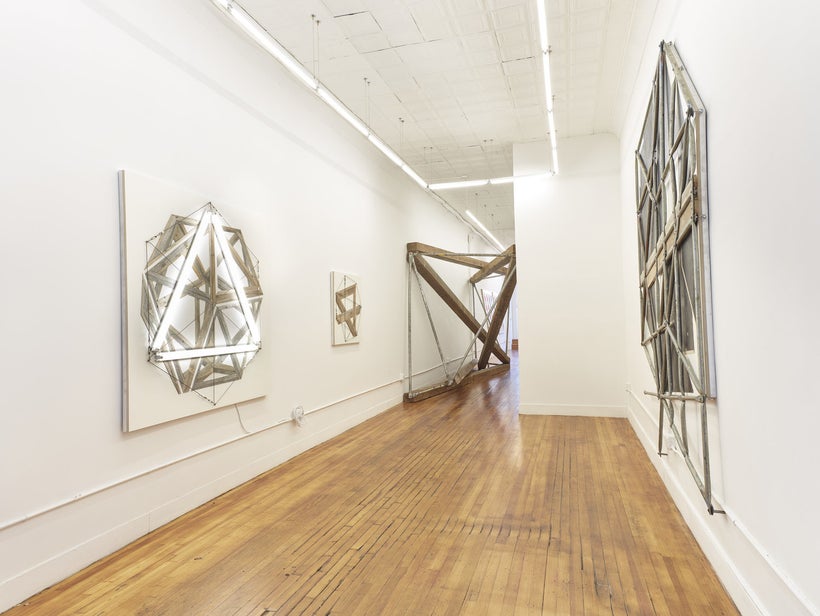 He's an outstanding artist that seems to fold wood like a magician, morphing its traditional construction into something multi-dimensional, sometimes like an architect/designer, sometimes like an abstract painter/sculptor-- inevitably pulling the viewer in.
This post was published on the now-closed HuffPost Contributor platform. Contributors control their own work and posted freely to our site. If you need to flag this entry as abusive,
send us an email
.