HuffPost Teen spent the year documenting the adventures and achievements of incredible, badass teens who are dominating social media, revolutionizing medicine and standing up against injustice. Over the past 12 months, countless teens have challenged the status quo and proved bravery doesn't come with an age requirement.
As 2014 comes to an end, we're taking a moment to celebrate some of this year's most fearless teens. Scroll down to see who made the list.
1. Mo'ne Davis, 13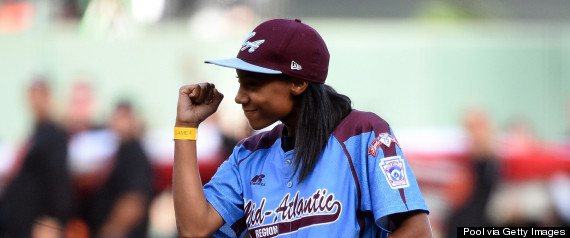 Mo'ne may have forever changed what it means to throw #likeagirl. Her 70 mph fastball made her the first female pitcher to win a Little League World Series game and earned her a place in baseball's Hall of Fame. Now, she's at work on her memoir.
2. Megan Grassell, 19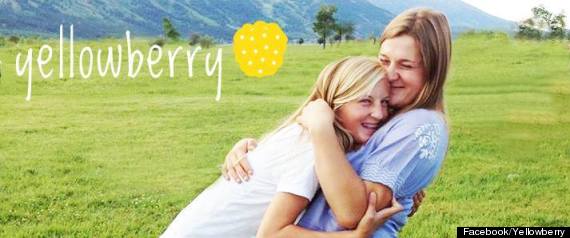 After watching her younger sister try to find a bra that wasn't of the uber-sexy, padded or push-up variety, Megan decided to start her own company that designed bras specifically for growing teen bodies -- padding not included. After launching a successful Kickstarter campaign, Megan started the Yellowberry brand. Her bras sold out within days -- earning her major viral props.
3. Nicole Maines, 17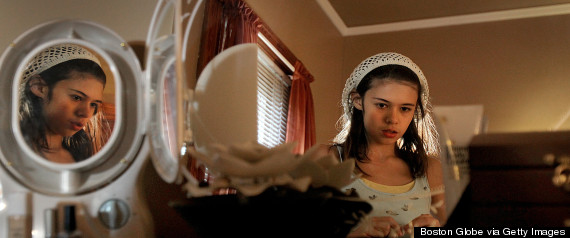 Nicole has garnered national attention for her crusade to help transgender students. When Nicole was in 5th grade, she was told by her public school that she was not allowed to use the girl's bathroom -- though she has identified as female since the age of two. Nicole filed a discrimination lawsuit against her school, and after a five-year battle, won her case in a groundbreaking decision by the Maine Supreme Court this past February. Her bravery won her a spot as one of Glamour magazine's Phenomenal Women of the Year.
4. Bethany Mota, 19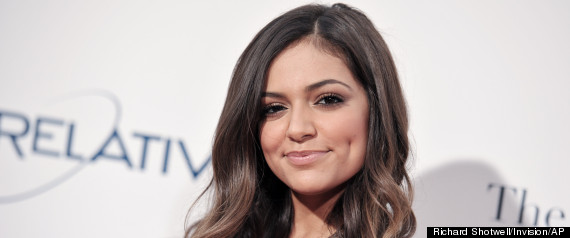 Her perky personality and fun fashion and beauty advice won her over 7 million YouTube subscribers and her own fashion line at Aeropostale last December. This year, she became a competitor on "Dancing with The Stars," and even made it to the show's semi-finals.
5. Ciara Judge, 16, Émer Hickey, 16, and Sophie Healy-Thow, 17
The Irish teens won top prize at the Google Science Fair with a brilliant plan to help solve world hunger. The teens discovered a way to increase cereal crop yields by 50 percent, which could have incredible implications for the growing world food crisis.
6. Chloe Grace Moretz, 17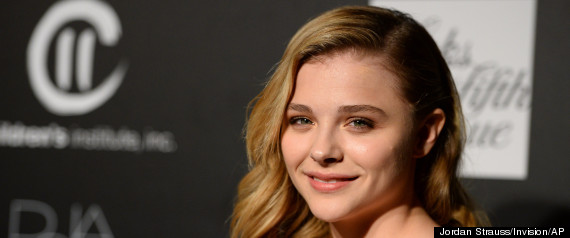 Chloe had a busy 2014, with starring roles in this summer's "If I Stay," "The Equalizer" with Denzel Washington and "Laggies" with Keira Knightley. Since rocketing to fame in the 2010 film, "Kick Ass," she's become one of the highest-earning teens in Hollywood. More importantly, she's majorly inspirational as a proud feminist who refuses to cater to Hollywood's objectifying female character parts.
7. Neha Gupta, 18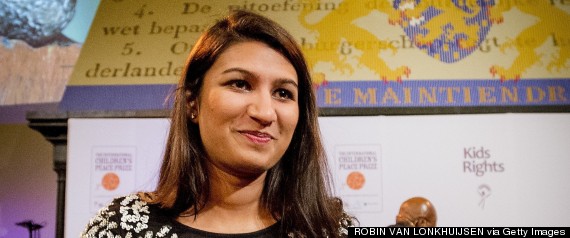 Neha was the 2014 winner of the prestigious International Children's Peace Prize for her work helping orphans and vulnerable children in India. After founding "Empower Orphans" at the age of 9, she's gone on to bring thousands of Indian children hope in the form of clean water, libraries, computer centers, hospital services and more.
8. Malala Yousafzai, 17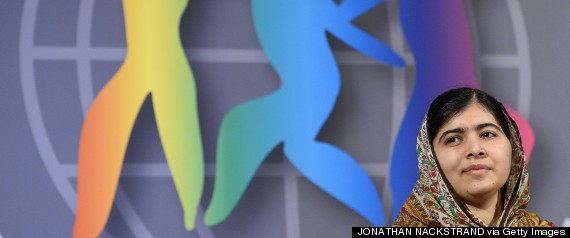 No list of incredible teens would be complete with Malala, who became the youngest Nobel Peace Prize winner in history this year. Her bravery captivated the world after the Pakistani teen nearly was killed by the Taliban for speaking out on behalf of women's rights. Through the Malala Fund, she's worked to empower young girls everywhere through education.
9. Troye Sivan, 19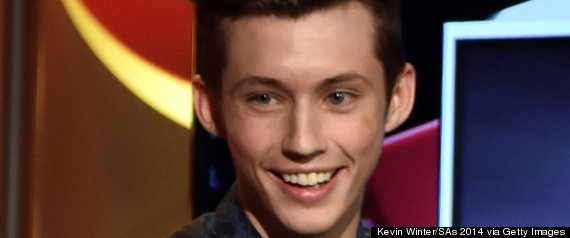 Though he played young Wolvervine in 2009's "X-Men," Troye Sivan's fame really took off when he came out on his YouTube channel last year. Since then, he's become an outspoken voice for safe sex, earning him a spot on this year's Out 100. He's also earned acclaim for his musical chops with his single, "Happy Little Pill" topping iTunes charts in 55 countries.
10. Tom Phelan, 17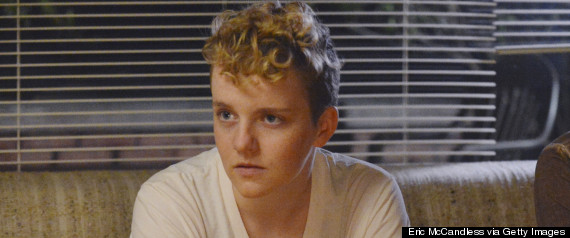 The young actor has become a powerful face for LGBTQ rights, staring as transgender teen, Cole, on ABC Family's "The Fosters." The show made headlines this summer, and Tom's character has been celebrated as a positive representation for trans teens. Tom's also become a resource for teen fans on Tumblr, Just Your Friendly Neighborhood Trans Kid, answering questions about gender and sexuality.
11. Joshua Wong, 18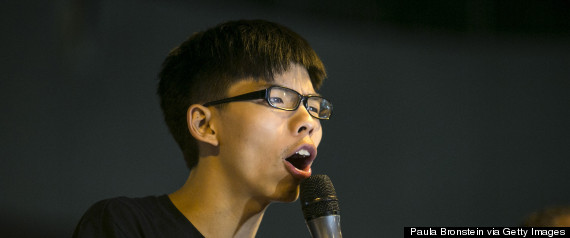 Joshua Wong was the force behind arguably the largest youth political movement of 2014: the Hong Kong student "Umbrella Protests" against the Chinese government. Wong rallied thousands of Hong Kong youth to occupy Hong Kong streets demanding universal suffrage from the Chinese government. Recently, he began a hunger strike to pressure the government to meet with protestors.
12. Liam Martin, 17
Liam Martin, aka @waverider, became an Instagram darling after his photos of hilarious celebrity doppleganger impersonations went viral and earned him nearly 2 million followers. Most of his photos are impersonations of female celebrities, which has made him a prime target for cyberbullies. He became vocal on YouTube speaking out against the haters. Rock on.
13. Jazz Jennings, 14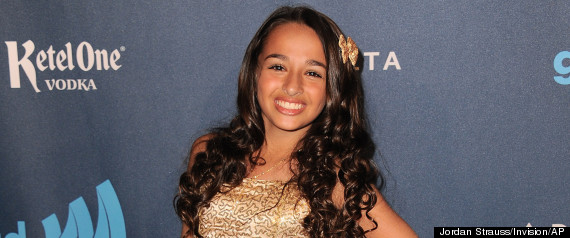 The teen has been an outspoken activist for trans rights, first reaching the public eye with a Youtube series in 2012 about growing up trans. She's since been interviewed by Barbara Walters and cowritten a children's book about growing up transgender, called "I Am Jazz." Her outspoken activism has earned her spots on OUT100 and The Advocate's 40 under 40. She was also a special guest at the 2014 GLAAD Media Awards.
14. Carleigh O'Connell, 14
When Carleigh discovered a cruel graffiti message about her body painted in her hometown of Wall, New Jersey, she refused to play the victim. Instead, the teen stood up to body shaming by happily posing for a photograph -- in front of the hurtful graffiti. That photograph quickly rocketed her to viral fame as a true role model for positive body image.
Follow HuffPost Teen on
Twitter |
Instagram |
Tumblr |
Pheed |
BEFORE YOU GO
PHOTO GALLERY
Inspiring Teens