We cannot solve our problems with the same thinking we used when we created them. — Albert Einstein
Sameer Patel is CEO of Kahuna where he focuses on helping modern marketers and CMOs transform how they engage and sell to digitally native consumers. Patel joined Kahuna in August, 2016 as CEO and board member. Prior to Kahuna, Sameer was GM/SVP at SAP/SuccessFactors where he led the team that was responsible for making SAP a leading provider of Collaboration and Customer Engagement solutions with 35 million subscribers. Patel has keynoted over 50 industry and venture capital and private equity events and has been quoted in publications like The New York Times, CNBC, The Wall Street Journal, TechCrunch, and Harvard Business Review. Patel writes about leadership and high-performing enterprises on his blog Pretzel Logic. Patel is a must follow on Twitter at: @SameerPatel.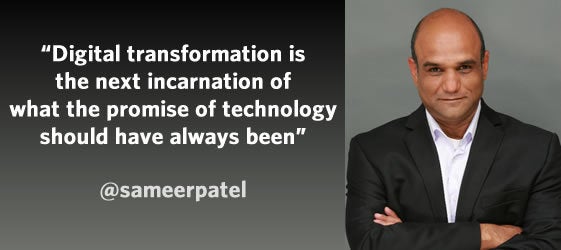 All inventory is either expensive or perishable. Advancements in data science enables CEOs and CMOs to demand an exponentially faster flow of product across demand and supply chains as part of any digital transformation initiative. As a result, smart marketing automation that can convert fast is now unequivocally the tip of the spear for modern marketing leaders.
However, the consumer's attention is far more perishable then your inventory. Every brand is now expected to also use smarter marketing automation to ascertain interest and to engage with consumers at the right time, on the right device and with the right message.
You can't fake AI, you can't sugar coat AI, you can't peanut butter AI. Mass personalization at scale is not a manual endeavor. AI at the core, or bust.
"Omnichannel consumer experience" is unadulterated hogwash. As an industry, we will have to earn our way to an omni-channel consumer experience and we're only getting started.
To learn more about marketing automation and the emerging marketing and sales technology trends like mobile, social and artificial intelligence, Ray Wang and I invited Sameer Patel, CEO of Kahuan, to join us on weekly show DisrupTV.
90% of the world is using technology that was invented before MySpace, according to Patel. Patel joined Kahuna because he felt the technology at Kahuna was best equipped to deliver value to the end consumer. Patel uses Uber as example of a company that markets to end-consumers without the user feeling that they were marketed to, or sold to. The consumer expectations has changed with regards to how they engage with companies and brands. Patel also referenced Amazon recommendations that are well received by end-consumers.
In the last 2-3 years the consumer buying behavior has radically changed. Patel believes that the use of artificial intelligence and machine learning is allowing companies to deliver personalized experiences at scale. In a knowledge sharing, digital economy, where the age of the connected customer is now defined by new business currencies - personalization, immediacy and intelligence - companies need to invest in mobile, social, messaging, IoT and AI to connect to their stakeholders in a whole new way.
Patel advises companies to truly respect and better understand what their customers need, and where they are in their digital transformation journey. The average tenure of a CMO is 18 months and therefore companies must truly respect the pace that a brand marketer can move and then deliver value.
What mobility trends are changing the buyer's journey and business impact? "Mobile is not about the device, mobile is about the mobility of the individual," said Patel. The design metaphor for mobile moves from consuming information from a device to an app, or a location. Mobile is about location and the signals that the device sends about the individual. The mistake is looking at mobile as an engagement device.
"The real value in mobile is the ability to ingest preferences in data and gestures that make us [companies] smarter about the consumer," said Patel. Patel gave examples of using mobile data to deliver effective marketing and value added services to the end-consumer. The brand can deliver 10X value by leveraging mobile data. The killer app is using mobile (beacon, sensor, smartphone, tablet, wearable, chatbots, IoT device, etc) as an ingestion device to learn more about the consumer and then respectfully and gracefully deliver value to said consumer with meaningful marketing and sales oriented content. It is about bolstering end-consumer contextual intelligence leveraged to create mass personalization at scale.
Patel is an extraordinary technology and business visionary. He is super collaborative and always demonstrating his passion for sharing his insightful points of view with his community. Patel's blog and social feed is full of brilliant insights. Please watch the video to learn more about Kahuna and precision sales and marketing practice and technologies.
After speaking with Patel, Ray and I shifted our conversation to mobility trends and what we should expect to see at Mobile World Congress (MWC) by inviting Brian Katz to DisrupTV. Katz is Director of End User Computing (EUC) Mobile Strategy in the Office of the CTO at VMware. He is responsible for setting strategy in mobile and helping to fit the different pieces of VMware's End User Computing division together into an easily digestible solution for helping companies enable their users to be more productive and agile while staying secure and efficient. Katz came from Sanofi pharmaceuticals where he most recently led End User Experience and Innovation where he was responsible for ensuring a great user experience across apps and services within the organization, while at the same time leading innovation initiatives and projects that affect the end user as well as IT. Katz is another brilliant follow on Twitter at @bmkatz.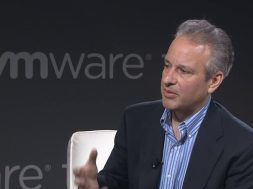 According to Katz, mobility and end user computing (EUC) is not just your phone or tablet. EUC is about you and where you can get work done. Companies are looking to improve inefficiencies by transforming business processes so that employees can be productive and get work done no matter where they are. Digital transformation is about agility, mobility and data-driven methodology. The devices are secondary when it comes to digital transformation, it's all about reinventing process with end user experience at the center of how companies design products, services and work environments.
What can we expect in the next 10 years of mobile innovation? Katz spoke about 5G and LTE Advanced for delivering high bandwidth and highly accessible mobility. Both of these standards have applicability and use cases for autonomous cars and internet of things leveraging. Katz notes that the 5G standards are not yet defined and there are no 5G radios in our smartphones, and yet many companies are prototyping this services across major cities around the world. Katz is forecasting 5G ratified standard by 2020. Katz also shared his point of view on augmented and virtual reality as emerging topics for EUC.
Katz also discussed new devices that were introduced at MWC 2017, including devices from Samsung, Blackberry, Nokia, Motorola and HTC. We talked about the continued interest in wearable devices and fitness devices that were introduced at MWC. The notifications on smart watches and smart glasses with VR use cases was a topic of interest. Katz shared his point of view with respect to explosive nature of natural language processing and voice as the UI. How does voice crack the enterprise - with open offices and privacy concerns?
We also covered conversation commerce and AI powered apps using NLP technology on mobile devices. Echo commands have grown from 1,000 to 10,000 new skills in one year but use of voice as the new UI in business settings is the next battleground. Katz reminds us that providing our personal information to everybody is a potential area of concern. Katz noted that companies like Apple, Google and Amazon have demonstrated their commitment to trust and privacy, but that cannot be said for all companies collecting end-user data. Please watch the video for incredible EUC thought leadership, future trends in mobile technologies, and specific Internet of Things use cases by Katz.
Ray and I finished our mobility and AI final segment by inviting a media technology thought leader, Heather Clancy (@greentechlady) to DisrupTV.
Heather Clancy is a contributing editor to Fortune and the author of Data Sheet, Fortune's daily newsletter about the business of technology. Clancy's articles have appeared in Entrepreneur, Fortune, The International Herald Tribune and The New York Times. She is a senior writer for GreenBiz.com, and the editor of FORTUNE Data Sheet, a daily dose of enterprise technology news. Clancy is also Twitter all-star and a must follow on Twitter at @greentechlady.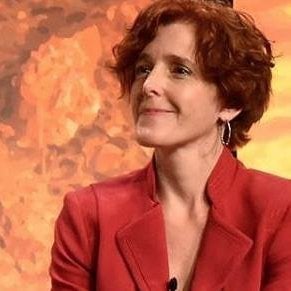 We continued our 5G conversation with Clancy. Verizon is testing super fast 5G Internet with customers in 11 cities and Clancy's hometown, Bernardsville, New Jersey is one of the cities. Also both Intel and Qualcomm continue to bolster their 4G chipset capabilities for next generation devices, hinting at perhaps a later adoption of 5G radio technology support in smart devices.
We spoke to Clancy about the use of Internet of things to improve proactive service delivery. In her Fortune article, Clancy gave a wonderful example of how GE is using IoT to delivery proactive field service. In her post, Clancy noted: "companies are shifting service delivery models to be proactive by adopting software that diagnoses equipment ­problems sometimes before they happen—and helps workers better schedule house calls."
Business interest in field service apps and data services is fueling a parallel boom in supplying the technology. Sales in the category are expected to reach $5.1 billion by 2020, more than double the figure from five years earlier, according to research firm MarketsandMarkets. - Heather Clancy
We shifted our conversation from proactive field service delivery to proactive performance management and a growing trend towards companies adopting a continuous feedback model to engage and coach employees. Clancy's post pointed to the importance of real-time communication and coaching.
Few people like annual performance reviews—neither managers who spend hours writing them nor employees whose hard work can end up being trashed in them.Little wonder that more than 80% of large companies, including Accenture, General Electric, Goldman Sachs, IBM, Morgan Stanley, and New York Life, are overhauling (or planning to overhaul) the ways they appraise their workforces, according to consulting firm Deloitte. The goal is to make performance reviews timelier so that workers receive constant feedback rather than only once a year. - Heather Clancy
We talked to Clancy about artificial intelligence and use cases by Workday. Mangers are using AI HR and performance management applications to identify both low and high performing employees. Clancy talked about the Workday's learning platform and how companies are using augmented intelligence to identify learning opportunities to advance careers.
We spoke about MWC and the future of mobility with Clancy. Please watch our video conversation with Clancy to learn more about her coverage areas of interest. Ray and I love having Clancy on DisrupTV - she always bring a unique and rich perspective to our conversations.
The new battle ground for business differentiation is the customer experience. Mobility and smart, AI powered applications are at the heart of the age of the connected customer. Digital savvy businesses will continue to lean into technologies like social, mobile, cloud, AI, IoT and productivity solutions (sales and marketing intelligent automaton) to better understand and improve their products and services. Our DisrupTV guests remind us that the pace of innovation is a forcing function for business leaders to stay informed and actively interested in studying, experimenting and implementing new technologies to stay agile, data-driven and customer focused.
This post was published on the now-closed HuffPost Contributor platform. Contributors control their own work and posted freely to our site. If you need to flag this entry as abusive,
send us an email
.