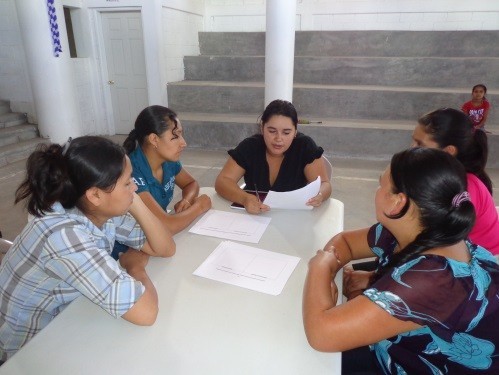 Marlén Melgar leads a meeting of the Tambla Municipal Womens' Network. Photo by Trini Ariztia/LWR.
Marlén Melgar serves as the coordinator for the Office on Women in the municipality of Tambla, in the Lempira district in Honduras. Her job is to help women's agricultural enterprises advocate for funding from the 5% of the municipal budget that by law is earmarked for gender activities.
Both the office and the position are brand new, created as a result of the advocacy of the women's network in the municipality. Being the first in this position makes Marlén understandably both excited and nervous.
"[When I first got the position] I thought, 'I don't know anything about how to be a coordinator.'" Marlén says. "There had never been such a space for women before."
The Women's Network is part of the Gender in Agriculture from Policy to Practice (GAPP) project initiated by Lutheran World Relief, with the support of the U.S. Agency for International Development's Feed the Future initiative, in 10 municipalities in Western Honduras. The aim of GAPP is to help women and men to advocate for policy changes that enhance women's access to credit and respond to their needs in agriculture. It is part of an effort to foster gender-balanced leadership that is being highlighted as part of the March 8 commemoration of International Women's Day.
With the training and support provided by the GAPP project, the Women's Network of Tambla has organized its board of directors and committees, and has taken the initiative to create a rural savings bank with the goal of carrying out activities that generate income for the network and its members.
Since the start of the project, GAPP has directly reached 2,721 women in strengthening their civic participation by building leadership, public speaking, and management skills in 10 women's networks in the Lempira district. These networks serve as a collective voice for women in their respective communities.
The project has also been directly working with 885 men to reinforce partnership and collaboration with women using an innovative masculinities methodology to promote changes in male attitudes towards equitable political and economic participation by women.
Rodrigo Ramos, a grain farmer, is the president of a rural credit institution in the nearby Tomalá municipality. Along with men from other rural credit institutions, he participated in the intensive gender awareness training.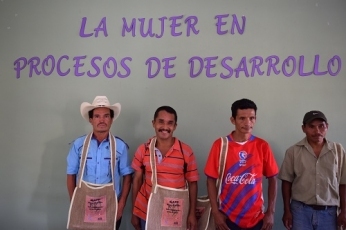 Rodrigo Ramos and others who participated in gender training. Photo by Trini Ariztia/LWR.
During the trainings, Rodrigo shared life experiences that have shaped his notion of gender roles, and recognized that in order to promote gender equality, he and other men need to play an active role. "My big challenge is to involve more women in the rural credit institutions and their boards," he says. "I am hopeful that at least two women will soon be part of the board of directors. We've been actively lobbying on behalf of these women."
Today, members of the women's municipal networks are working with local governments to effectively use the allocated public funds, while men who participated in gender awareness training are becoming more aware of the challenges women face and are working to ensure they receive equitable resources.
This article appeared in Choose to Invest, the 2017 international humanitarian aid funding recommendations from InterAction, an alliance organization in Washington, D.C. of more than 180 nongovernmental organizations (NGOs).