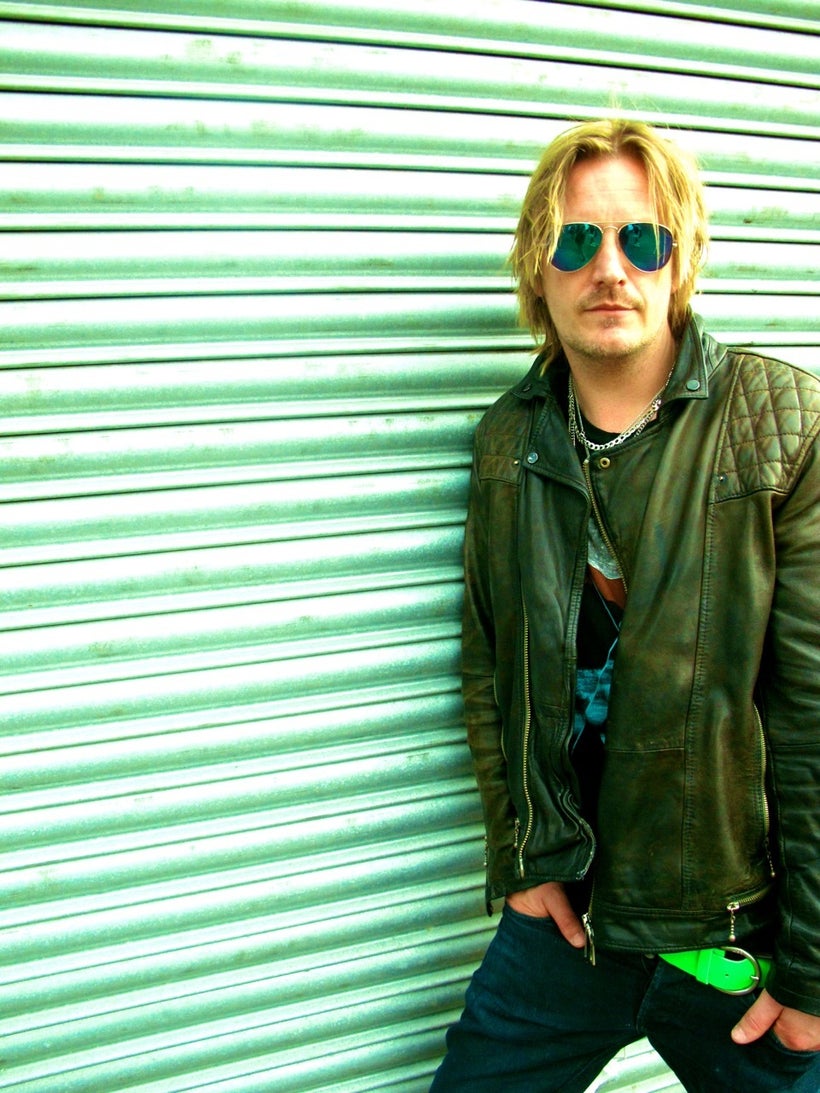 US EDITORS PLEASE MOVE TO UK VERTICAL
After accidentally running into Adam Ant's multi-talented bass player, Joe Holweger, on the charming streets of Liverpool, following a remarkable KOTWF concert, and the again in Oxford, where he was accompanied by his adorable 80 year old dad, I discovered that aside from Adam, he and some of the other band members were part of a faction called the "Spiderbites". 
 I immediately googled their music, and the tongue and cheek, retro, 80's album soon became the fun part of my music collection. At first I was surprised at the type of music coming from the band that toured with Adam and played Kings Of The Wild Frontier to sold ouT audiences all over the UK, however the lyrics made me laugh, while celebrating their great instrumental madness. I became an instant fan. Unbeknownst to them, if their music was well known in LA, they would be an instant overnight success.
 Speaking with the handsome bass player was a complete honor. Joe was kind, full of knowledge, and filled with an addictive sense of humor, as he spoke about his fellow band members, guitarist  Tom Edwards and drummer Andy Woodard. 
So how did the band originate?
 Basically, back in 2013 we did a US tour with Adam. I always sound checked his mic, because he never goes to sound checks. We do the band, we get the guitars right, so I always do that. We play stuff in the set, we play Adam Ant songs. We were away for three months and just got bored of playing the same stuff, so we started playing, "Motley Crue" and "White Snake" covers. Tom is into 80's Rock, and it turned out I was as well. We just started covering songs from the 80's. There were different songs we did from the 80's that we thought were quite funny. Then when we got back, Andy sent me a demo that him and Tom had done. It was like an 80's Rock thing, and as a joke, I put a vocal on it, and sent it back to them. That turned out to be "Dream Machine", our first one on the record. They just loved it, and said "you know what, we should just make an 80's Rock band". Then as we toured with Adam, we were sound checking with these 80's songs, and we eventually had like an 80's favorite tape. The first one is kind of tongue and cheek, and a bit more silly. We didn't wanna go as much as "Spinal Tap", we didn't wanna make it too comedy. In the first album there's quite a lot of sexual references in there....
 It was kind of a bit if of fun, that one. We did it and it turned out pretty good. We wrote most of the stuff while we were away, and then we started recording when we got back.  It took us about 4 or 5 months to do it, and then Andy mixed everything, and did it all in his studio. That was the first one, and then now we're in the middle of the second one. We're just putting the vocals on, so we're pretty close to having the second one now, which is a bit less tongue and cheek. This one will be more catchy I think, and a bit more contemporary sounding. We went for the 80's, retro sound with the first one. The people will be into the next one for other reasons then a retro thing. 
I thought the album was fun.
 It turned out pretty good, the first one, but you know it's funny because we've all been playing with Adam for four years. It was kind of born from that. We had the opportunity , we were lucky enough to have all this time away together where we were able to write songs and when we did the sound check, we just tried things out so.... We have our own fan club in a way....the problem we have is that some of the fans are a little bit worried because we're Adam's band and he might not like it. To set the record straight on that, he's a nice guy and he's not stupid enough to think that he's threatened by us. It's all good. He's fine with it, and we are completely committed to him. He's got quite a lot of stuff coming up now, and that's always going to be a priority. We all enjoy that. And we want to keep that going. 
Well you are all brilliant musicians in your own right, and the KOTWF tour was awesome.
 We all put a lot of work into that. We rehearsed a lot. The fans, yourself included, you know these songs so well....if we did it badly you would have been insulted...we were competent enough to be able to do it at a very good standard. I think he was really happy. The tour went really well.
 Joe, who writes the songs for the Spiderbites?
 We all do. The process generally is Tom  will come up with some riffs and send them to me. I will re- order the riffs, and write the lyrics, then I'll send it to Andy, and he will rearrange it...it's a three way thing. We split everything. A lot of these bands, if something kicks off with it, they suddenly make a lot of money, I'd rather we all make lots of money, or we all make no money....music is all about having fun with your friends. If we all make lots of money, well then that's great.
 With all the free downloads, I don't know how any of you guys make money.
 There's not a lot of money coming in at the moment to be honest, but we're lucky enough to be touring with Adam and working with him. That gives you the freedom to do other things. It's just nice to be able to do something different. It just makes you a better player,  it's good for the soul if you can write silly songs about silly things.
I love the songs, because you can laugh while listening to really good music at the same time. I especially love "Fat Girl".
 We did a video to that. We got a girl from an agency, she saw the lyrics and she was quite happy to do it. We did say to her that it was a kind of tongue and cheek song about a sexy girl who happened to be fat. She was cool, she thought it was hilarious and wanted to do it. It turned out really good, she looked great in it. " Fat Girl", was directed by a friend of Tom's. Then we did another one. We did "Magic Fly". It was directed by Victor Davis. 
How can your fans-to-be gain access to your music?
 Mainly through our website. You can to our Facebook, and you can download stuff.  You can go to Bandcamp and download the album. You can get it from iTunes. Really we are looking to step it up a little, and get into some support tour, which will show people what we do live. That's really where our strength is. I need to fit it into what Adam's doing. We need to see how Kings is going to pan out. If we get a few months off we can definitely do it, once we get this new album out, which will be done by September. 
Just keep an eye out for Spiderbites, because the music we're doing is kind of fun and it kind of exemplifies what music is meant to be about. Great friends having a really good time, writing songs that they've done together, and enjoying their talents with each other. That's where we are coming from, which is doing something we enjoy doing. Just keep an eye out, we're going to be doing something special pretty soon.
This post was published on the now-closed HuffPost Contributor platform. Contributors control their own work and posted freely to our site. If you need to flag this entry as abusive,
send us an email
.