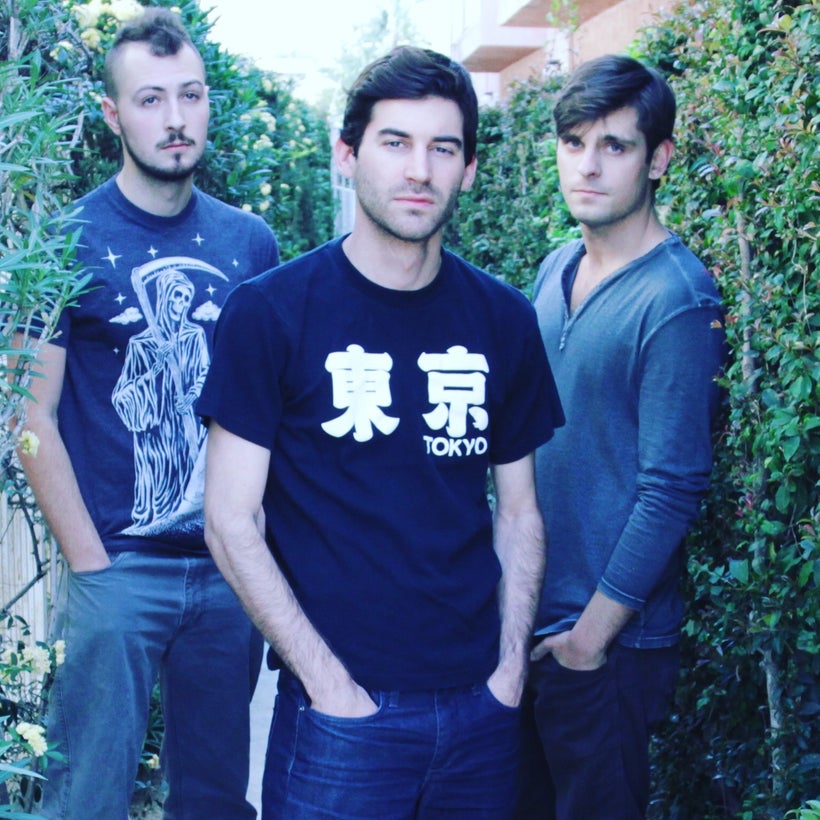 L.A. based Trio, Space Cadets, has recently released their self titled EP, presenting to the world a simple musical journey, infused with rock, blues, pop, hip-hop, and R&B. Composed of Zachary Wexelman, on vocals and guitar, Dan Creed, playing bass and vocals, and John Cocco on drums. Look out for their newest single and video: "Kissing".
The faction has recently toured the West Coast, and promises to visit the East shortly. We shared questions and answers on their music and future intentions, and some of their life experiences.
What kind of message or feelings do you hope to send through your music, through your new EP, to the world? Dan: We just want people to feel something. That's the best part about music - it makes you feel. Whatever that something is, it's different for everyone. We feel that our music tells a story. It's very relatable and honest and real. Who writes the songs, and what inspires them to be written? Zach: I write the lyrics and most of the music. However, Dan and I recently co-wrote our first song together called "Hot Summer." It's about a lonely summer in Los Angeles and has become one of our new favorites. John is becoming more of a collaborator as well, his unique minimalistic drumming style has inspired a more assertive tempo. My favorite song is almost always the one I'm currently writing so I guess the inspiration comes from the desire to feel that magic again after the buzz has subsided from the last one. Will there be a tour to support the new EP? John: We toured the West Coast earlier this summer leading up to the EP release. That tour started in Los Angeles and went up the coast to Seattle. We're focusing on recording more music this fall and are currently plotting some East Coast dates for December, so look out for those! How long have you been together and how did the band originate? D: Zach and I have been a band for around three years, with John joining a year and a half ago. Zach and I lived together in college and would jam and sing songs together. When we moved to LA, Zach was playing the open mic circuit and we would jam during the days. The first song we wrote was "My Room." One day Zach asked if I'd join him and play it at an open mic. I said sure and we haven't stopped since. John joined through our manager, who has known him for a long time. As soon as John joined, we knew we had something special. It just clicked. What do you believe makes your songs stand out amongst the crowd? J: The simplicity of the music - it's not overproduced, there's only a handful of sounds, and it's not composed to trick your ears. You get what you hear. Do you have a favorite experience performing while live? Z: I think I speak for everyone when I say that our favorite experience performing live was during our final show on the Training Wheels Tour at Blue Moon Tavern in Seattle when our manager, Justin, and The 4 Skin Five, who where touring with us, bum rushed the stage for the final song. In that moment I think I knew that this was the life for me. Amazingly, some of this was captured by our incredible tour photographer Devin Cheney. D: There was so much energy in that small dive bar, I thought the roof was gonna blow off. People were dancing, screaming, head banging. It really was something special. J: A woman dressed as a unicorn even got up on stage. It was magical. With an EP, as opposed to a full length album, are there plans for a full length release?
Z: Without giving too much away, there will be a full length released in 2017.
Twitter : @spacecadetsband
Instagram: @ spacecadetsband
This post was published on the now-closed HuffPost Contributor platform. Contributors control their own work and posted freely to our site. If you need to flag this entry as abusive,
send us an email
.