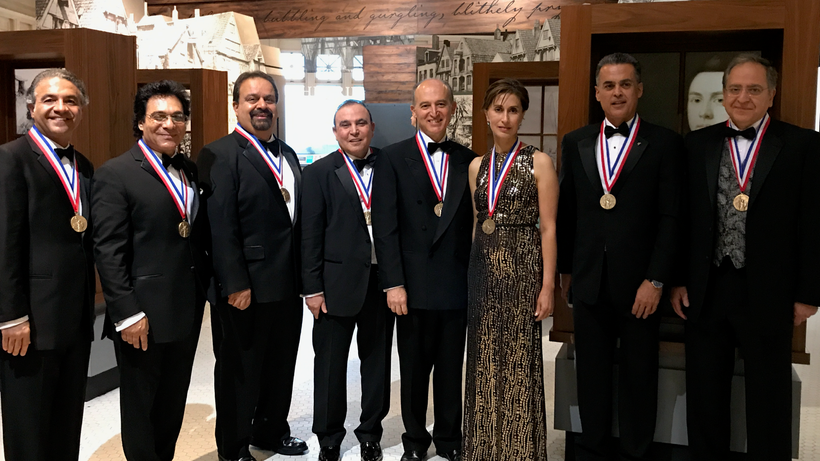 The coming of age story of Iranian immigrants to America was on vivid display at Ellis Island on Saturday night. In 2017, multiple generations of Iranian Americans are highly visible players at the forefront of virtually every industry in America.
This year's Ellis Island Medals of Honor recipients come from the fields of science, medicine, diplomacy, business, women's health, music, construction, law and telecommunications.
Cumrun Vafa, is winner of the 2017 Breakthrough Prize in Fundamental Physics. A string theorist at Harvard University, his research is focused on the nature of quantum gravity and the relation between geometry and quantum field theories. "As an Iranian-American, I am inspired by the legacy of ancient Persian mathematicians and scientists," Vafa says. "Science is a timeless borderless adventure. I sincerely hope that this great American tradition to bring people from different cultures together and to promote and nurture science will continue." Vafa is a trustee of NIKI, Network of Iranians for Knowledge and Innovation.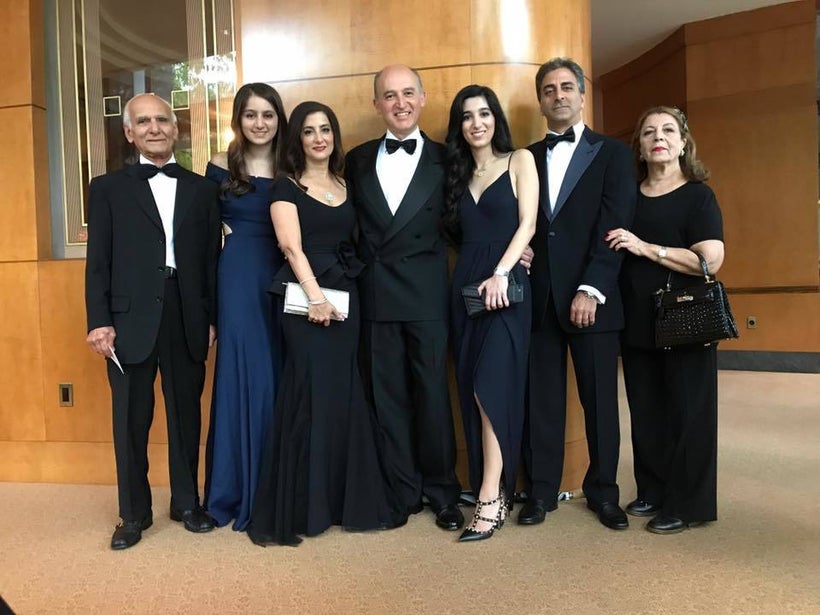 Dr. Abbas Ardehali, is Director of UCLA's Heart and Lung Transplants Programs. Ardehali says his interest in heart surgery was awakened in 1969 when he was a young boy in Iran, after he heard about the first human heart transplant by Christian Barnard. Ardehali is currently working on a novel technology that could transform the field of human heart and lung transplantation. "I am deeply humbled to be the recipient of Ellis Island Medal of Honor," Ardehali says. "It is an incredible honor to be in the company of such a distinguished group of Americans. It is especially meaningful to me and my family, as my father spent 5 days on Ellis Island, when he first came to US (exactly 70 years ago in 1947)."
Also receiving a medal was Azita Raji, the first Iranian-born American to serve as a U.S. ambassador. Raji was nominated by former President Barack Obama to serve as the United States ambassador to the Kingdom of Sweden. Ms. Raji served as National Finance Vice Chair and Chair of Swing State Victory Fund for the Obama campaign. She was later appointed by President Obama as a Commissioner on The President's Commission on White House Fellows. Raji arrived in the United States when she was 17 from Iran to attend Barnard College. She has since had an illustrious career as a diplomat, banker and philanthropist. "Tonight is another reminder that inclusion is not just a moral imperative, but smart policy. America is strong, because we value diversity," Raji said.
Hormoz Ameri is President of Naftex Oil Exploration Group, one of the top 20 oil and gas production companies in California. He is the past Chairman and member of Stanford University's Petroleum Investments Committee (PIC) and two term member of the Board of Advisors of Stanford University's School of Earth Sciences. Ameri is also Trustee of Farhang Foundation, a philanthropic organization with the mission of promoting Iranian art and culture based in Los Angeles. Ameri says his American journey has been an affirmation of his deep belief in individualism. "The American foundational values of individual liberty and the rule of law have afforded me the opportunity to actualize my dreams and to believe in the limitless potential within each of us," Ameri added.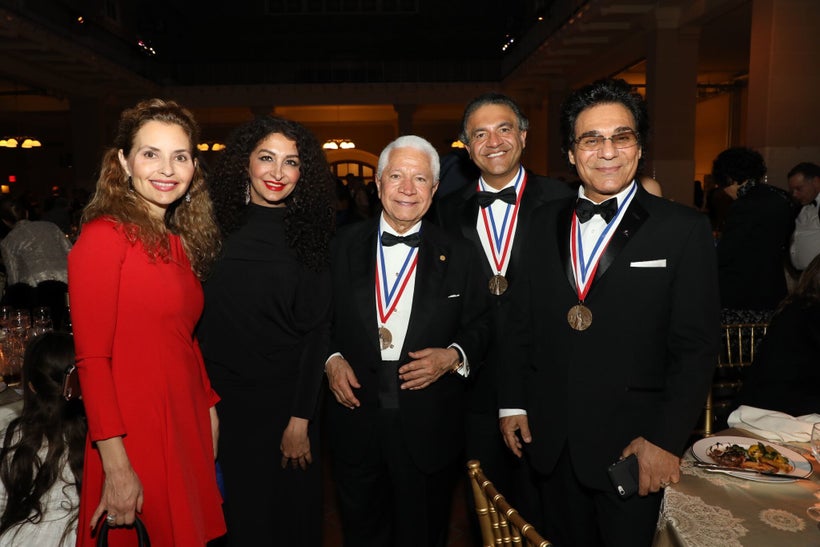 Dr. Shaheen Tedjarati is Gynecologic Oncologist and Professor of Robotic Surgery at New York Medical College and Westchester Medical Center. He speaks globally about women's health and their rights addressing health disparities, violence against women and equality of women and men as the cornerstone of societal progress and framework for lasting peace. He has been active in number of international projects including China, Vietnam, Central and South America and Kurdistan, Iraq. To Tedjarati, the Ellis Island Medals of Honor award represents the "indomitable strength of diversity in America." "As an Iranian Baha'i," Tedjarati added "I was honored to be a recipient, ever cognizant of the greater need for unity in diversity as our strength rather than a threat, on the eve of 9th anniversary of unjust imprisonment of 7 Baha'i leaders in Iran, whose strength and dignity stand as such example." 
Andy Madadian, is an international recording artist also known as "The Persian Bono." His albums have sold millions around the world and he is known as one of the best Armenian artists globally. In 2014, he won The Millennium Award at the Big Apple Music Awards and has performed alongside Jon Bon Jovi and performed at the One World Peace Concert with the Dalai Lama. "As an Iranian Armenian American, I'm honored to be among some of the most accomplished people of the world that are here in America, the land of immigrants," Madadian said. "And I'd like to also thank all of the Americans who came here before me who paved the way for me to flourish in this beautiful place," he added.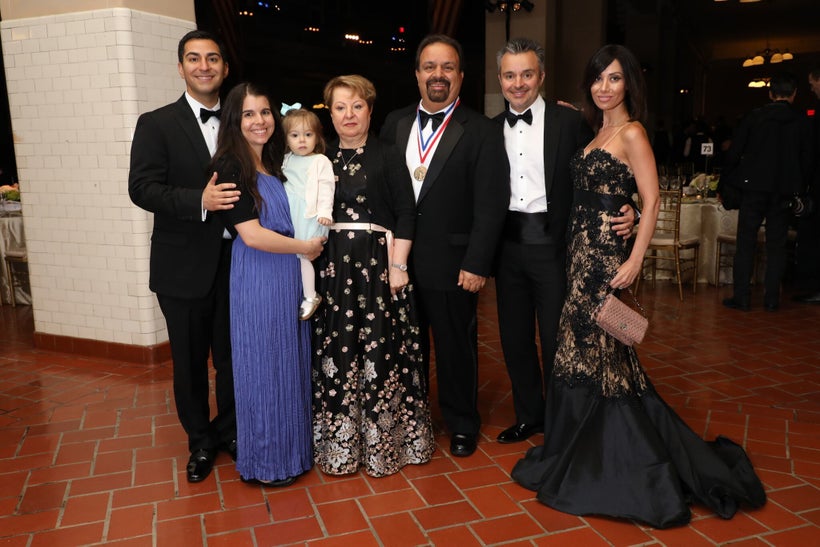 Mohammad Farzaneh came to America from Iran to attend university in 1978. After his graduation from University of Oklahoma in 1981, Farzaneh followed in his father's steps as a master builder and started his career as a homebuilder. In 1994, Mohammad and his brother Jalal found Home Creations, a company that has grown to be one of Oklahoma's largest homebuilder today. Through the Farzaneh Family Foundation, Mohammad and his brother Jalal have given back to the community, primarily focusing on education. The foundation recently presented a $4 million gift to the College of International Studies. Farzaneh says immigrants bring with them hard working habits and gratitude. "We are fortunate to live in a country that is full of opportunities and a place we can call home," Farzaneh said. "We are happy to have hopes, dreams and freedoms that are so apart of our American culture."
Maggie Soleimani is the first Iranian-American woman appointed to two high-profile Commissions in Los Angeles County and an advocate for children and young adults with special needs. She has held many community leadership roles including the Jewish National Fund, League of Women voters, founding member of a B'nai B'rith chapter and the multi-cultural committee of the Beverly Hills Unified School District.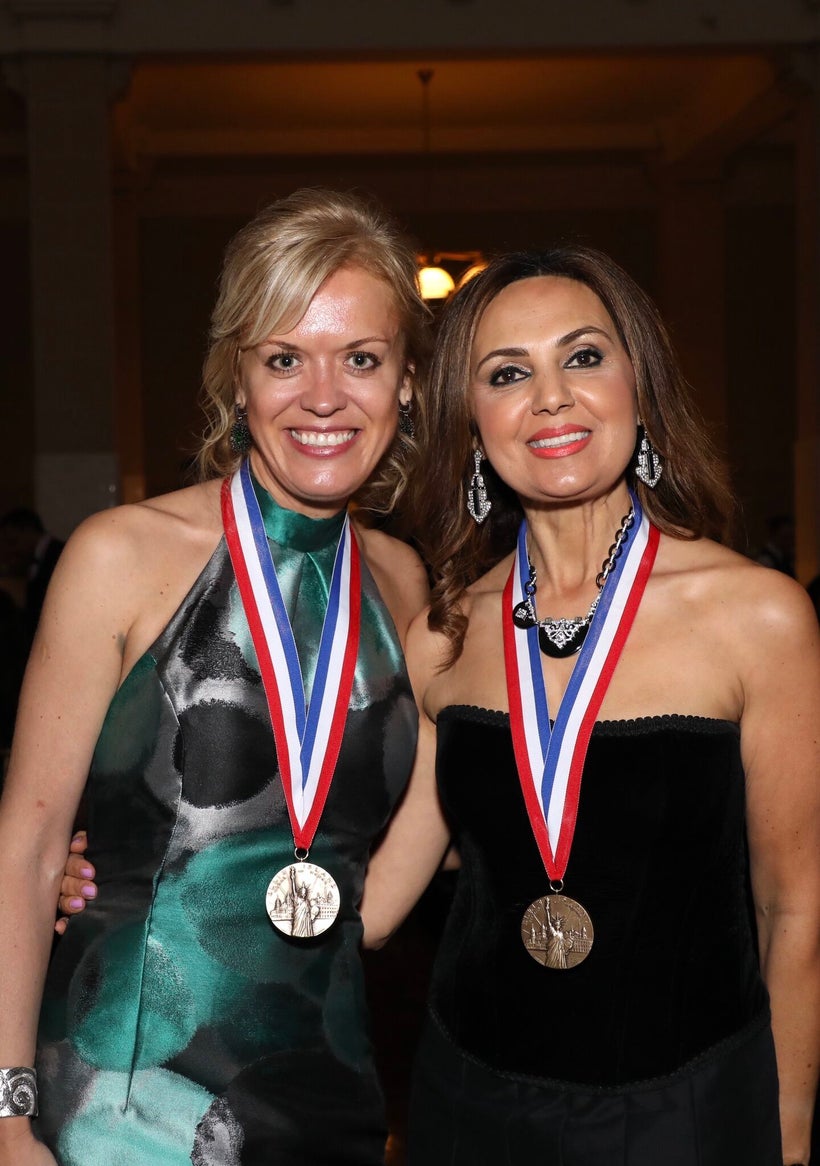 Dr. Hossein Eslambolchi is Chairman and CEO of 2020 Venture partners and recognized in the scientific community as a leader and technological scientist. As AT&T's Chief Transformation Officer, he developed and executed a comprehensive four stage strategy that included Enterprise Customer Service, Network Transformation, Services Transformation and Cultural Transformation; essentially, the overhaul and remodeling of the company that was dubbed the 'new' AT&T.
According to NECO, six Presidents of the United States; as well as notable Americans such as Rosa Parks, Frank Sinatra, Lee Iacocca, Quincy Jones, Muhammad Ali, have been recipients of the Ellis Island Medals of Honor.
Editorial Note: On May 10, 2014  Davar Ardalan was also a recipient of the Ellis Island Medal of Honor. Ardalan's grandfather Abol Ghassem Bakhtiar arrived on Ellis Island in 1919 from Iran. You can read her story here on NPR. Ardalan was on the committee that helped recommend some of this year's Iranian-American nominees.
This post was published on the now-closed HuffPost Contributor platform. Contributors control their own work and posted freely to our site. If you need to flag this entry as abusive,
send us an email
.