It's a question I get asked a lot and sometimes I even struggle with deciphering it.
The best answer I have been able to come up with over the years is that "Yes! it is a thing.....but it has a long way to go!"
Corporate wellness has exploded over the last few years and for that I am thankful.
Since I started in the workplace over a decade ago I was at the mercy of my Blackberry.....and for a while I saw it almost as a status symbol. I had some warped view that if my company needed to contact me all the time it was because they NEEDED me and I was important.
The reality to this was that I saw myself as important. My employer saw this as an opportunity to have an employee at their beck and call.
As I worked as a company-pleaser I border lined burnout more times than I can count. I now watch as my coaching clients and those in the corporate world suffer the same fate.
With the increase of corporate wellness we now see some employers providing helplines for those employees suffering stress and 'hands up' who has been on a stress resilience course courtesy of their company.
This is still a rarity but in the professional services at least, I have seen an emphasis on mental health and well-being. The issue we have with these small token gestures is how many of you have actually dialed the helpline offered? How many walk out the door of their stress resilience class and actually apply the exercises learnt? We don't, because once the company has usually performed their tick box exercise, everyone goes back to their old habits.
This is where corporate wellness falls down. It needs support, leadership and commitment from both sides - the employer and the employees. Wellness needs to be part of the inner workings of a company's culture not just so they can tell potential recruits that they care.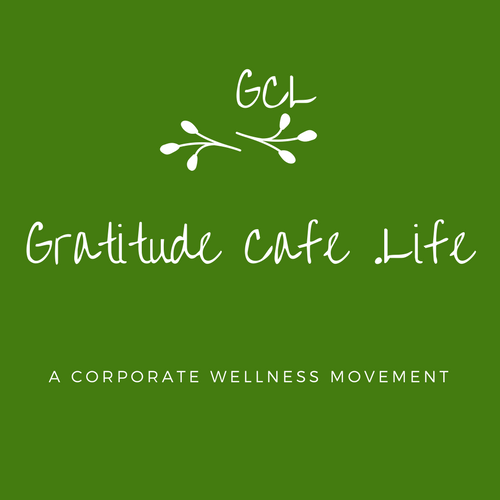 I founded Gratitude Cafe.Life with Katherine Tollinton, a ex-corporate colleague of mine. We both had the same vision and realised that if we wanted the corporate world to change we needed to spearhead it. We had worked across all areas of the professional services between us and the one thing all these companies had in common were they had a high staff turnover and the reason for turnover was usually down to stress.
As a corporate coach I watched as the online businesses took off and how the corporate world looked to be left behind when it really didn't need to be.
A lot of my colleagues in the corporate world are high achievers, brilliant individuals and I truly believe that when given support and an emphasis on their well-being they will be even better. So we built GCL for these colleagues and everyone who feels they need support in their lives.
Gratitude Cafe.Life became a movement. A movement to wellness.
This support center concentrates on the Gratitude Cafe.Life movement consisting of 4 pillars, each of utmost importance to our overall well-being.
Community - A forum and membership site for all members to discuss and support each other.
Fitness - From easy-yoga exercises at your desk to SkyScraper Yoga in the Walkie Talkie building. We have you covered and are on hand to sample and review the fitness classes across the globe.
Mind - We know a settled mind is a happy mind. Working with meditation and mindfulness experts as well as those in psychology and the coaching world we are on hand to support you in every aspect of your career and personal life.
Nutrition - What we put into our bodies makes a huge difference to our well-being. With a busy work life usually our diet is neglected for a bacon and sausage brioche or a tuna sandwich from Pret. With our lunchtime challenges where we provide healthy and easy to make lunches you know you are are putting goodness into your body (and will make you feel less guilty when the 3pm office cake goes round).
Because we provide ongoing the support and we are a one-stop-shop for corporate wellbeing we are forever evolving with our members. We are on hand pretty much at all times with articles, downloadable PDFs, videos and weekly newsletters. In 2018, we will launch the fully automated site which will include experts and Gratitude TV which will provide every more insight into corporate wellness for our members.
This journey hasn't been easy but the one thing Katherine and I have noticed since starting this movement, is that this affects so many of us in the corporate world and this amount of pressure and stress is not sustainable. We cannot continue living like this with the long hours and being at the mercy of our emails. Our happiness is too important.
If you are in the corporate world and looking for support, then join our movement.
Let us show you another way to "Office Culture".
This post was published on the now-closed HuffPost Contributor platform. Contributors control their own work and posted freely to our site. If you need to flag this entry as abusive,
send us an email
.