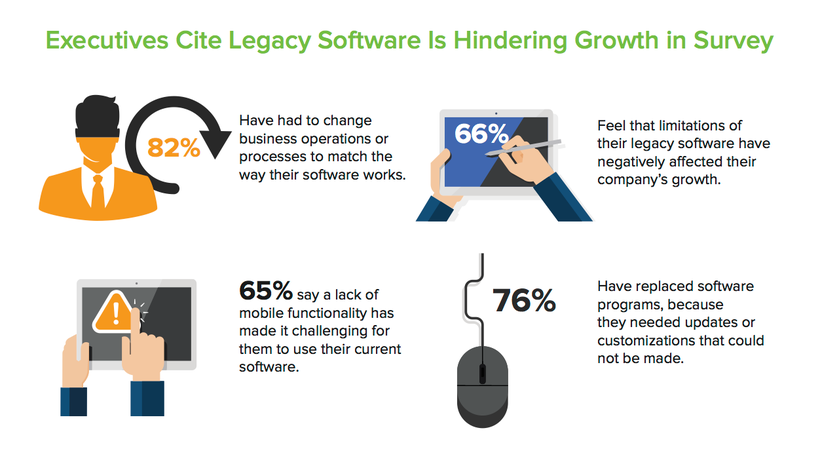 It used to be that businesses had a hard time keeping up with software. New data suggests that the opposite is true: Enterprise software can't keep up with the speed, mobility and agility of today's modern business and worker.
On-premise to off-premise was the last major transition in enterprise software. While the migration to the "cloud" in the form of subscription-based software (SaaS) made big software more affordable and accessible by overcoming distribution and financial hurdles, it did very little to address the more fundamental end-user challenges, according to a new survey by TrackVia, makers of a "low code" application platform.
The survey of 500 business executives and IT professionals revealed that traditional enterprise software – whether it's installed on local servers or delivered via the Internet – is still too slow to implement, lacks modern mobile capabilities, and just doesn't work the way users need. In fact, more than four out of five (82%) survey respondents reported they have had to change the way they operate to match their enterprise software, and 65 percent of executives said a lack of mobile functionality made it difficult for them to even use their software programs at all.
The disconnect between end-user needs and enterprise software would all be a moot point if it didn't have a material effect on day-to-day operations or overall business success. But the survey data suggests the impact is real. Two in three respondents (66%) said the limitations of their enterprise software negatively affected their company's growth. Seventy-six percent stated they went through the time-consuming and costly effort to replace their software, because they needed customization that either their software vendor could not execute or the software couldn't accommodate.
RISING USER EXPECTATIONS FUEL FRUSTRATION
The growing expectations and frustration with enterprise software makes sense when you consider what people can do in their personal lives with technology. They can stay connected with friends, watch movies, order take-out, locate missing keys, book a vacation, get directions, remotely manage the temperature in their homes, and catch a ride all using their mobile phones. These apps are easy to install, easy to use and seem to magically work together.
But this isn't so with enterprise software. According to those surveyed, the top challenges cited by respondents included:
31%: Integration or compatibility with other software and applications
28%: Customization and scalability
17%: Mobile and offline/native capabilities
The problem with enterprise software is that it's usually designed and built by non-users. When it comes to systems created in-house, software developers traditionally have built software–not the people who use the software to do their work. While developers work to create solutions that genuinely fulfill business application needs, often by the time the project is finished, the requirements have already changed. Moreover, for externally acquired systems, most enterprise software is built around a generic use case. But as everyone knows, no two businesses operate exactly alike.
Like Amazon Web Services did for infrastructure or WordPress did for building websites, a new generation of low-code application platforms aims to flip the enterprise software paradigm by simplifying and speeding up application creation, configuration and deployment for enterprise software.
Instead of buying heavy enterprise software that requires months of implementation and large investments in small armies of consultants, developers and IT to support it, businesses are turning to low-code systems. Web and native mobile applications, built on these next-generation low-code platforms, can be fully configured and deployed in a matter of days—with minimal coding (and sometimes no coding whatsoever), set-up or ongoing help from IT. These systems replace complex coding with drag-and-drop user-interfaces and intuitive, visual tools, allowing apps to be easily and quickly adapted or changed by front-line users. Need to add a new field or tweak a step in a process, for example? No problem. Just point, click and save. All the intricate coding, user management, security and back-end configuration is done automatically in the background.
Due to their unique capabilities, low-code platforms are catching on with savvy business users. The survey revealed that 29 percent are already using low-code systems, and another 43 percent are considering them. Technology analyst firm, Forrester Research, projects the low-code application market to grow from nearly $3B today to $15B by 2020.
Amidst the excitement and momentum in the space, experts caution businesses to be wary of the "low-code" buzzword, explaining that the term is relative. What is considered to be low-code to a professional developer or IT professional likely varies from what an average business executive with no formal coding experience would expect from such a platform. Furthermore, not all low-code systems are alike. For example, some low-code platforms, like TrackVia, allows sophisticated web and mobile applications to be created, configured, and deployed using almost exclusively drag-and-drop functionality. Other platforms, which have also positioned themselves as players in the low-code market, were designed for code-savvy developers. Platforms of this variety certainly require "less code" compared to building something from scratch. But make no mistake; they still necessitate coding.
What the future holds for enterprise software is anyone's guess. But it's clear that user expectations are rising and the traditional enterprise software market needs to keep up with businesses' growing demand for faster, more agile and mobile solutions. A new approach is inevitable and likely just on the near horizon.
This post was published on the now-closed HuffPost Contributor platform. Contributors control their own work and posted freely to our site. If you need to flag this entry as abusive,
send us an email
.