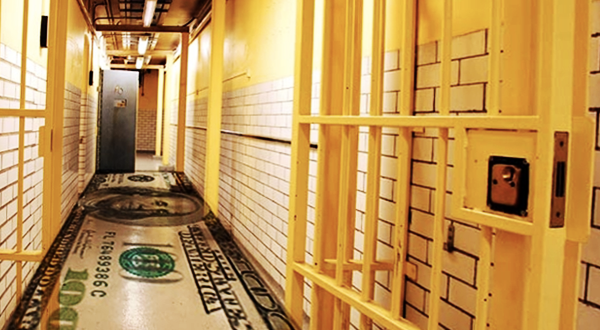 Today-The U.S. Justice Department announced that it will phase out use of privately owned prisons, citing safety concerns, as the upfront issue.
The private prison companies' boom started in the 1990s, and companies like Goldman Sachs and Bank of America created aggressive "Lease Revenue Bonds" to finance traditional prisons. With the awesome promise of this new trend of private prisons came promises of improved performance, efficiency, and cost savings came with a flurry. As we now know "They did not save substantially on costs and ... also they did not maintain the same level of safety and security," Deputy Attorney General Sally Yates said explaining the decision.  The promises immediately proved not to be true, but that didn't matter.
The problems began as soon as the private prison boom was started and contracts were given to the Corrections Corporation of America (CCA) prison in Youngstown, Ohio. Seven people died in the first year of operation (1997). Twenty people were stabbed and six escaped, including two murderers.
Other issues came in 2008 in Luzerne County, an area in northeastern Pennsylvania with the conviction of multiple public officials in an operation called The "kids for cash" scandal that unfolded-A federal grand jury in Harrisburg, Pennsylvania returned a 48-count indictment against Pennsylvania Judges-Ciavarella and Conahan including racketeering, fraud, money laundering, extortion, bribery, and federal tax violations on September 9, 2009 Judge, Mark A. Ciavarella Jr.,and a colleague, Michael T. Conahan, entered a revised guilty plea to one count of racketeering conspiracy in July 2010. Both would later appear in federal court in Scranton, Pa., to plead guilty to wire fraud and income tax fraud for taking more than $2.6 million in kickbacks to send teenagers to two privately run youth detention centers run by PA Child Care and a sister company, Western PA Child Care. Shortly after the conviction, the Pennsylvania Supreme Court ordered a complete investigation all cases handled by the two judges and following its outcome they overturned several hundred adjudications of delinquency in Luzerne County.
For the record-The majority of US prisoners are held in state-run prisons. There were 94,365 prisoners being held in private facilities overseen by states in 2010, according to the Sentencing Project group
During the 2016 Democratic presidential primary race, Hillary Clinton's main rival Senator Bernie Sanders made a campaign promise to end the "private, for-profit prison racket." Hillary Clinton came under fire in 2015, at the start of her Presidential campaign, because of Former President Bill Clinton had overstated the effect of a crime bill he signed in 1994- he (Bill) said, "because of that bill we had a 25-year low in crime, a 33-year low in the murder rate." But Independent analyses have found that the bill had a modest effect on crime rates. Bill Clinton later acknowledged that tougher incarceration provisions in the bill were a mistake. "I signed a bill that made the problem worse," Clinton said. "And I want to admit it." Although Hillary Clinton was not in the Senate at the time and did not vote on the bill, she spoke in favor of it at the time.  In addition the Mass Incarceration issue caused the private prison industry to double in size between 2000 and 2010, while the largest of these corporations, CCA and GEO, currently took in a combined $3.2 billion in annual revenue. Lobbying firms linked to the companies had already contributed more than $288,300 to three of the leading candidates in the 2016 election cycle.
 It was only after months of pressure from civil rights and immigrant justice groups, who launched online petitions and interrupted Clinton's public events, demanding she cut ties with the private prison industry-that Hillary Clinton finally agreed.
In a statement after the decision, Senator Bernie Sanders called the move "an important step in the right direction", and that it is "an international embarrassment that we put more people behind bars than any other country on Earth... due in large part to private prisons".
Contracts with 13 private prisons will be reviewed and allowed to expire over the next five years. According to a recent post on The ACLU Website- These private prisons have also been linked to numerous cases of violence and atrocious conditions. Many opponents of Mass Incarnation and Private Prisons feel this move is a large step in the right direction. glg
This post was published on the now-closed HuffPost Contributor platform. Contributors control their own work and posted freely to our site. If you need to flag this entry as abusive,
send us an email
.