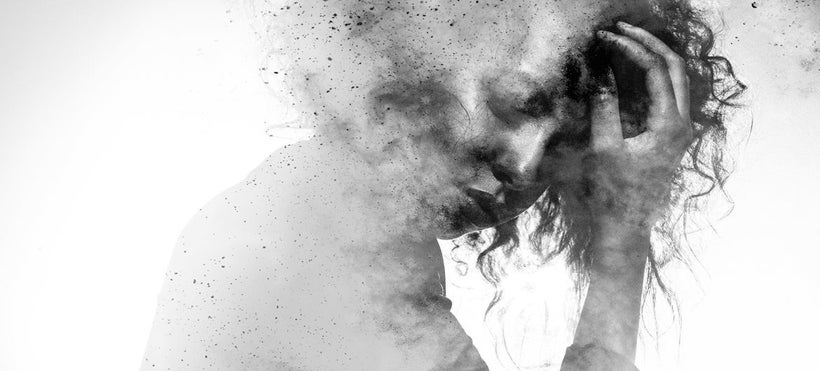 A usual Friday afternoon routine was interrupted upon walking into an apartment on the 4th floor of an assisted living facility. Seeing a cleaning cart in front of an open door of this particular resident's apartment was an unusual sight. All the flowers and pictures that greeted her front door were gone, yet her name that was etched on a plaque near the doorbell, remained. Walking into her apartment, it was empty, expect for a woman cleaning out the resident's oven. Confused I asked, "Where's *Jillian?" The woman peered behind from inside the oven with her yellow cleaning gloves on and simply said, "She died." Flabbergasted I asked, "What? How?" In a matter-of-a-fact tone she replied, "I don't know. I think it happened a few days ago. I'm sorry." And she went back to scrubbing inside the oven.
Stunned, I turned to walk back to the elevator but found my feet frozen in the middle of the hallway staring down at the Italian Renaissance style carpet. Trying to process the news as I headed back to the first floor, my feet automatically managed to get moving. I knew I had to pull it together as I had a therapy group to facilitate with the other residents.
Jillian was an elderly resident who was managing chronic pain in the back of her head, neck, shoulders and hands. She was in a horrific car accident in her mid-adult years that left her with a history of pain ever since. As her pain worsened, so too did her spirits. She became depressed and often thought about suicide, but always reverted to saying she'd never do it because of her family. For three years, since she first moved into this community, she connected with me in my art therapy group I led with the assisted living residents. In this particular group, we discuss how each person is feeling and how they are effectively managing their health. Some are overcoming strokes; some are managing chronic pain, death of a spouse, and age related ailments. The overall theme is frequently around: grief and loss.
They engage in an art therapy directive that offers a focus on healing and growth. This group provides an outlet for residents to talk freely about how they feel and think; offering an opportunity for open and honest discussion without fear of facility staff retaliating in what they say. The sharing process tends to bond each person, and Jillian was the most dedicated member in this group, never missing a session and would make sure not to schedule any other appointments on our therapy days, including her physician appointments.
Jillian would say she found the most peace of mind and distraction from her pain when engaged in this art therapy group, more so than she found in her pain medications, talking with her psychologist, and even the electrical device she had implanted in the back of her head to ease symptoms. She wished this group could be every week as opposed to twice a month, but unfortunately, this was not in my control as the facility made those decisions.
There's a fine line between the therapist and client relationship in maintaining boundaries. When working with the elderly and those living with dementia, it can be easy for those boundaries to blur. Aging, especially those in an assisted living facility, oftentimes carry a stigma, and these people and places become isolated and ostracized in society because they are viewed as old, sick, smelly, and in general, a sad place to be. The need of feeling human within these populations is absolutely necessary. Families tend to not be as involved in their loved one's care, and often do not visit them, or will parent them by dictating what they can and cannot do, and tell them how to live their life.
Jillian did not have dementia, but she had chronic pain, which left her with limited abilities. She felt isolated, old and useless as her hands and feet slowing failed her in being able to walk, drive and enjoy life, but she tried hard to maintain an optimistic attitude and cling to the thoughts that she was loved and care for.
My last session with her was a few weeks ago, and she was in pain, but held her usual upbeat attitude and was looking forward to a social outing the facility was going on. Suicide was not on her mind, at least on an outward perspective; she usually talked about it on the days when the pain was unbearable. She would talk about taking more than what was medically advised in her pain drugs, but always counteracted it with, "I can never do that to my family, and myself as I know I have good years left."
I suppose this one night was too unbearable for her, as that is exactly what she did: overdosed on her pain drugs. She was found the next morning in her bed.
From the moments I had in the elevator to the first floor, I wiped away my tears and mentally prepared gathering my thoughts together in order to lead my therapy group successfully. Upon entering the group I was greeted with smiles from the nurses as they led me to the table with the others sitting around, eager to get started.
I was able to lead my group well, heard inspiring stories and encouraged those feeling down, and left the session on a positive note. I walked to the parking lot, sat in my car, and cried.
As a therapist I wondered had I come once a week, would Jillian still be alive: probably not. But one can't help but wonder these things, and reflect on the signs that may have been missed. Sometimes a person who is planning on committing suicide may not say anything, and I thought about that since she didn't say anything and acted upbeat, which could be another sign. Three years I worked and got to know Jillian, and my love and care for her ran deep, as I know she formed a strong connection with me as well.
"Those living with chronic pain have a higher rate of suicide," a psychiatrist in Florida told me, "It's all too common, and unfortunately, not enough is paid attention to these individuals and in treating them adequately."
There is currently an opioid addiction crisis within the United States, and it runs very high within the senior population. Ageism, accompanied with depression, pain and a stigma, is common ground. So who is responsible for this crisis: our medical community, government, and/or society? The government says they are trying, but is it enough? Where and who does it really begin with?
The only positive I can attempt to take away with me is the belief that Jillian is no longer in pain. She is greatly missed, and as a therapist I look at myself and ask, "Was there more I could have done?" Did I fail her? A thought I will carry with me. My therapist peers tell me it is normal to ask myself these things, yet knowing I did do my best, for three years, I did my best, but the inevitable was that on this one night, the pain was just too much for her to bear. Perhaps… but it doesn't make it easier. I recall working in an adult psychiatric hospital where a patient killed herself a week after being discharged. We were all called in a team meeting to discuss the very questions I asked myself with Jillian. What it came down to with this particular patient was that it was inevitable. Suicide is a deeply personal decision, and one that no one person may fully understand.
As a surgeon must give tragic news to the family of a loved one that did not make it through a procedure, the feeling of blame, guilt and exasperation is commonly experienced. As a therapist overcoming the death of a client, the same thoughts may be encountered. We are all human, and as humans living and working in the field of health and well-being, I suppose it would be common to have complex thoughts when a client dies. With each client, at least in my life, bonds will no doubt be established, and loving and caring for each other will occur, especially as I continue to celebrate aging and all the people I have the privilege of working with.
Jillian's death has not deterred me as a therapist, it has greatly saddened me, and she is missed. But what I do know and will carry with me is her spirit and words of always saying, "If I didn't have this group and the opportunity to make art and talk about life, my life would be one sad mess."
Knowing the benefits of psychology in talk and art therapy, it is my belief that our medical professionals and government need to start taking expressive arts therapy a lot more seriously. For at times, it may be the best medicine over any drug, especially when offered more than twice a month, and a hell of a lot less in care costs.
This post was published on the now-closed HuffPost Contributor platform. Contributors control their own work and posted freely to our site. If you need to flag this entry as abusive,
send us an email
.