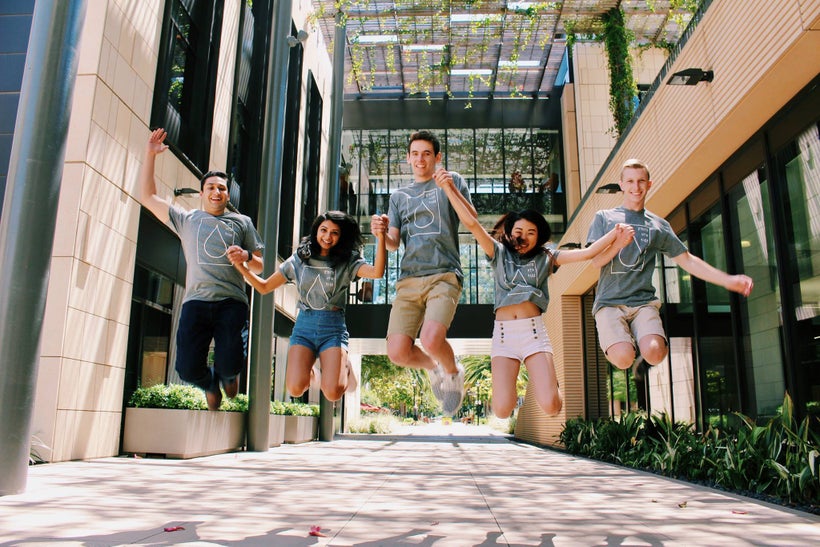 A new school year is approaching and so is back-to-school shopping. For some students and teachers, however, returning to school means coming back to sparse classrooms, littered with broken furniture. America's education system supposedly provides an equitable and accessible education, but we're still far from this goal — with students struggling to learn at underfunded schools lacking basic classroom essentials such as pencils and books.
Last March, high school seniors Eamon Bracht and Siona Sharma volunteered at an elementary school in the suburbs of Atlanta, helping arrange book bags for students and paint the school's exterior. During the service trip, the pair noticed the bathrooms didn't have soap. Understanding that soap and other hygienic products keep students healthy and ready to learn, Eamon and Siona decided to start a fundraising campaign to buy soap.
Immediately after the service trip, the pair launched a GoFundMe campaign for the school. Both called upon their peers to contribute and received overwhelming support. Heartened by this enthusiastic response, Siona and Eamon formed Starts With Soap (SWS) and soon this endeavor evolved into a national organization that has organized 17 projects, served 2,000 students, and raised $20,000 in just a year and a half.
So how did these students do it? For Starts With Soap, it starts with focus and drive.
Rather than randomly donating school supplies, Starts With Soap proceeds methodically. SWS employs a "problem-centric approach" and personalizes their interaction with every school, according to board member George Pandya. This problem solving approach illustrates how Starts With Soap recognizes that each school needs different supplies. While one school may need soap, another school may need books.
Lipscomb University's Starts With Soap local chapter offers a good example of problem-centricity. Chapter members started by forming relationships with nearby elementary schools and asking them what they needed. After visiting classrooms, Lipscomb members helped the schools through growing gardens, running school supply drives, and donating whiteboards at Whitsett Elementary School.
In addition to researching model solutions before implementing them, SWS structures itself to grant chapters as much flexibility as possible. SWS consists of two parts: the national board and local chapters at universities like Duke, Iowa State, John Hopkins, George Mason, and Vanderbilt. The national board focuses on high-level management, strategy, and outreach while chapters focus on executing projects and partnering with local schools. This decentralized approach gives local chapters autonomy and flexibility to address local schools' needs as seen in Lipscomb University's success.
Co-founders Siona and Eamon decided to expand Starts With Soap through grassroots campaigns and word of mouth, recruiting like-minded peers to start local chapters at their universities. "Finding the right people to grow the organization was difficult. Luckily, we found passionate students committed to improving education," Eamon explained. United by a shared cause, SWS began attracting droves of student volunteers and fostering a culture of youthful energy.
As a "by students for students" organization, SWS promotes heavily through social media. Understanding that Starts With Soap's volunteer base primarily consists of fellow college students, board member Joy Hsu created social media marketing campaigns and a website, where SWS sold t-shirts, pictured with the board members at the top of the article. By carefully monitoring analytics, SWS is able to target and engage potential volunteers while also spreading news of its work.
So what's next for this organization?
Since receiving a $5,000 grant designed for use in Detroit, SWS has focused on literacy in the area. After research, SWS couldn't find a consistent reading curriculum in Detroit schools. Right now, literacy occurs by chance, depending on socioeconomic status. Without a solid reading comprehension base, students struggle to advance to the next grade. Students' lagging reading ability also hinders their learning in other subjects. This disadvantage magnifies as students become older so SWS addresses literacy early on.
To address the literacy issue, Starts With Soap plans on launching an initiative called the Detroit Literacy Project. This project provides books accompanied by a curriculum used in the classroom. The project isn't an after school or supplementary program, but rather, a class woven into the school day. Using a hands-on approach, SWS members go into school during the day to monitor classes.
Rose Wong, the Chief Program Officer, said that SWS designed the Detroit Literacy Project to "foster within students a love for reading and the confidence to read, by providing them with access to quality, hard-copy books and a classroom culture that features both individual-centered learning and collaboration".
Already, SWS has partnered with the University of Michigan and ran a pilot of the program last spring. From the pilot, SWS learned that teachers like the flexible design of the curriculum, which allows teachers to discuss books as they wish. However, according to survey data, the 1st grade curriculum proved too difficult for students. As such, SWS decided to target third graders instead.
Here's how the Detroit Literacy Project works. Each classroom receives 35 books — 15 below third grade, 15 at third grade reading level, and 5 above third grade. Teachers track students' reading progress and switch out books if necessary. Everyday, teachers and students devote between 60 and 90 minutes to reading and discussing books. By the end of the week, students complete one book.
Students begin the week with a new book and vocabulary list. By the end of the week, students have the opportunity to complete independent reading and take a comprehension quiz. Students receive a vocabulary list between 10-15 words with an emphasis on phonemics so that that similar sounding words can be differentiated.
A distinguishing feature of the Detroit Literacy project is how it fosters interaction in the classroom and caters to students' academic needs. Students who are ahead are not kept back by a rigid reading curriculum and have access to more advanced books. Classroom also involve discussions in which all students participate, creating a sense of collaboration while providing appropriately challenging books.
At first, Starts With Soap encountered resistance from teachers and schools. Schools didn't want third-party interference and expressed skepticism at the initiative started by college students. School boards acted complacently and bureaucracy in schools slowed progress. However, through forging ahead and providing clear value, Starts With Soap eventually managed to run a pilot program of the Detroit Literacy Project.
Following another test run starting this fall, Starts With Soap hopes to expand the Detroit Literacy Project to other states. Starts With Soap is also considering new projects in health and nutrition like a field day filled with fun activities intended to encourage a healthy lifestyle.
For Starts With Soap members, serving schools is exhausting and frustrating at times. "SWS sometimes amounts to a full time job, but it is a sacrifice that all of us make," Siona said. Even with heavy school work, Starts With Soap member prioritize other first. In its early days, Siona skipped lunch breaks to go on call with Eamon for planning, a sacrifice that Siona said was worth it.
At the end of the day, Starts With Soap members agree that time spent working on the organization and with each other is rewarding and meaningful. "Working on Starts With Soap is inspiring because everyone is so smart and passionate," George said.
Keep on inspiring the rest of us, Starts With Soap.
This post was published on the now-closed HuffPost Contributor platform. Contributors control their own work and posted freely to our site. If you need to flag this entry as abusive,
send us an email
.